As you've probably read here or on Facebook, it's been me and the Nia-meister for the last 8 days while Nick was away in Russia and Ukraine.  I was definitely nervous about how the week would go, so I deferred to my tried-and-true strategy, the book-every-minute-with-activities plan.  It worked like a charm.
The weekdays looked pretty much like normal (Sarah working, Nia at school).  The bonus was that Grandpa Novak was in town for work, so we got to see him 3 times for dinner over the course of the week.  We ended the work week with a Christmas movie night (with popcorn on the couch even!).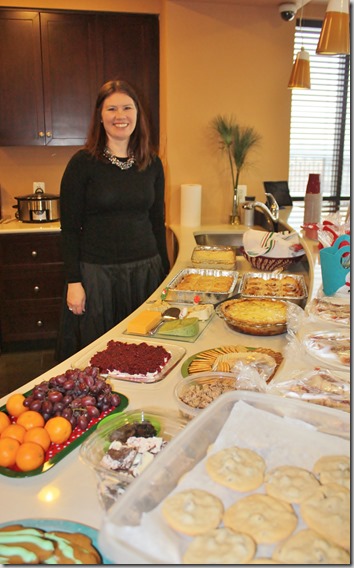 Saturday morning we woke up and put on our party clothes to head over to our friend Kim's Cookie Exchange.  This woman knows how to party – look at that spread above!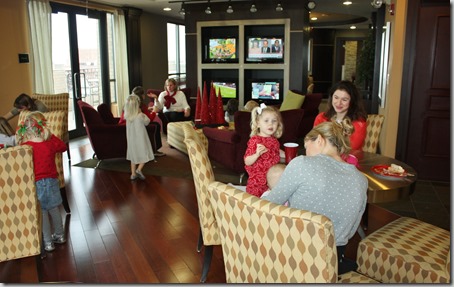 My only challenge was that Nia has grown tall enough to reach stuff now so every 5 minutes or so I'd catch her in the kitchen reaching her hand up over the edge of the counter to see what kind of cookie she could snag.  She tried this maneuver no less than 8 times, of which I caught her 5 times.  So she had at least 3 cookies, probably closer to 5 in reality though.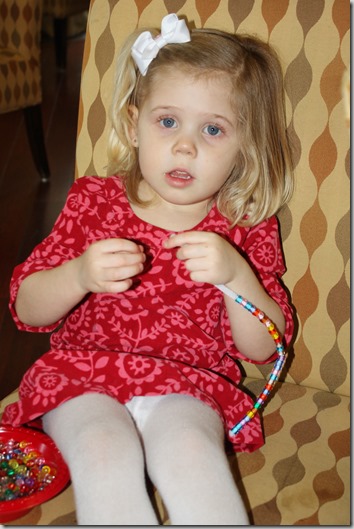 The picture shown above was taken seconds before she decided she got excited and knocked that entire bowl of beads crashing to the floor.  Ever tried picking up 300+ pony beads off a wood floor?  Good times indeed.  Thank goodness there were 20 of us to assist.
Saturday afternoon Nia and I met up with her friend from school to enjoy a ballet performance of the Nutcracker (sorry, no pics).  She was very into it and kept repeating "I see nutcrackers and princesses!"  Translation: Princess = ballerina
I felt good coming out of Saturday and decided to push my luck by attempting church.  I hoped there'd be a kid's area, but upon asking, I was told by the usher that kids are most welcome and encouraged to make noise.  I had a feeling we'd be making good on that offer.
High point: Dancing with her in my arms to 2 of my all-time favorite church songs and watching her try to sing along.
Low points: When she started singing Jingle Bells LOUDLY during the homily.  When she reached over and grabbed the long necklace of the woman sitting next to us.  When she put the kneeler down on an old lady's foot while she was exiting for communion.
All in all, it wasn't too bad.  I'd give her a B-.  I'm going to try again next week and bring some better distractions for her.  And to their credit, no one shot me dagger eyes when Nia bothered them (despite my best attempts to keep her from doing so).  Yay for welcoming church communities!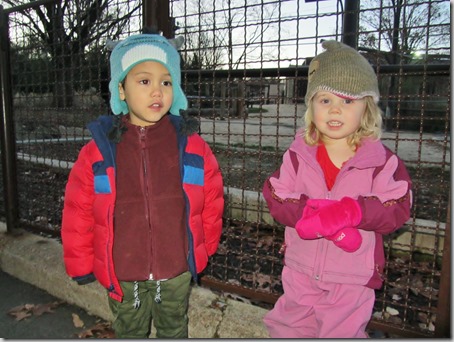 We were determined to end our weekend with a bang, so we arranged to go to ZooLights at the National Zoo with our neighbor Kai and his Mom (who we went to Sesame Place with).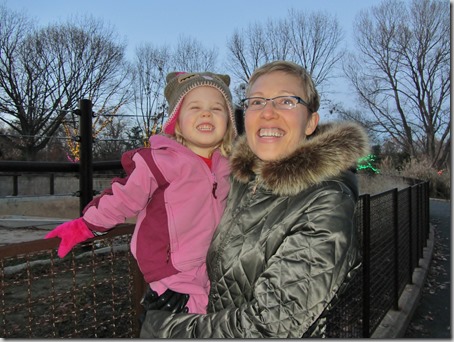 It was cold but boy oh boy did we have a good time.  Nia's had very limited opportunities to wear her snowsuit, so that was a hit and animals ALWAYS score big with her.  Oh, and did I mention we took the Metro?  Another fave.  It was so exciting, in fact, that it took me 90 minutes to get her to sleep.  Worth it though for all the fun we had.  So there you have it.
I give myself an A+ for solo parenting, even if we ordered pizza 3 times.  :)
{ 1 comment }