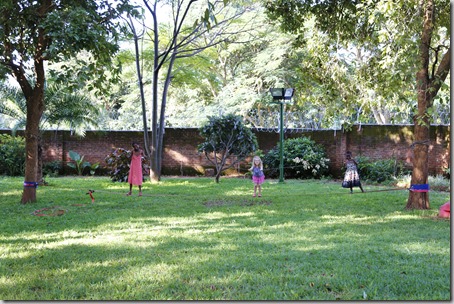 Our backyard gained two exciting new additions this week. The first was a slack line that Nick put up in the backyard. We got hooked on slack lines in Lima, which were constantly strung up on the Malecon. They're reasonably inexpensive (~$75) and provide hours of fun. There have been a few squabbles over waiting turns and shaking the line, but all in all they're having a blast with it. The guide wire at top makes it really feasible for the kiddos. And who knows, as they get older, maybe they'll be able to do it sans guide wire! Here are shots of each of the girls in action:
Nia: Age 5 1/2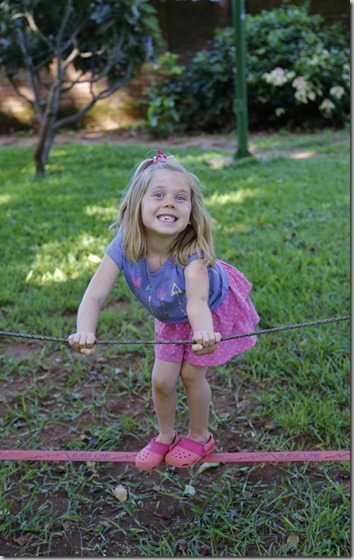 Evelyn: Almost 5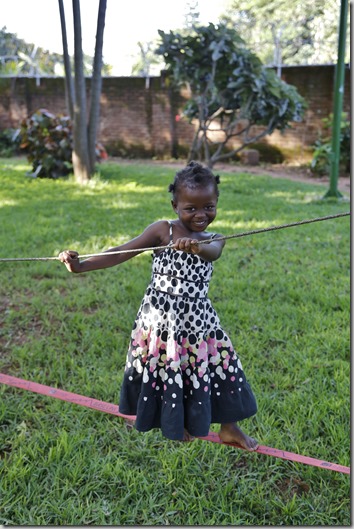 Michelle: 10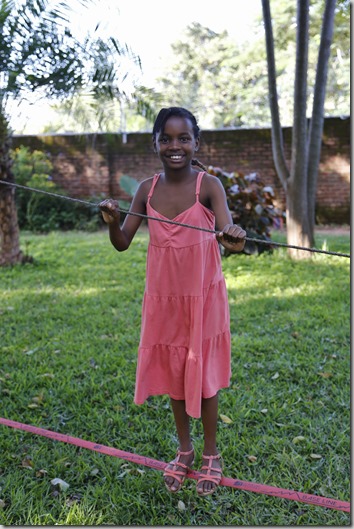 As you can see in the next picture, the guide wire was stretching out too much, so Nick had to engineer a new system that has it anchored from the top using higher branches. The rope got pushed down so far one time that Evelyn inadvertently followed the rope down with her hands and ended up falling on her head and rolling into a somersault. Mr. Nick got on it right after that. Can't have anyone breaking their neck now, can we, as there is no emergency medical care here (serious traumas get stabilized and airlifted to Joburg). So yeah, I think we've got that under control now.  :)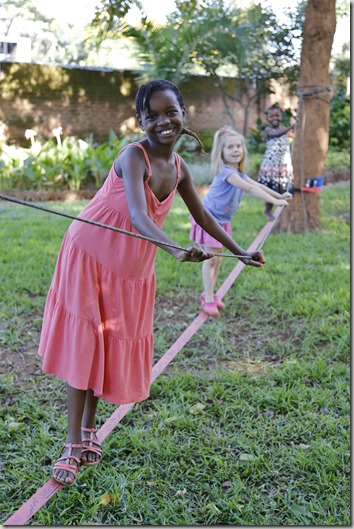 Exciting addition #2 was a fire pit. I wasn't initially intending to do one, but we had a tree that needed to come down and ended up with some amazing logs that were just screaming to be put around a fire pit. So I sent Davie out to buy some stone and come home to find this amazing pit built (and all for less than $5, mind you!)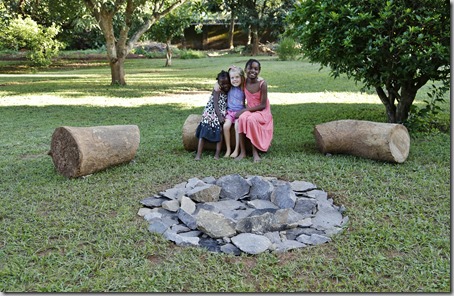 I just love the way he designed it. Blends beautifully into the landscape. We had our inaugural fire last night and the pit worked beautifully. If only we could get Nia to sit still now… I think the pit will see some more use over the upcoming long Easter weekend!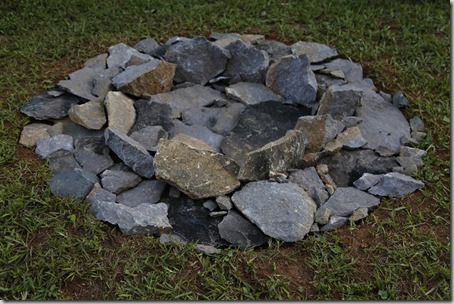 I leave you with a picture of our prima ballerina, preparing for her upcoming show. Let's hope she doesn't stick out her tongue for the entire performance this May! I wouldn't put it past her.  :)