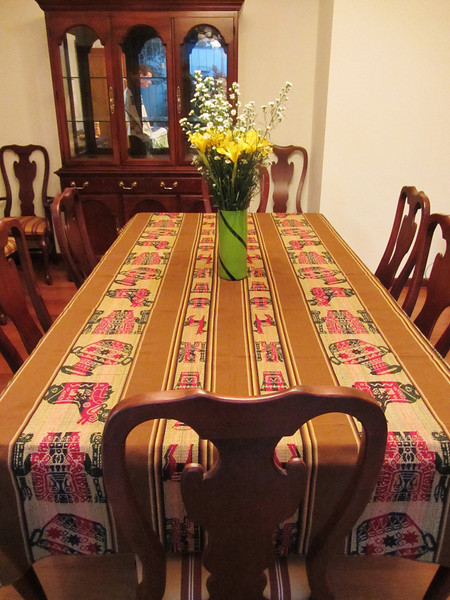 I woke up on my birthday in a foul mood.  I had decided in advance that it was going to be a crap b-day because:
a.)  My bday fell on a Monday this year
b.)  I have no friends here yet (please note the drama)
c.)  I had ZERO plans for the day
d.)  I had to go to class for 2 hours
e.)  Nick was at work all day
I managed to get in a full hour of self-pity before the Universe sprung its alternate plans on me.
Enter Lupe at 8 AM carrying a giant bouquet of flowers and a present for Mwah!  Just in case you were wondering, this was totally and completely UNEXPECTED.  Still in shock, I open the gift to find a gorgeous Peruvian table cloth (that perfectly fits our bare dining room table).  I can't begin to tell you how touched I was.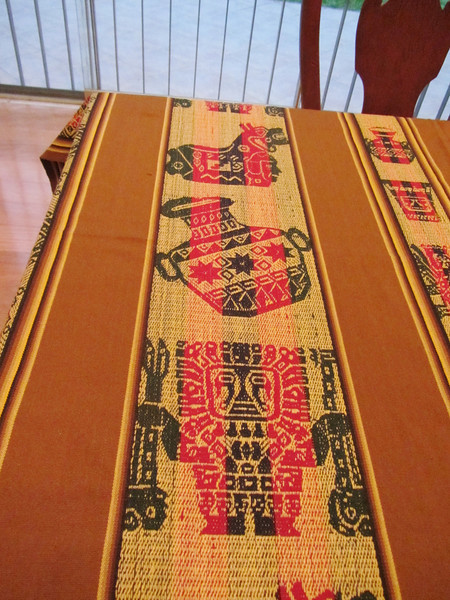 It didn't end there though.  The day just kept on giving.  I get to Starbucks to pick up my latte and when asked how my day is, gush about the lovely start I'd had to my birthday.  In response, my sweet baristas showered me with more hugs and congratulations, sending me on my way with a molten chocolate cake to enjoy for breakfast (yes, I really did eat it for breakfast).
Spanish class brought more hugs and a round of cheers over the pronouncement of "No Homework for Sarah's Birthday!"  Definitely something worth cheering over!
By this point I was really starting to get into the flow of my day.  A massage sounded good at that point, so off I strolled to Yaku Spa for a 70 minute Shiatsu massage.  Mmmmm.  More awesomeness.  I had forgotten how much I love Shiatsu (FYI, it's pretty much the total opposite of a Swedish massage).  When I come down the stairs after my massage, my receptionist friend hands me a "gift bag" for my birthday (it had an aromatherapy heat pack and inflatable travel pillow in it).  By this point I am giddy with delight over all the small surprises in my day.  What more could await me?
I'm walking home past one of my other favorite cafes and notice my two more of my favorite Limeño servers inside.  I follow my whim and go inside to enjoy lunch there.  I haven't visited there in quite some time, so I'm met with more hugs and a constant stream of visitors at my table (as well as fervent requests to return soon with Nia in tow).
By the time I walk in the door at 2 PM, I'm practically glowing.  I greet Lupe, kiss the babe and head into my office to do coaching calls with 2 of my amazing clients.  My client calls always elevate my mood, but I should have known that on this day they would be particularly mind-blowing.  Indeed – we laughed, we cried, and both clients walked away with bold action steps that will surely change the course of their lives.
After a full day of surprises, it felt perfect to end with a quiet dinner at home.  Nick surprised me with a collection of 20 new nose studs and Nia gifted me her biggest smile.  Loved ones called and messages of love poured in from around the world via Facebook.  Seriously, what a day!
In reflecting on what made this birthday so extraordinary, I realized that it was the collection of all the small acts of kindness that created such a satisfying whole.  The steady stream of love and kindness more than made up for the lack of formal plans or a party.  Thanks to all who contributed their small act of kindness yesterday.  I feel immensely loved.