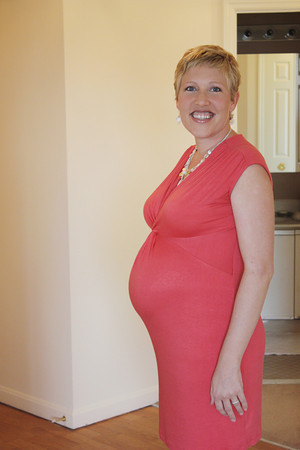 With less than 6 weeks to go now, I'm starting to acquire quite the bump.  Honestly, it doesn't feel that much bigger than the 30 wk bump and I'm crossing my fingers that it just stays right around this size!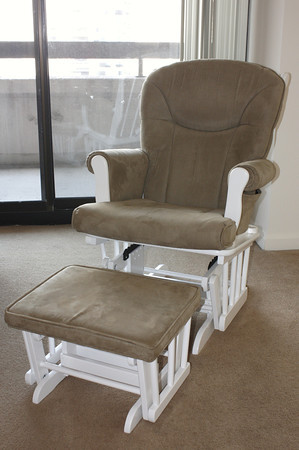 Nesting is in full force and I'm taking advantage of both Craig's List and the upcoming Consignment Sales.  Sadly, garage sales don't seem to be very popular here (maybe the lack of garages is a contributing factor).  Kind of makes me miss Minnesota, but I'm taking it in stride and working with what I have.
So let's talk about the major score that I got yesterday.  Each day I scour the Craig's List postings for the 4 large items I'm looking for:
A white wood rocker/glider
A white bookshelf
A white changing table
Imagine my excitement when a posting went up for a Shermag white wood/neutral fabric glider that was only 10 minutes from our place!  Since baby stuff seems to go fast in this market, I wrote an overly chipper email about how I was a first-time Mom and this was the exact glider I wanted.  What do you know, it worked!  Despite the fact that they had gotten several calls on it already, she invited me to come have the first look at it that night!
By the way, Nick was totally sketched out by this process, especially when I told him that we needed to go IMMEDIATELY to go claim our glider.  Did I mention that it was 9 PM on a Friday night?  Thankfully, he's being very tolerant of my pregnant whims, so off we went.  Happily, they were a lovely couple (not axe murderers) and the glider turned out to be in PRISTINE condition.  Originally $500 at Babies R Us, we got it for a mere $200.  Woot Woot!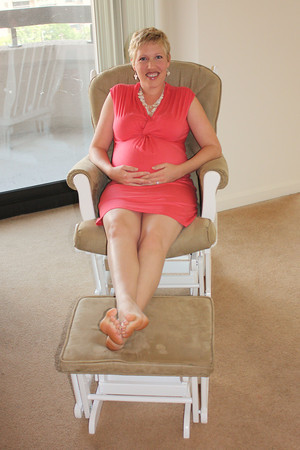 Won't Mama and Nia be gliding in style with this beauty?  Maybe even Papa Novak will want to use it (I've caught him trying it out a few times)!