Nick and I have been hanging kid-free in Portland since Tuesday.  One of our favorite things we've done thus far was the Epicurean Excursion Walking Tour with Portland Walking Tours.  In the course of 3 1/2 hours we covered a mile and a half and consumed 8 different types of Portland cuisine.  We had an absolute blast and we'd both recommend the tour and separate visits to these fantastic places.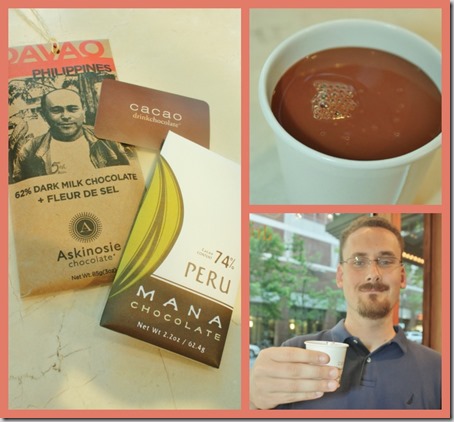 Curious to know what we ate???  Well….first up was a stop at the chocolate shop Cacao.  They are best known for their liquid drinking chocolate (which was divine, by the way), but we were also delighted to see chocolate featured from two of our favorite places – Peru and the Philippines!  We were off to a great start.  One can never go wrong when starting the day with chocolate!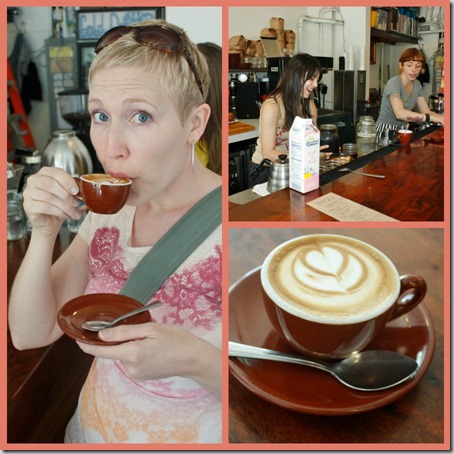 Next up was a visit to Courier Coffee for a perfectly poured macchiato.  Seriously, it was like they planned this tour just for me.  Chocolate followed up by scrumptious coffee.  Could ice cream possibly be next??  Oh wouldn't that be a lovely trifecta….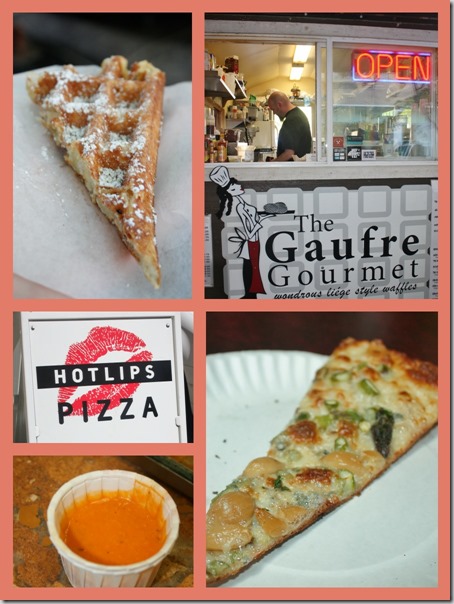 Alas, ice cream was not our next stop (although we did get some before the tour ended).  Next up was this killer tomato orange soup from the Elephant's Deli.  It was to die for.  The finish was so perfect that there was just a hint of pulp at the end.  Divine indeed.
And what goes perfectly with chocolate, coffee and soup?  Why waffles of course!  Now when I say waffle, don't think of traditional ones.  Think more along the lines of funnel cake with lots of messy powdered sugar.  The waffle stop was extra cool because it was our first treat from a food truck, in this case Gaufre Gourmet.
Rounding out the middle of our tour was roasted garlic, blue cheese and asparagus pizza from Hot Lips Pizza.  Strange combo but boy did those flavors work well together.  Who'd a thunk it?  That was about as main course-y as we got because on we went to the bakery.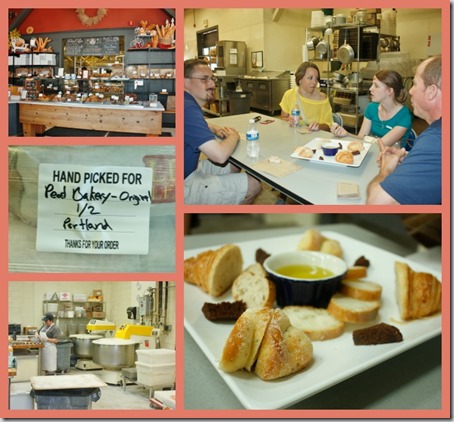 This was no ordinary bakery through.  It was none other than the famous Pearl Bakery, ranked one of the top 25 in the country by Food & Wine Magazine.  Not only did we sample, but we got a little behind-the-scenes tour as well.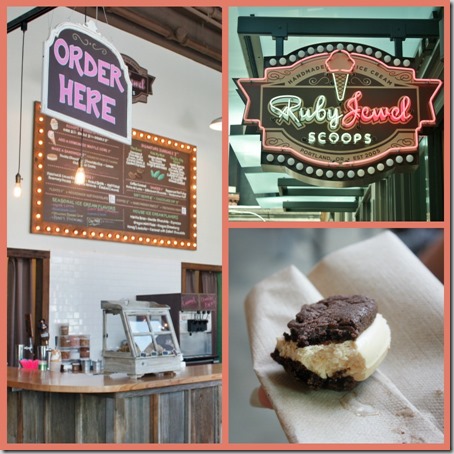 The stop I'd been waiting for was finally here.  Bring on the ice cream from Ruby Jewel Scoops!  Anywhere else you'd have plain old chocolate, strawberry and vanilla.  Not in Portland. Some of our unique choices were Lavender Honey, Meyer Lemon or Strawberry Rhubard Crisp.  Sandwich those unique flavors between two chocolate cookies and shazam, you're in for one heck of a treat!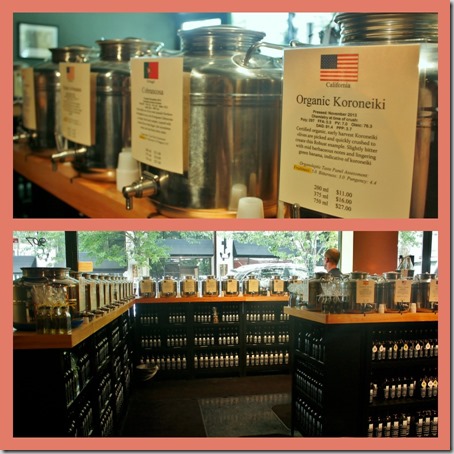 Last but not least was Benessere Olive Oil where we sampled dozens of exotic olive oil and balsalmic vinegar varieties.  We got a SERIOUS education on olive oil.
For example, we learned that UCLA did a study that determined that 3/4 of popular grocery store brands don't qualify as extra-virgin based on international standards (due to lack of regulation in the US).  Most commonly the olive oil was mixed with canola to make profits higher.
Remember how you've been told to always keep olive oil at a low temp in the pan or it will smoke?  Well, what's actually smoking is the canola oil that's mixed in.  Pure high-quality olive oil can reach over 400 degrees before smoking.  Isn't that crazy?  I've believed that myth all my life!
Last cool thing.  You should be able to taste 3 different notes of flavor when sampling high-quality olive oil.  There are very specific bitter, fruity and pungent aspects of the oil that you'll feel on the tip of your tongue, middle mouth and throat.  The pungent aspect will catch in the back of your throat and a good oil often makes you cough a bit if enjoyed solo.  Greeks often jokingly classify their olive oils as 1, 2 or 3 cough oils.
So there you have it folks.  Portland really delivered big on this one.  Highly recommended for others who are planning a visit here.