I'm quite behind in my blogging, so I thought I'd use a moment of down time to fill you in!  Nick and I are adjusting nicely to Balinese life.  We are enjoying our private water bungalow and plunge pool the most.  It's the perfect place to lounge the day away.  In contrast to Cambodia, I'll sadly have very few photos to show you of Bali.
There are two factors preventing me from getting lots of shots.  The first is lack of motivation.  It's so glorious just laying around here that we rarely leave our little paradise.  The second is that my wretched cough is back, so anytime I exert myself, I am rewarded with a cough attack.  Hence, we are staying put.  Maybe it's God's way of forcing me to sit still and enjoy Bali the way it's meant to be enjoyed.  And it also means that we'll have to come back… all the Cambodia shots are now up on SMUGMUG.  Do check them out!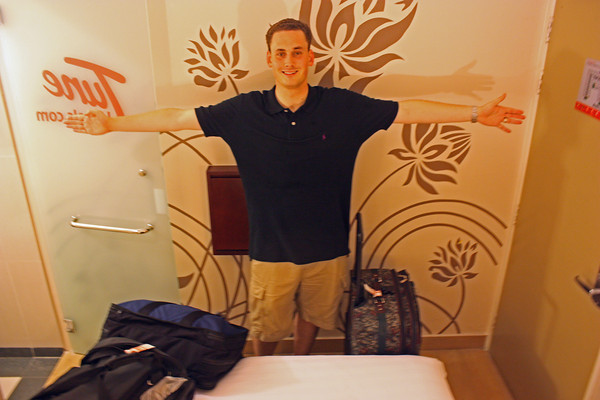 So, rewinding about 8 days…we arrived around midnight in Kuala Lumpur, Malaysia.  Our flight wasn't until 7 the next morning and the prospect of spending the night in the airport seemed like a horrible way to start the trip.  Happily, the Tune Hotel solved our dilemma.  Just a 10 minute walk from the low-cost terminal in Kuala Lumpur, the Tune Hotel is a pay-by-the-hour kind of place.  They price it in 12 and 24 hour increments and towels and AC are add-ons.  It's obviously geared at the short-term guest or backpacker, as the rooms are only about 1 foot larger than bed (see above picture).  It's dirt cheap though and met our needs quite nicely!  A very cool concept.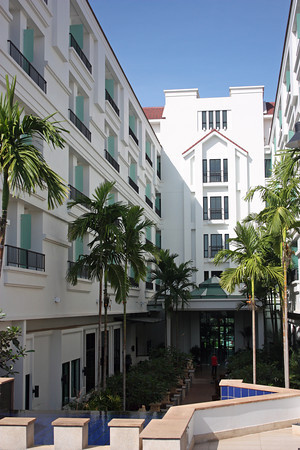 The Tara Angkor Hotel was our place of residence in Siem Reap, Cambodia.  This place was around $90 a night and incredibly classy.  Although it's located a bit outside of town, the beauty of the facilities really makes up for that.  And with Tuk Tuk rides costing between $1-2, it doesn't set you back much.  We would definitely recommend this place, but with one caveat.  While it seems like a steal of a deal, there were times when we were reminded that you get what you pay for, particularly when it came to guest service.  One night they wanted to charge us a $7 hotel fee for the $7 pizza we ordered in.  Also, our meals ordered at the hotel restaurant often came at different times, so one of us would be done eating by the time the other received their food.  That said, Cambodia is a new tourist destination and it was obvious that they are still growing into it.  Hopefully all the wrinkles will be worked out in a few years…
We hired a private driver and guide for 3 days to show us around the temples.  It was roughly $100 a day, which seemed well worth it to us.  We started the trip out with a bang by getting up at 5 AM to take in sunrise at Angkor Wat.  We arrived in the pitch black night – not an overhead light for miles.  Despite the early hour, I was quite   comfortable in a light sweater.  The stars were out in full as Mr. Son guided us into the temple with his flashlight.  It was a magical feeling, walking into such an ancient religious space (it was both a hindu and budhist temple).  As the first rays of light crested the temple, I took in a breath of fresh air and soaked it all in.  YES, we were a long way from Manila!  It was quite the memorable experience.  Once the sun came up, we spent the next 3 hours touring the temple.  The day was far from over though…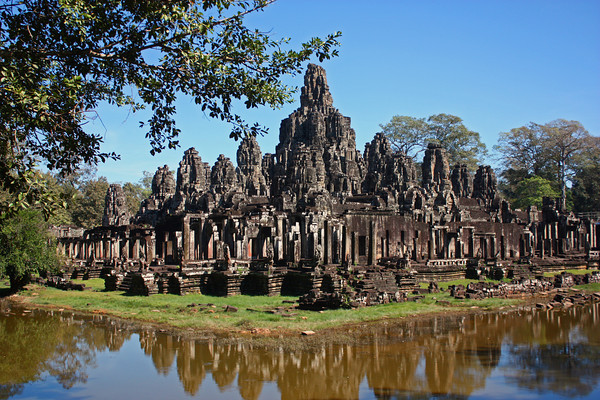 Next up was the temple complex of Angkor Tom.  There were several temples in this complex, with the most famous being Bayon (pictured above).  This was the place where we rode elephants (see previous post).  It was incredibly well preserved and took us about 2 hours to get through.  There were 2 more lesser-known temples after that.  The guide would have kept going, but we called it a day at 3 PM (hello, we'd been going since 5 AM – what kind of vacation is that?)  Day 1 was a success.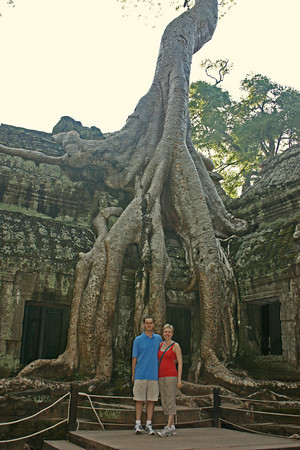 The next morning we started before 8 AM at Ta Prohm, also in the Angkor Tom complex.  This temple was unique in that trees and temples had fused together over hundreds of years.  This made for some of the most incredible sights yet.  The shot above is a great example of how the tree has overtaken the temple.  This was also the location where parts of Tomb Raider was filmed!  We managed to beat the crowds and pretty much had the place to ourselves.  This easily rose to the top as our favorite temple.  Day 2 ended with 2 more small temples and some shopping at the town market.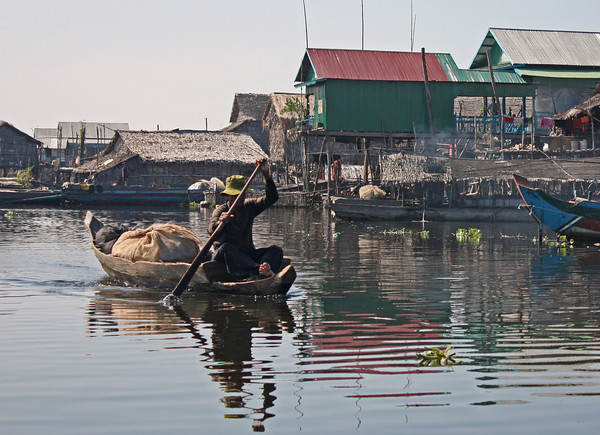 Day 3 was also quite unique.  We took a boat out to see the floating forest and a water village.  It was here that we got an up-close look at the rural lifestyle and had the opportunity to see what daily life looks like for a typical Cambodian.  There was a sharp contrast between our people interactions here versus in Manila.    The Cambodians were far more serious and shy, preferring to keep to themselves much of the time.  In fairness, the Cambodians are coming out of 30 years of civil war that saw 2 million of their people killed by a murderous regime under Pol Pot.
There is also the lingering fear of land mines, with an estimated 3 millionstill covering the country.  It's hard to imagine not being able to go into your backyard for fear of losing a leg to a landmine.  Yet that has been the reality for many Cambodians.  Death is something that they are intimately familiar with.  With the memories still fresh, you can still sense the fear in the air.  Makes me thankful that I've never had to live through anything like that…