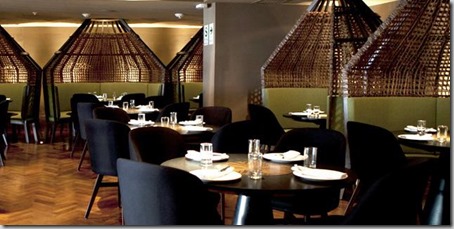 We had two great food-based experiences this weekend and they couldn't have been more polar opposites.  The first was on our Friday night date.  We visited a new restaurant in town called Amaz (located next to the Hilton Miraflores).  This restaurant is the 2nd in a series from Pedro Miguel Schiaffino, who is known for sourcing his ingredients directly from the Amazon.  No seriously, how cool is that?  Someone went foraging in the Jungle for my meal!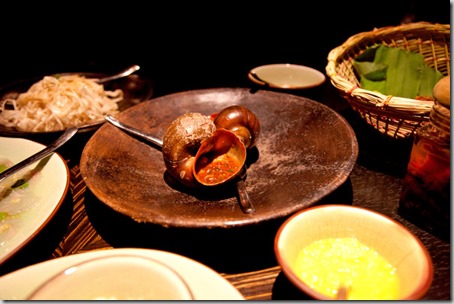 Schiaffino is developing a name for himself because of his unique commitment to Amazonian-based ingredients and cooking techniques.  His other restaurant, Malabar, which we also plan to try, focuses on Amazonian-based dishes too – but with a more upscale feel.
Nick and I didn't go too crazy with our choices, but we definitely got a flavor of the jungle.  Nick chose shrimp and scallops marinated with vegetables and cooked in a bamboo leaf (pictured below).  I had an Amazonian river fish with wild mushrooms and cashews.  For dessert we got a lava cake and mousse made with Amazonian Cacao.  Not a bad dish in the bunch.  I think this place is going to move up the ranks quite quickly in the next year or so.  Keep it on your radar Limeño friends.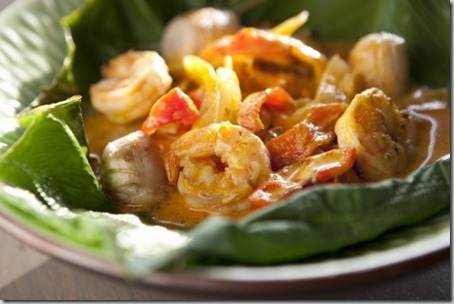 Our second outing took place on Saturday to a country place called La Granja Azul (the blue farm).  It was reported to be kid-friendly, so we ventured there in the afternoon with Nia.  The ride was about 1 hour from Miraflores, in a part of Lima called Ate.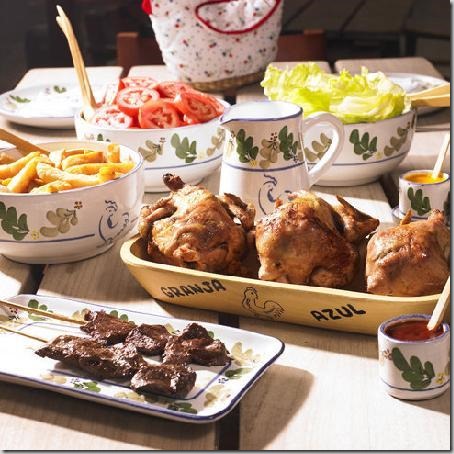 La Granja Azul occupies a large parcel of land, some of which is devoted to the restaurant and the remainder that is occupied by rides, playgrounds and go-kart tracks.  Each adult is required to purchase a $25 all-you-can-eat meal of salad, anticuchos (cow heart on a stick), rotisserie chicken, french fries, rolls and a beverage.  This restaurant is famous for it's fire-roasted rotisserie chicken and hand-cut fries and I gotta say, they were pretty damn good.  Did I mention that the chicken just keeps a comin'?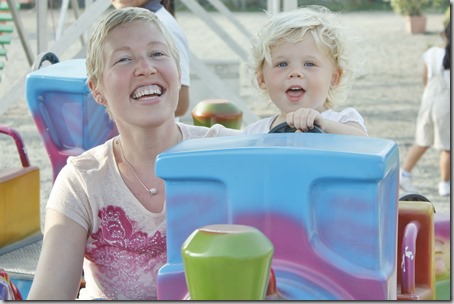 Nia was into the chicken, but she really dug the rides and playgrounds.  We did the classic merry-go-round (which she got bored of) and then tried her first pony ride (which she insisted upon quitting after 30 seconds).  Oh well, so much for that.  At least we got a picture before she bailed!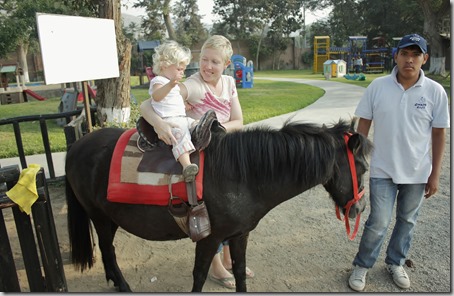 I liked the concept of this place, but I've heard that there are similar ones in Cieneguilla that offer more for the money.  I thought $25 was a bit steep for the food, considering how far out we were and the fact that they made you pay for all the rides.  I think we'll try some other ones and perhaps see if we can put together a group of families to all go together in the future.
*Top 4 images from (in order): www.thelatinkitchen.com, www.nytimes.com, www.historiasdesobremesa.wordpress.com and www.granja-azul.com.pe.