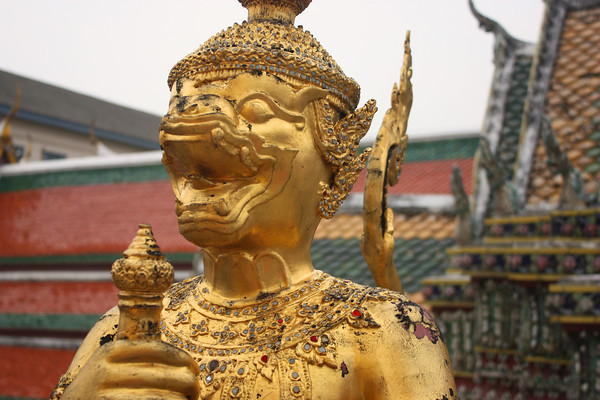 Delightful, delicious Bangkok.  Like Manila in many ways, but about 20 years ahead from an infrastructure standpoint and with way better food (No offense to my Filipino friends, there's just something unique about curry).  We got a 4 day taste of Bangkok while my parents were visiting.  Given that they enjoy a faster pace, we packed the activities in.  Here's an overview of what we got to see:
Day 1:  A Tour of the major must-sees in the city (Used Tours with Tong and rented a private van for the day)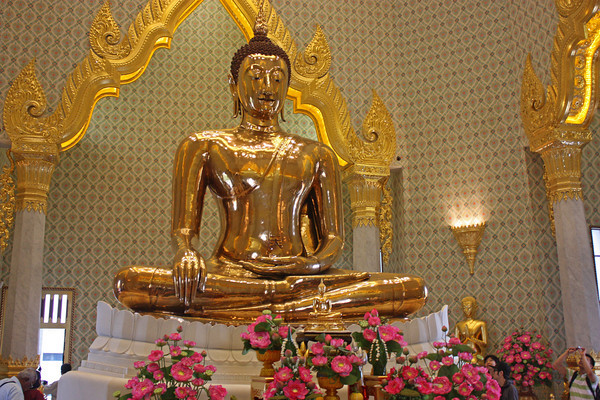 This is the 500 pound solid gold Buddha that was found encased in concrete just 50 years ago.  They just completed the temple to house this statue 1 year ago, so it's a relatively new attraction.  Definitely a WOW.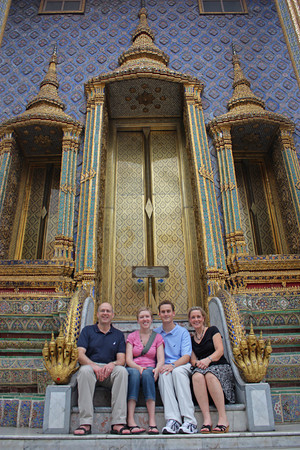 Next up was the Royal Temple and Residence Complex.  Two words: Massive and Gold.  Bright, vibrant colors assaulted the eyes from every direction.  I think it would have been blinding on a high-sun day.  Simply spectacular though and kept in really good shape.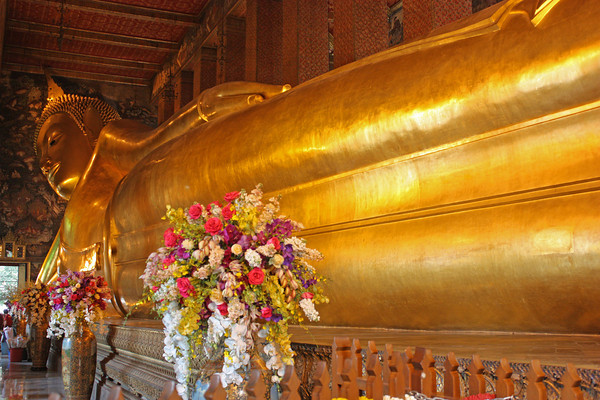 This was the largest laying Buddha, also located in a temple in Bangkok.  It's hard to grasp the magnitude of the size in a picture.  Just think of covering that Buddha in gold leaf, one inch at a time.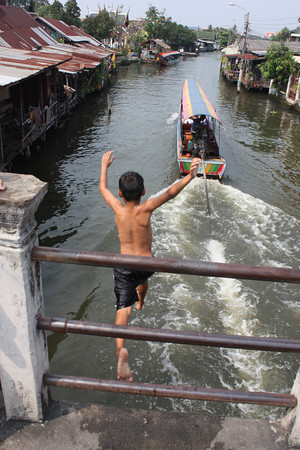 Our last gig for the day was a canal cruise.  We got a really intimate glimpse into Bangkok daily life.  My favorite moment of the day was when I snapped this daredevil leaping off the canal bridge.  He purposely waited for the boat to go by so that it would evacuate the catfish from the area while he jumped.  Now that's clever thinking!
Day 2: Culinary Indulgence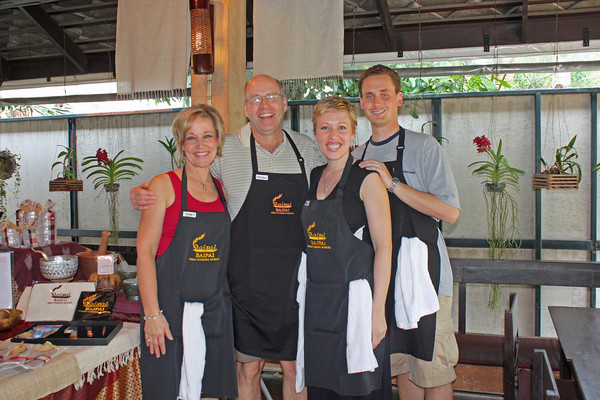 Day 2 was all about the food.  We started with a 6 hour cooking class at Bai Pai cooking school.  This was hands-down my favorite part of the trip.  The entire experience was a hoot and we really came away with a solid understanding of how to make Thai food at home.  We also enjoyed meeting friends from around the globe.  Our menu for the day was: Golden Bags, Panang Chicken Curry, Tom Ghoon Soup and Fried Rice with Pork.  DELICIOUS!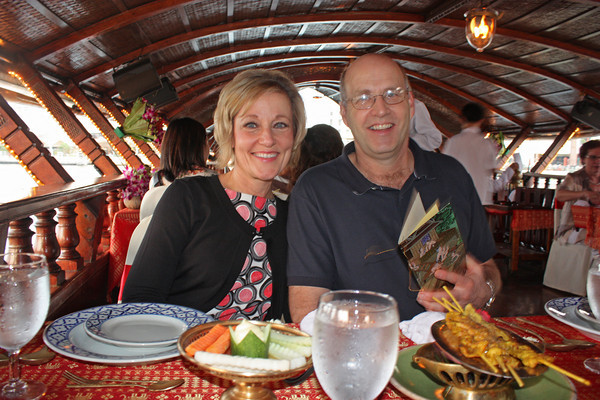 Later that night we enjoyed a feast aboard one of the local Riverboat dinner cruises.  The boat was a converted rice barge, which I thought was particularly neat.  The two hour cruise took us up the river and back, allowing ample time for grazing and enjoying the illuminated sights on the river.  Highly enjoyable!
Day 3: Daytrip to Ayutthaya (Tour with Tong)
We were back in our van on day 3 with our guide Lily.  Today's adventure was to the old capital city called Ayutthaya, located 75 minutes north of Bangkok.  Built in 1350, it was the second capital of Siam and destryoed by the Burmese in the 18th century.  Now a UNESCO world heritage site.  It was well worth the drive!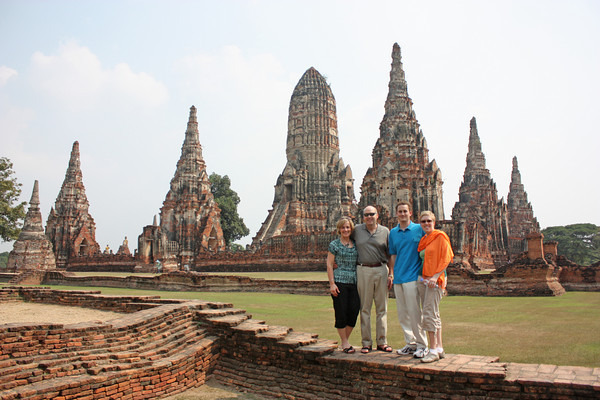 When you remove the glitz and gold, these ancient temples reminded me a lot of Cambodia.  It was easy to imagine the past grandeur of this fallen city.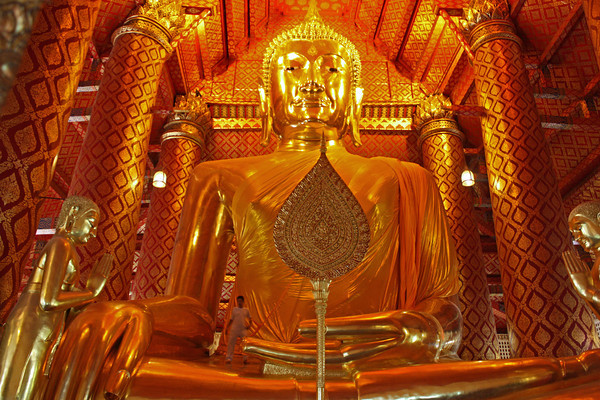 And what's a day without a Buddha visit??  Today's chosen Buddha was the largest sitting Buddha in the country.  Please take note of the man standing near Buddha's hand so that you can get a sense of the scale.  The scale of this one was staggering.  I was definitely in awe.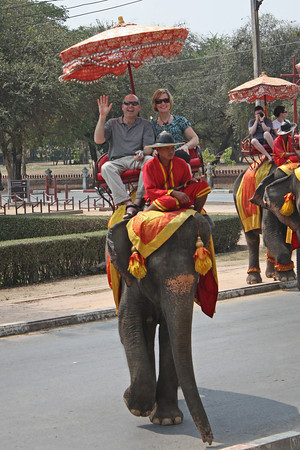 Remember how much we loved the elephants in Cambodia?  We were delighted to find that elephants were available to ride here.  I love this great picture of mom and dad enjoying their very first elephant ride.  So awesome!  That's not something you can find in MN!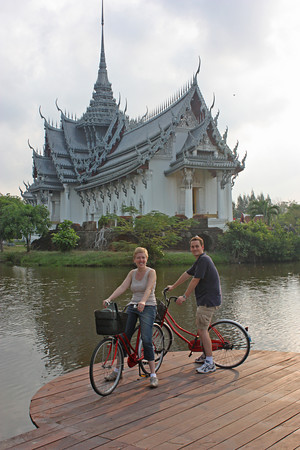 We didn't need to be to the airport until noon, so we decided to fit in one last activity on Day 4.  We had heard great things about the Ancient City, which is about 1 hour outside of Bangkok.  It was not an actual ancient city, but a replica of all the architectural traditions that exist in the country.  It reminded me a lot of something you'd visit in Wisconsin Dells, basically a classy theme park without rides.  The cherry on top of the experience was the fact that we got to use these old-school bikes to get around!  I haven't biked in so long – it was AMAZING!  Who wants to stop and see things when you have a wide-open stretch of road to bike on…definitely NOT available in Manila!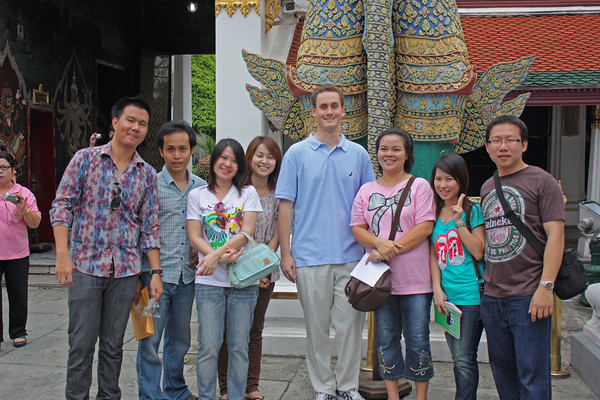 To close, I'll leave you with one picture that really amused me.  This group of tourists begged Nick to come be in their picture because he was the tallest, whitest man they had ever seen.  What an accomplishment honey, I'm so proud of you!