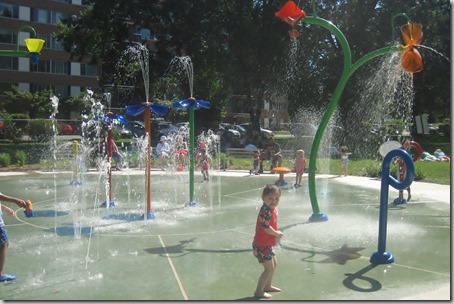 If you've lived in DC in the summer, you know that it's a muggy, sweaty mess.  There are only two sure-fire options to beat the heat.  1.) Run from air-conditioned place to air-conditioned place or 2.) Get in (or on) the water.  Given that we have a toddler that needs space to move, we opted for #2.
Thankfully, water activities are abundant in DC.  On Saturday we checked out this fab splash pad at Virginia Highlands park, just a short walk from our new home.  We will definitely be frequent visitors there!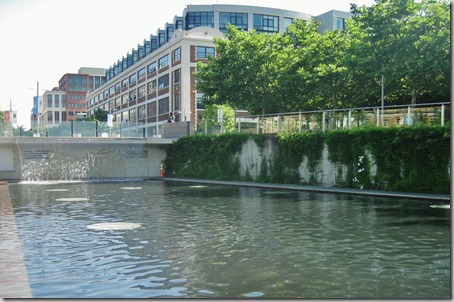 On Sunday we ventured down to Navy Yard, a waterfront area close to the Nationals' ballpark.  It was previously an industrial area but has recently been beautifully restored into condos, shopping, restaurants and a park.  The wading pool (pictured above) was absolutely perfect for tots.  It's about 1 foot deep throughout and has circular platforms at water level that the kids can climb on.  Warning: Don't be fooled by the serene nature of the shot above (this photo was taken at 9 AM and by 11 AM there were a good 100 kids in the pool).
Just as Nia tired of swimming we happened to spot an upscale Mexican restaurant nearby called Agua 301.  Since it was Father's Day we decided to extend our activities to include an outdoor lunch by the water.  There were an abundance of shaded tables by the wading pool, so we just grabbed one of those and got Mexican take-out.
Can I just say that that was an EXCELLENT choice?  Definitely one of my favorite meals I've had in DC thus far.  The cuisine was authentic, super fresh and very reasonably priced.  Highly recommended by this foodie!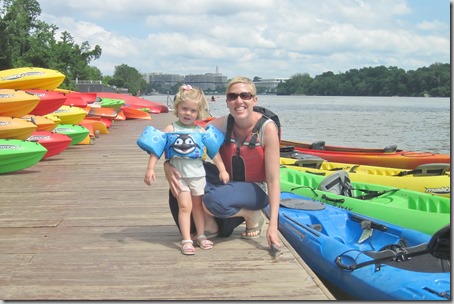 The other cool thing we did was to purchase a season pass to the Key Bridge Boathouse.  The pass gives our family unlimited access to canoes, kayaks and stand-up paddleboards from April through mid-October.  The pass also comes with free kayaking and SUP beginner courses.  There are 3 different locations we can use our pass at.  One is the Key Bridge location in Georgetown.  The second is the Navy Yard, where we went to the wading pool.  And the final location is the National Harbor which is down in Alexandria.  All are within a 15 minute drive for us and I know we'll appreciate the variety of scenery we'll get from using all three.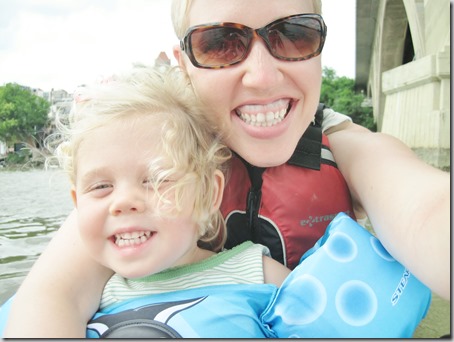 On Wednesday Nia and I took out a single Kayak in Georgetown.  Then on Saturday we brought Daddy back to Georgetown and took out a double kayak.  Finally, on Sunday we tacked on a little canoeing before our swimming and lunch at Navy Yard.  So far we've had zero regrets – great staff, beautiful locations and well-kept boats.  I can see us doing this for many summers to come.  FYI, for those who don't want to get a pass, you can also just rent a boat by the session.  Also, our pass includes 20% off for friends & family, so let us know if you want to join us for a paddle!