Sorry for the lack of posts folks, we've been too busy having fun with my in-laws, Robert & Joyce who live in bea-uuuu-tiful Bend, OR (home of every athletic person who ever walked the earth.  No lie, dress code = your best athletic wear & of course, your bike!)  These Bend-ians crack me up.  Last time I saw a guy biking with his puppy behind him in a kid carrier.  This time around I glimpsed a lady running her butt off pushing a double stroller – the kicker – IT WAS EMPTY?!  What the heck Bend?  Isn't normal exercise enough?  Why you gotta make it harder?  Makes those of us non-athletic folks feel kinda crappy about ourselves…. especially because Grandma Joyce is a food pusher and makes me eat 6 cookies a day.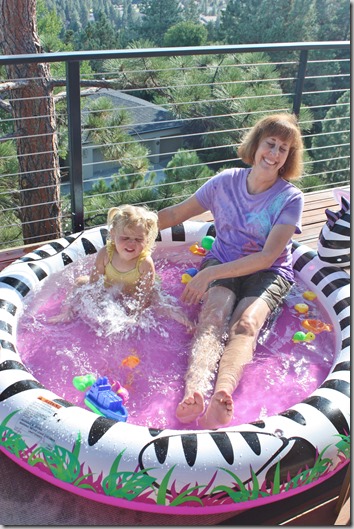 So about that fun I mentioned.  We've spent the most time in the kiddie pool, with each of us taking a turn in the water with Ms. Nia.  Grandma Joyce wins the prize though for going in with all her clothes on.  She scored major points with Nia for that one.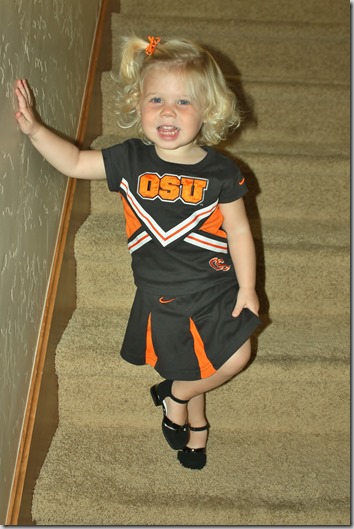 On Saturday we decked Nia out in OSU gear for the big game day.  We paraded her around town and she displayed that infamous pep she is known for.
Sidenote: Nia has been baffled by the lack of attention here (cuz she's just another blonde white kid).  She's used to having everyone fawn over her because she looks exotic.  She also insists on greeting everyone with "Hola," to which she gets quizzical looks and the occasional "I'm not hispanic" (not kidding, someone said that!)  She has adapted by continuing to use her Hola but following it up with a Hello for those who are more comfortable with that.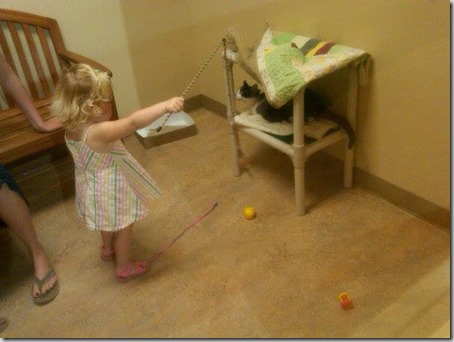 One of the highlights was visiting the Humane Shelter for the first time.  Our gal's OBSESSED with animals (especially dogs), so we thought she'd get a kick out of it.  Here she is trying to tame the kitty (who wanted absolutely nothing to do with her).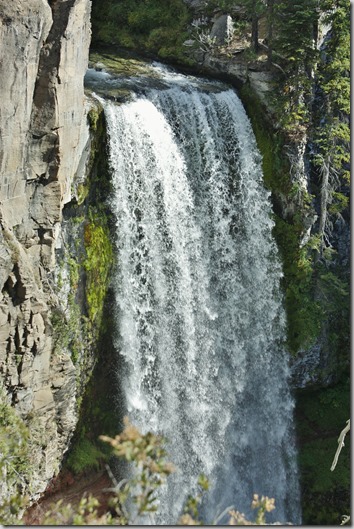 One of the perks of Bend is that it has a plethora of gorgeous natural sights within close proximity.  This visit we ventured to Tumalo Creek Falls, just 15 minutes outside of Bend.  We did a hot trek to the top of the falls and enjoyed the stunning views from both vantage points.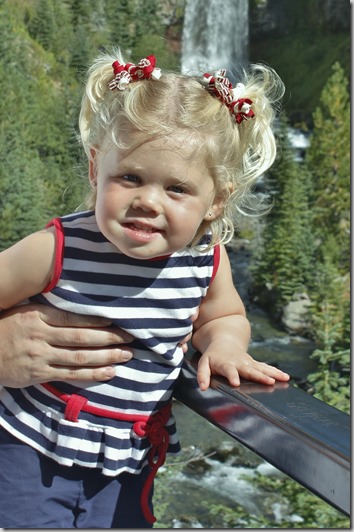 My little daredevil insists on getting as close to the edge as possible (which makes my heart beat really fast).  Those are the days I wish she had inherited my cautious nature instead of Daddy's thrill-seeking personality…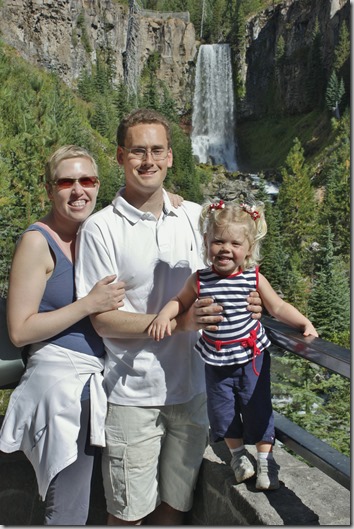 The good news – we finally got a decent family photo!  It's quite a chore getting her to stand still.
Next up: A week-long trip to Montreal & Quebec City for Nick and I.  Much thanks in advance to Robert and Joyce for bravely agreeing to watch our spirited toddler.  She will surely keep them on their feet.  Thanks goodness that we decided to fly Auntie Jenna out for 3 days to help give them a breather!