Guess what arrived in the mail as my very first Birthday gift???  The biggest box of Retro '80s candy I had ever seen!!  Thanks to my oh-so-hip in-laws, I was the recipient of an assortment of popular candy from my childhood.  I tell you, I was tickled pink by all the memories that came with this thoughtful gift.
Here are some of my favorite ones that emerged:
Getting a goody-bag of treats for the 90 minute drive home every time we visited Grandma (we always politely overlooked the fact that some of the candy was quite stale)
Spending entire afternoons biking to Snyder's Drug Store with the neighbor kids to pick out a treat (we could peruse their selection for hours, I tell you)
Begging my mom to let me try candy cigarettes (as you might imagine that was a big, fat N-O)
Enjoying a candy necklace on a perfect summer's day
Buying Laffy Taffy's for 1 cent at the Campground store and then getting them stuck in your teeth
I had forgotten how many good memories were associated with candy!  Do share a few of your favorite stories that these images spark!  I segmented the items I got into two categories: the favorites are on the top and the "just ok" ones are on the bottom.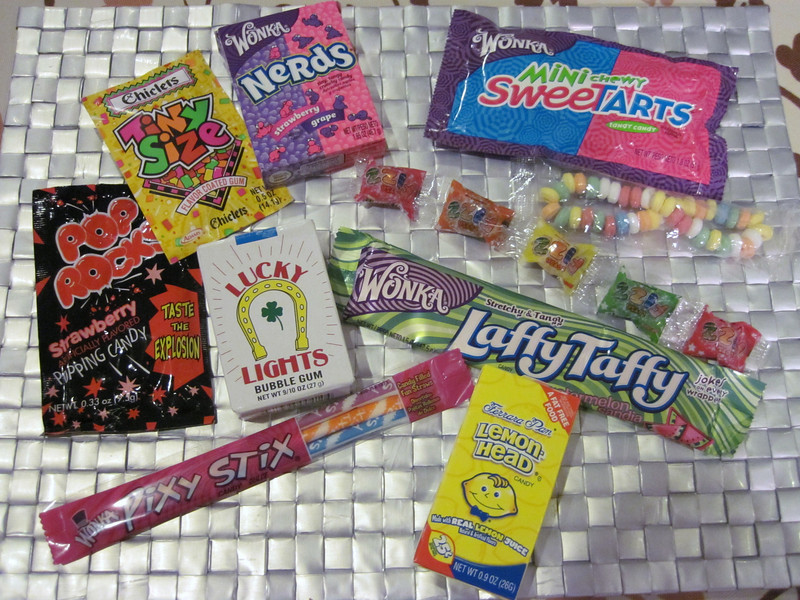 Which ones were your top picks?  Any you'd forgotten about?  I want to see some discussion going on this!
PS- Just in case you were wondering, I had to share the joy of this much candy with the kiddos in my life.  I picked out a few of the most unique ones for Norma to take home to her daughter (Pop Rocks, Candy Necklace, Fizzies).  Can I just say that those were a HUGE hit with 2 year old Norland!
Then, after getting my fill of sugar, I took the remaining ones to Friendship Home and used them as prizes for my Birthday Bingo game.  I couldn't stop laughing as they spit out the Atomic Fireballs and Good 'n Plenty's after trying them for the first time.  I love knowing that the response to those candies is universal!  :)  Definitely an acquired taste…