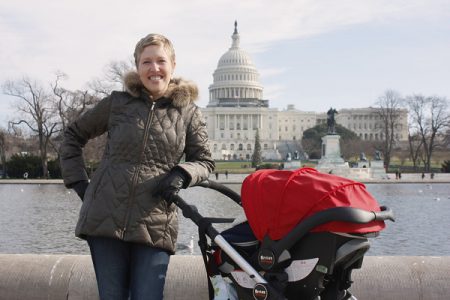 It was a very DC Christmas for us this year.  Nick wasn't allowed to take any vacation days during his language training, so we spent the holiday in DC instead of traveling to see our families.  Thankfully, this lifestyle has taught us how to make do with whatever circumstances we're dealt…
For Example:
Tree boxed up and on its way to Lima?    No biggie, we'll just enjoy the grandiose decorations at the US Botanical Garden instead.
No cooking skills anymore after 2 years of being cooked for?  Who needs a home-cooked meal, going out is just as fun!
So that's what we did, we rolled with it.  And while it was different than Christmases of past, it had a unique, memorable feel to it.  Maybe it was that whole 'new baby' thing.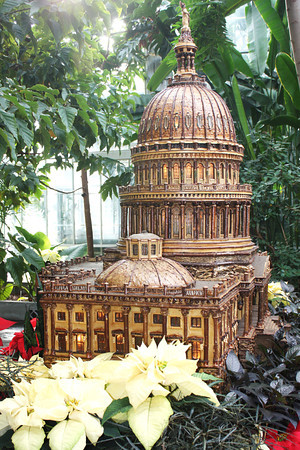 Here's a run down of what we ended up doing to celebrate our holiday.  On Christmas Eve we had a failed attempt at going to mass.  After bundling up our screaming child (in her beautiful Christmas dress), we arrived at church to find standing room only (despite the fact that we were 20 minutes early).  We both looked at each other and aborted mission before the situation spiraled out of control (either Nick or Nia would surely melt down in those conditions).  We retired home for a simple meal, skype calls with our parents and an early bedtime.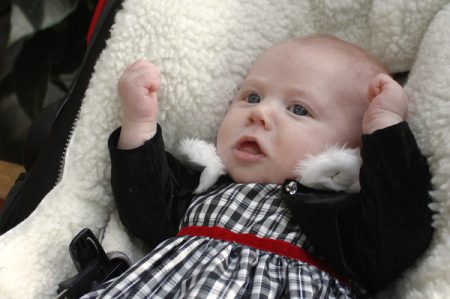 Ms. Nia gave Nick and I a lovely present this Christmas – she slept for 7 hours straight!  I can't think of a better gift than that!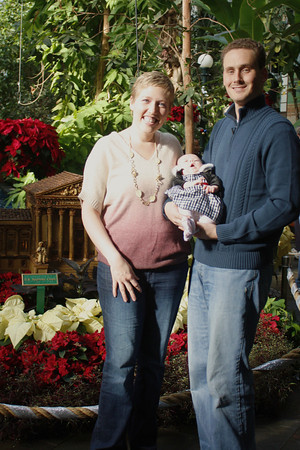 On Christmas morning we got up and enjoyed breakfast out.  This was one of our traditions as a couple and we thought it'd be fun to introduce it as a family tradition for Christmas.  Nia was cooperating, so we decided to take advantage and head down to the US Botanical Gardens to check out the decorations.  There was a train exhibit, poinsettias galore and bronzed replicas of the major Capital buildings.  What a spectacular feast it was for the eyes – the colors were out of this world!  We then capped off our morning by taking a stroll around the Mall before retiring home for a quiet day.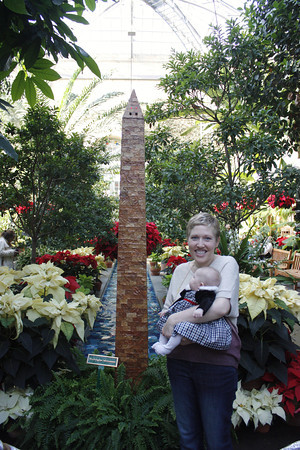 We hope you had an equally wonderful holiday, wherever you may be!  Sending you all a big virtual hug . . .