The night I had been waiting for months to arrive was finally upon us!  After all the fundraising, all the wrapping and all the transporting, it was finally time to give out the gifts… and what a grand time we had folks!  It's impossible for me to describe the level of joy I experienced last night, so the best I can do is show you some of my favorite pictures that capture the mood.  Know that your support of this project was beyond anything I could have ever dreamed of.
As I think back on why we set out to do this project initially, it was really about helping us connect to what Christmas is really about – the spirit of the season.  I can see clearly now that my perspective on Christmas last year was centered on what I lacked – lack of people, familiar traditions, and food that I loved.  In contrast, this year my perspective has radically shifted to one of abundance.  I understand now that a memorable Christmas does not have to be one that looks just like all the others I've experienced–it only needs one key ingredient: to be infused with the spirit of joy and love!  I'm happy to say, we're off to a great start this year (and much of it is due to your assistance, my beloved blog readers!!!)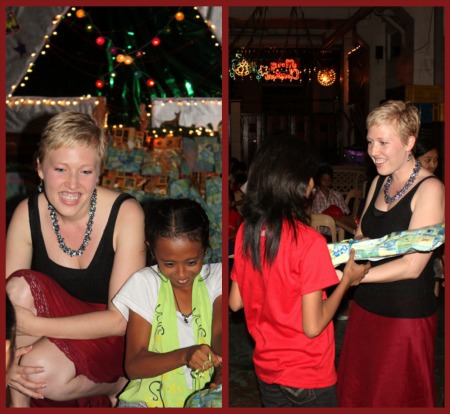 And now, on to the festivities!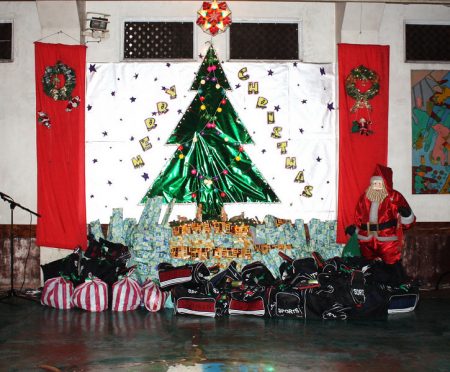 Friendship Home was decked out and the 100 presents took center stage.  I was AMAZED to see how much space they took up when all piled together.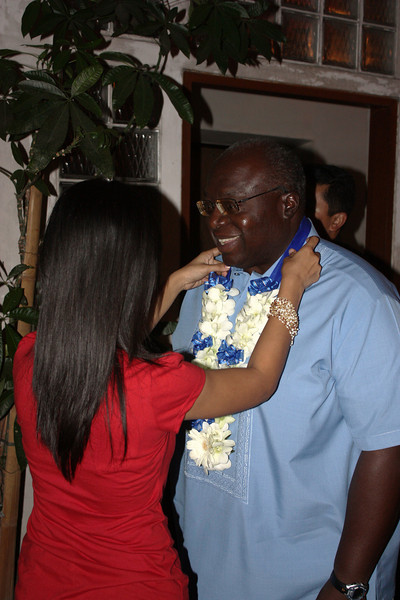 One last minute surprise was that Ambassador Harry Thomas heard about the celebration and wanted to be a part of it.  Although he was only able to stay 30 minutes, his presence added an additional layer of 'specialness' to the evening.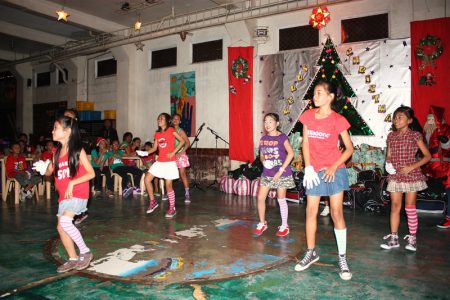 The Ambassador was given the royal treatment for his visit.  They decked him out in a flower lei and the younger kids performed an amazing dance to Shakira's Waka Waka.  He loved it!
Since his time was limited, he was only able to give out the first round of presents.  We were so blessed to have him participate and I heard today that he enjoyed himself so much that he plans to come back in early 2011 to spend more time with the kids!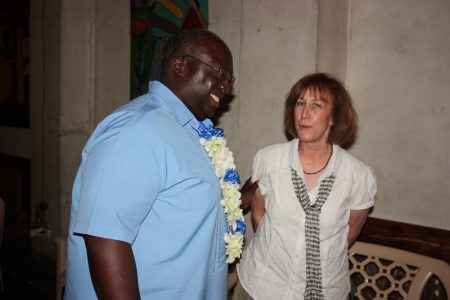 Nick's mom Joyce got a little special time with the Ambassador!  What a nice treat for all of us!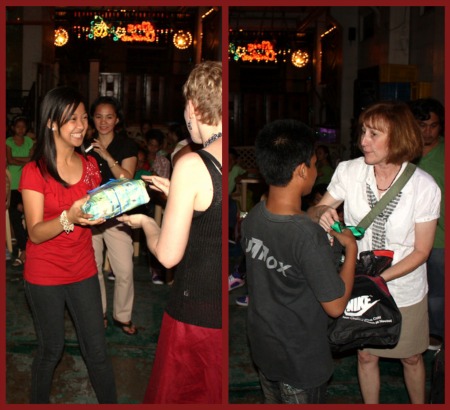 Each age group got the same thing, although each present was addressed to a specific child.  We called them up by group and then passed out the presents.
I so enjoyed seeing the anticipation on the kid's faces as they waited for their names to be called.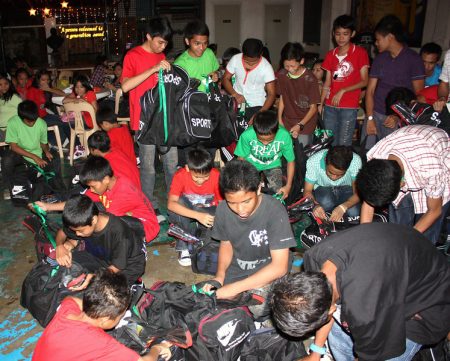 The boys were one of the first to go.  They all got a sports bag, badminton set, basketball and baseball cap.  The hats and balls seemed to be the favorite among them.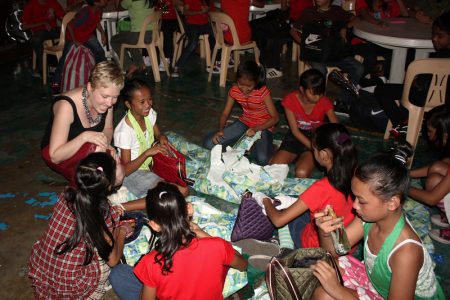 All of the girls got purses or messenger bags filled with goodies.  Each group had slightly different things.  You can see exactly what each age group received by heading to my SMUGMUG photo gallery.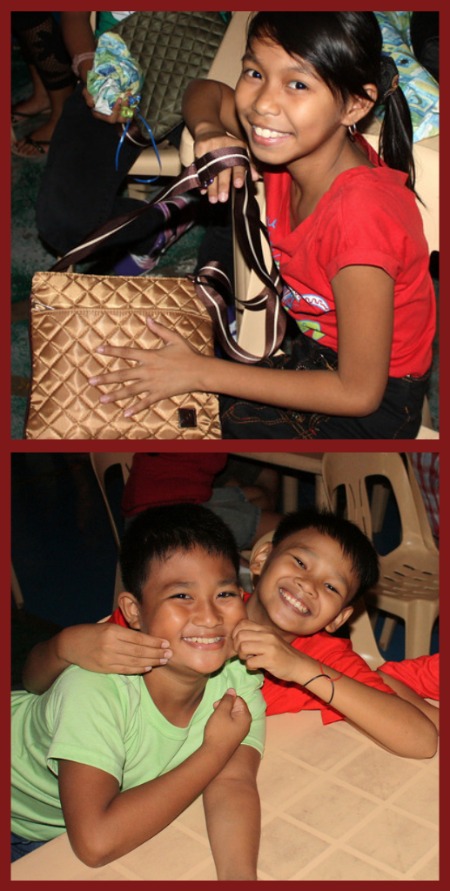 I couldn't get over all the adorable smiles.  Their joy was infectious!
I had a blast playing Santa, especially since I know a lot of these kids well.
Love this picture!  Check out the girl in the center shrieking with joy over her new Coach bag!
Got a kick out of this too – as we got to the older kids the energy was sky high and they were clapping with excitement as their names were called!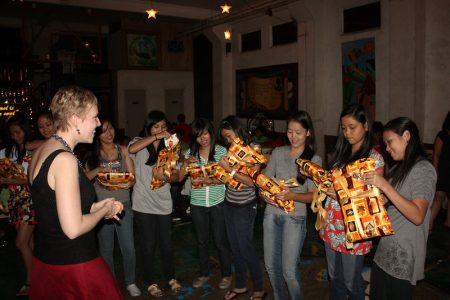 Not sure who was more excited… me or the kids!
Yup, those Coach purses were a big, big hit….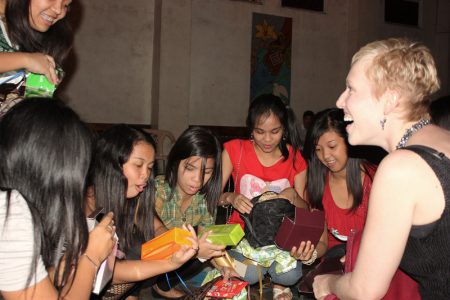 Check out their faces when they realized that they had designer brand perfume inside their Coach bags (and by the way, the perfume was the real deal, not a knock-off).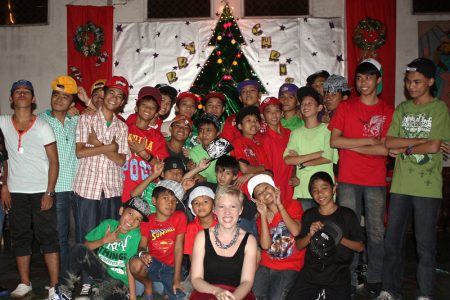 Me and the boys as they show off their new caps!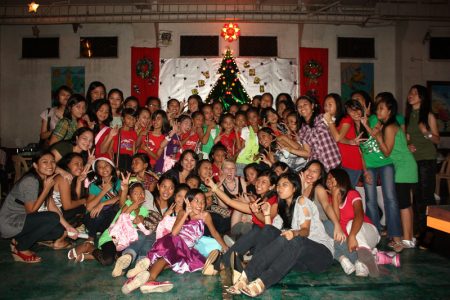 This truly was an evening I will never, ever forget.  Thanks for being a part of the magic!  Don't miss the full collection of PICS!
XOXO, Sarah