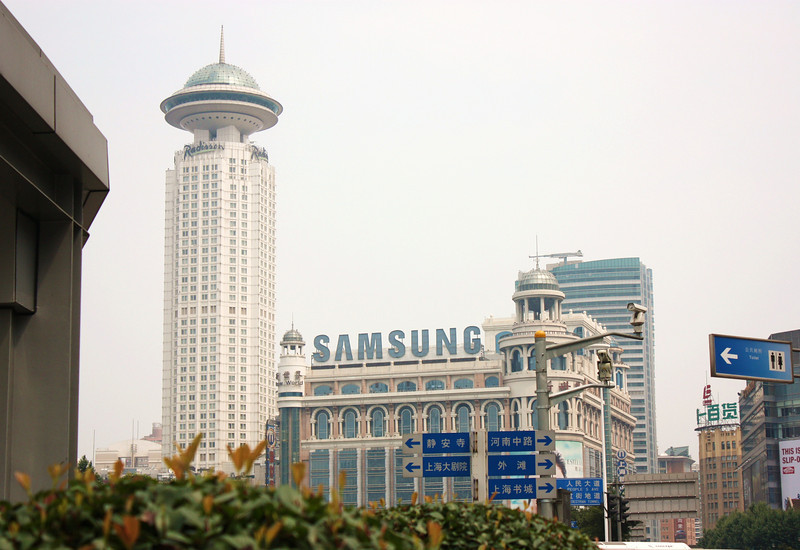 I desperately tried to like you Shanghai, I really did.  I know it's cool to like China right now, with you being a rising super power and all, but I just wasn't into being a part of your 20 million person free-for-all.  You see, as a mid-western girl I place high value on things like smiling and saying sorry when you hit someone with your umbrella.  I'm not trying to be a complainer, I just want to give my blog readers an honest impression of you.  My mom always says you should sandwich the bad with some good, so let's start with some of your positives…
Things You Have Going for You:
Stunning modern buildings in a vast array of geometric designs
A FABULOUS, clean subway system
Good infrastructure – roads, sidewalks, etc.
A Clean and Safe Environment
A Great Circus!
Ok, now that we've put that out there, I think I'll take a moment and explain to my readers why we just didn't click.  Here goes…
Nick and I took an 8:30 PM flight out of Manila on Friday night, so we got to our hotel around 1 AM.  Not the best way to start a trip, but the tickets were so cheap that it seemed like a fine compromise ($150 round trip).  Not sure I would do it again, especially the return trip on Monday morning which went from 1 to 5 AM.  DOUBLE YUCK.  I would have slept well that first night had Nick not realized (once we got to the hotel) that we had our first "casualty of travel" – he had left his $300 Kindle behind on the airplane.  AWESOME honey.  Not a good way to start our trip.  We took a moment to say thanks for the insurance we had purchased on the item, but I still couldn't seem to shake the fact that this was a bad omen.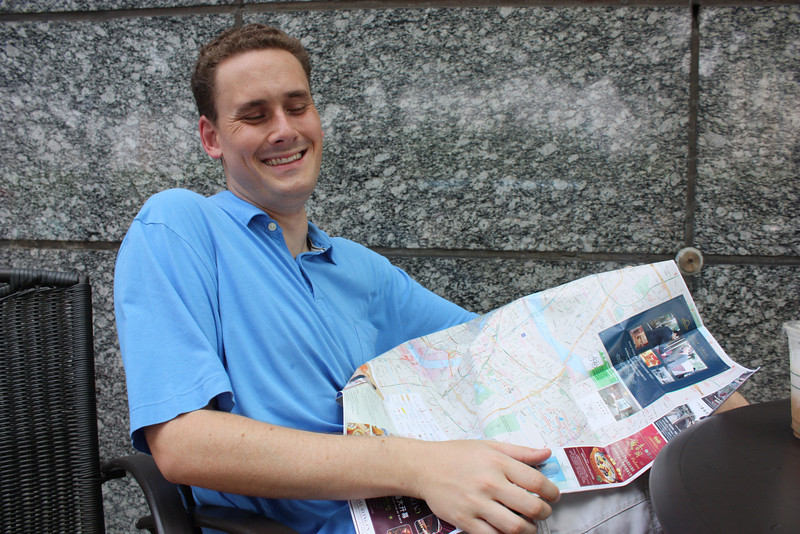 Saturday morning arrived too soon and we set out to explore the city on foot and subway.  We were struggling to find anything that remotely looked like a breakfast food, so we ended up indulging ourselves in a little Starbucks as we got our bearings.  As I've mentioned before, Nick does everything in his power to try and blend in a city (which I never excel at, by the way) and even this early in our trip we were recognizing that we were horribly out of our element.  The shot above is one of my favorites – zoom in on 2 glaring white people in a sea of Chinese sipping our Starbucks and attempting to decipher the biggest city map we've ever seen.  It was not a pretty picture….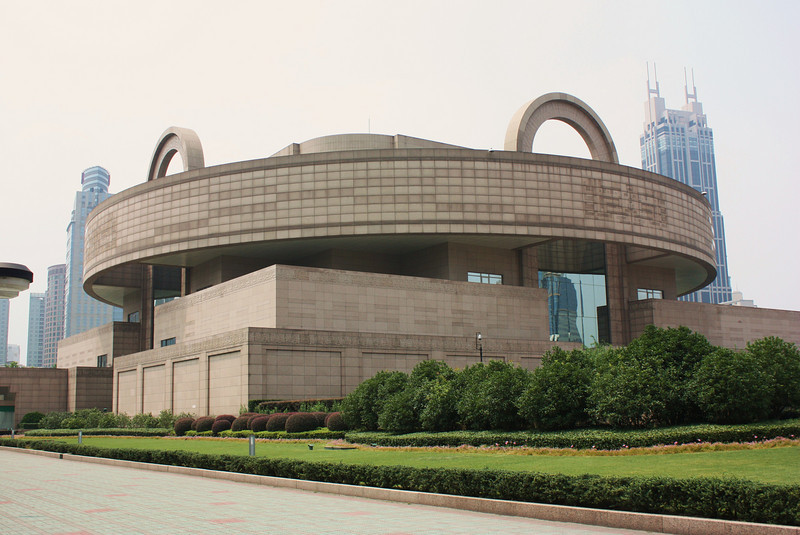 With some food in our bellies, we were ready to attack the city.  First up: The Shanghai Museum, full of classic Chinese art forms.  Let me start by saying that the building was stunning.  The lines however, were not.  We queued up only to realize that the Chinese weren't so much into the concept of lines.  In fact, they thought it was perfectly acceptable to lift the rope and enter the line ahead of you.  Or try to bypass you on a corner.  And don't even get me started on the umbrellas.  Hats or sunglasses are not in fashion, so they all carry umbrellas instead.  This would be fine if we a.) weren't in a line and b.) squished together like sardines.  Nick started to lose his cool really fast after getting poked in the head by the umbrella prongs close to a 100 times.  Things were rapidly going south and we were only at our first stop of the day!
At this point I attempted to ask a guard how long the wait would be and he put his fingers together in an "X" formation and held them in front of my face, apparently signaling that he was not a question-answering guard, just one that was there for decoration.  It was at this point that I started to lose my cool…..thankfully, we finally got into the museum a few moments later.  Lots of pictures on SMUGMUG of the museum and its historical contents.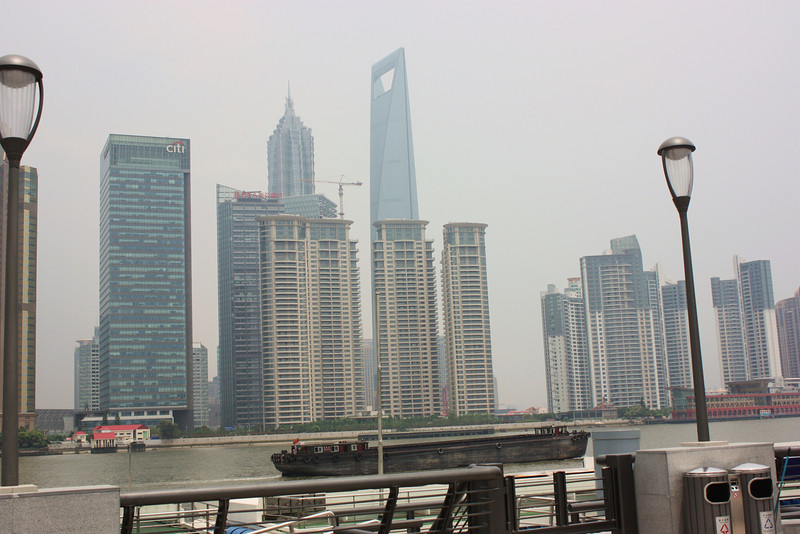 Next up was a stop on the Bund, which is a beautiful walking area on the river.  According to our map, the distance to the Bund seemed relatively short.  It was not.  Add to that the 95 degree heat that was emerging and you were left with two sweat-drenched tourists (who did not have an umbrella).  It was approaching 12 noon by the time we got here and since this was supposed to be one of the biggest tourist areas, I assumed we'd have no trouble finding lunch and some water to hydrate ourselves.  Wrong again.  Not a restaurant in sight.  We walked for 30 minutes down the riverwalk (which was not looking beautiful to me anymore) and I started to get delusional from the lack of hydration.  No kidding, I was losing it….and Nick knew it.  I just could not fathom how there could be no restaurants.  Didn't the Chinese need to eat?  Apparently not!  There are a lot of things I can do without, but food is not one of them!
We did eventually manage to find a cafe for lunch and then proceeded to get stuck there as we waited out a 2 hour down-pour.  I didn't mention this yet, but take a look at the above picture and you'll see that it appears like the city just stops after that first row of buildings.  Oh yes, the smog was that bad.  It was like nothing I'd ever experienced, even in Manila.  The air always seemed to be filled with fog and when you looked at the sun, it was covered by a yellow-orangish haze.  We didn't even wear sun screen because we decided the sun couldn't get through that muck.  And did I mention that I even started having random coughing attacks?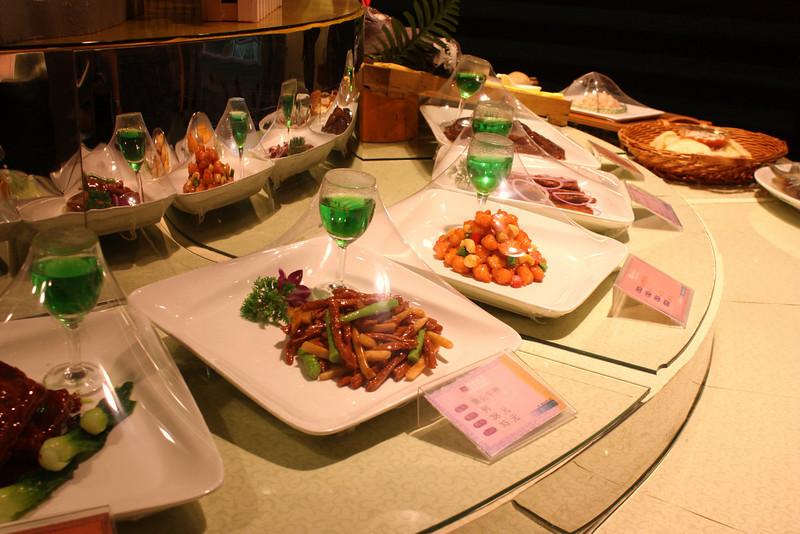 I don't know if I was just being a naive American or what, but I was not expecting the language barriers we encountered.  I figured, hey, this is an international city and Chinese students are all learning English in school, so how hard can it be to communicate?  Answer: Damn near impossible.  Take our dinner experience for example, where we were supposed to look around a cafeteria with 200+ plates of plastic food to choose from.  I recognized maybe 5 things out of 200 and there were no translations on the description cards.  Meanwhile, once you had decided on  your choices, you needed to flag down a roaming lady who would write down your selections.  We tried politely waiting our turn near the lady, but inevitably someone would cut in right before our turn and steal her away.  We were seething….
When we finally snagged a roaming lady, we ordered a few dishes, one of which was the item pictured above which we thought was Sweet and Sour Chicken.  Turns out it was battered chicken feet or something like that.  It was DISGUSTING!  Gritty, impossible to bite through.  Let's just say that we didn't eat it and that left me with noodles and a pastry puff for dinner.  SOMEBODY FEED ME PLEASE!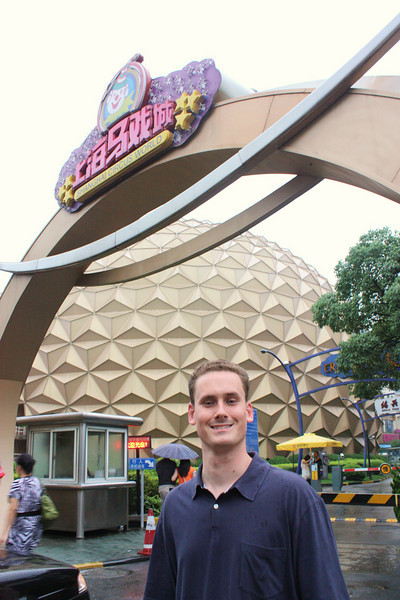 The one high point of the day was going to see the ERA: Intersection of Time Show at the Shanghai Circus World & School.  It was a remarkable performance; far beyond anything I could have imagined.  It was simply mind-blowing to see the various ways they could contort their bodies!  I've been told this is similar to Cirque De Soleil, but at an even higher caliber level.  It definitely met and exceeded our expectations and would be the one thing that I'd recommend as a "must-do" to visitors.  I did manage to find a highlights reel of the acts from our show (note: it was illegally filmed so the quality is not the best).  It will give you a good sense of what we experienced.
Sorry for the negativity in this blog post – it's very unlike me!  I feel better now that it's out of my system.  Tomorrow I'll put together a review of day 2, when we went to the World Expo.  Lots more to come!  In the meantime, check out the pictures at SMUGMUG.