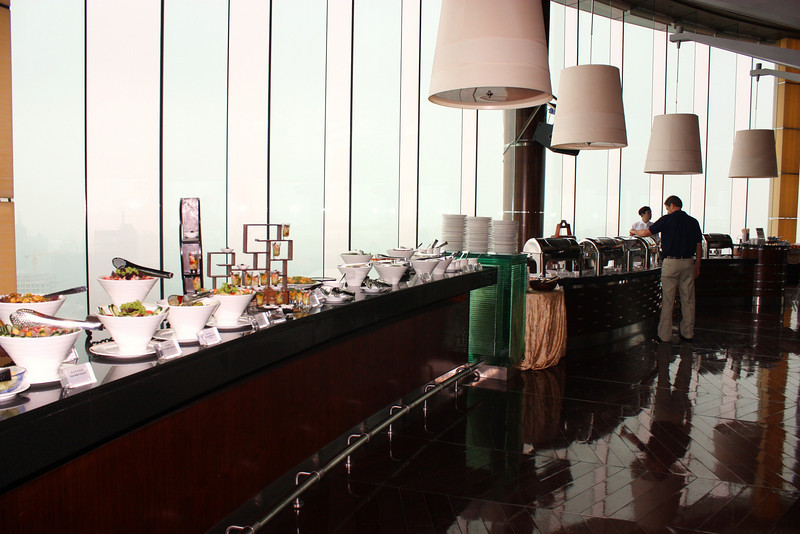 Ahhhh, Day 2 in Shanghai.  Despite the challenges of Day 1, Nick and I were determined to start this day with a positive attitude.  To get things kicked off on the right foot, we decided to indulge in a delicious breakfast at the Sofitel.  :)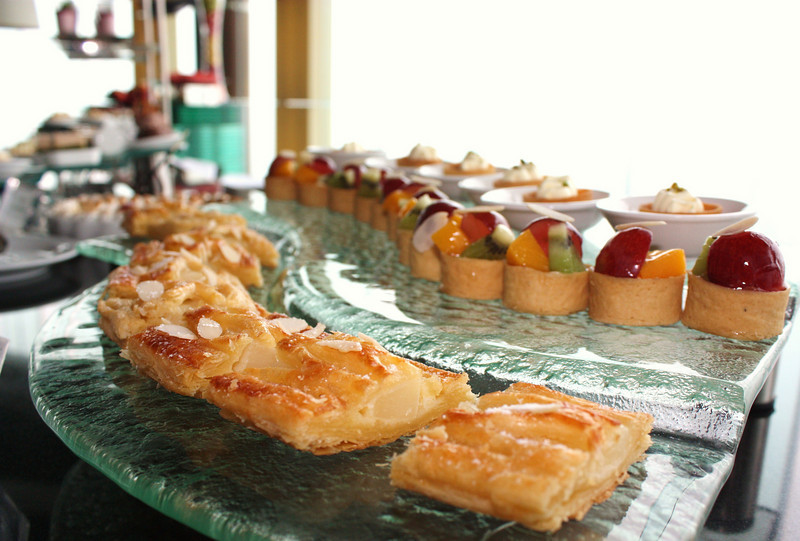 I particularly enjoyed the dessert buffet, which made up 1/2 of my meal selections.  Sometimes I just LOVE being an adult!  :)  Doesn't it look scrumptious??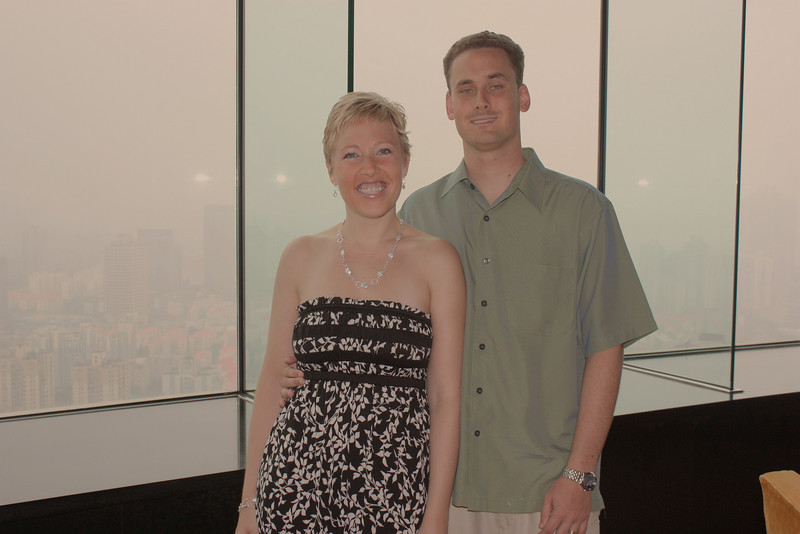 The coolest part of the buffet was that it took place on the 47th floor of the hotel, which happened to be a rotating restaurant.  I was way stoked about this concept and couldn't wait to enjoy the varying views of the city from our ringside seat – alas, I forgot to consider that the smog would make the views negligible (note the picture above – you can vaguely make out the shape of buildings).  Oh well, great views are over-rated anyways!  On to the Expo…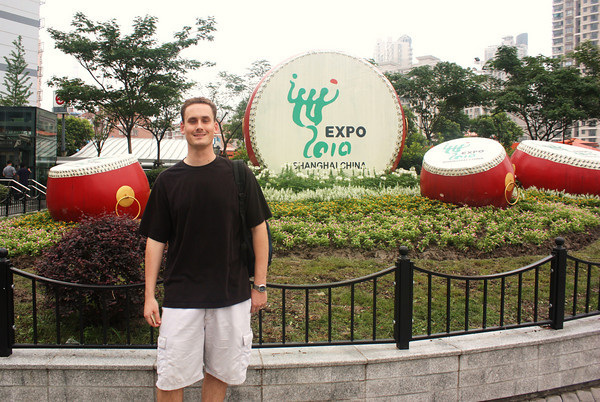 Now, before we get on to the Expo, I should set the scene a bit.  I failed to mention yesterday that both Nick and I had mysterious 'pains' that started plaguing us.  I had this perpetual foot cramp that ached with each step and Nick had a knee pain that was bothering him.  We are quite the pair, aren't we?  We were also "homeless" for the remainder of the day, having had to check out of the hotel after brunch…
We arrived at the Expo around 1 PM.  We were told to expect horrendous crowding, but were pleased to find otherwise.  Little did we know that we had started on the unpopular side of the Expo and the crowds were waiting for us across the river….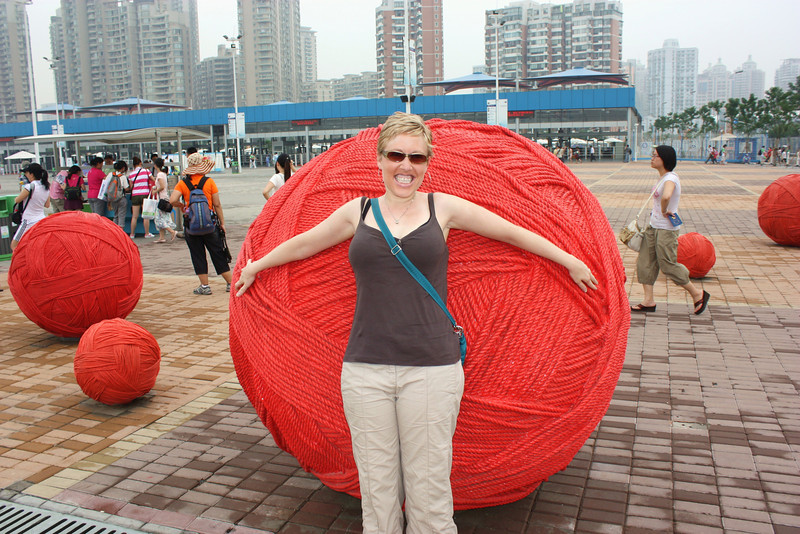 For those of you not familiar with the Expo, it's essentially a collection of 200 Country Pavilions where individual countries show off the best of what their nation has to offer.  They may show a movie, display artifacts and traditional costume or have a performance.
There is also a "Passport Booklet" in which you can collect stamps from each country.  Somehow, that got turned into an unspoken contest to collect every stamp, because we saw numerous examples of people coming into the pavilion, collecting their stamp and running out the exit.  Kind of defeats the purpose of the Expo, doesn't it???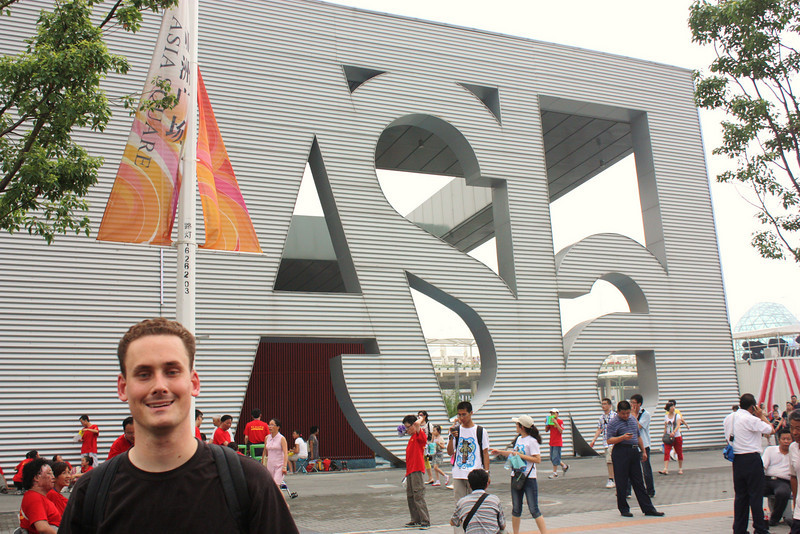 The thing that surprised us most was the lack of foreigners that we saw at the Expo.  It was about 98% Chinese attendees.  As you might imagine based on yesterday's post, we ran into much of the same bad behavior that we'd experienced the day before, only on an amplified scale due to the massive crowds.  The umbrellas were back in full force, as was the pushing, line cutting and spitting.  Nick's patience expired in about 30 minutes and I spent the afternoon reminding him that it was a waste of energy to yell at our impolite friends as they a.) didn't care and b.) couldn't understand him.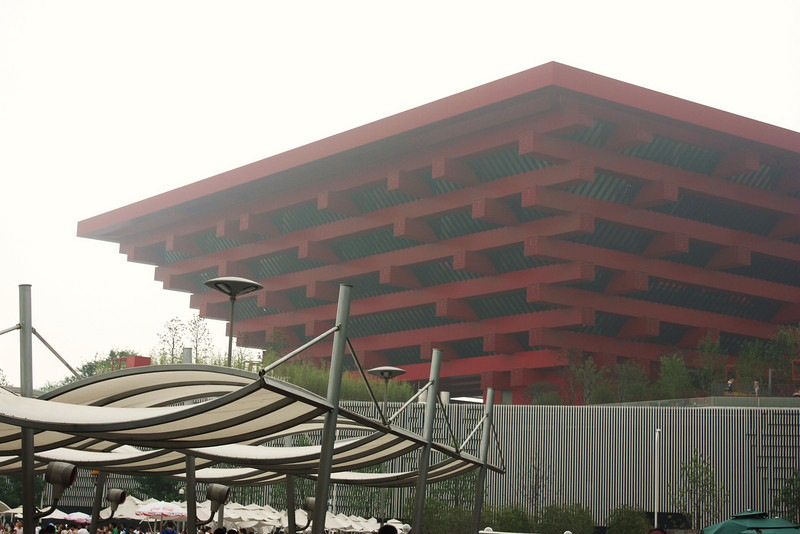 The lines for many of the pavilions were nightmarish.  Some, like the Chinese Pavilion pictured above, gave out ticketed slots at the start of the day, so that wasn't even an option for us.  The Saudi Pavilion was the most popular, with wait time ranging from 2-6 hours.  Many people had collapsible stools that they'd pull out when stopped.  There was also a lot of card-playing going on.  Nick and I decided that there wasn't anything inside those pavilions that we wanted to see bad enough to wait in line for 2 hours.  By hour 3 we were both starting to reach our max (pathetic, I know).  It was the combination of the heat, crowds, and lack of manners that really got to us.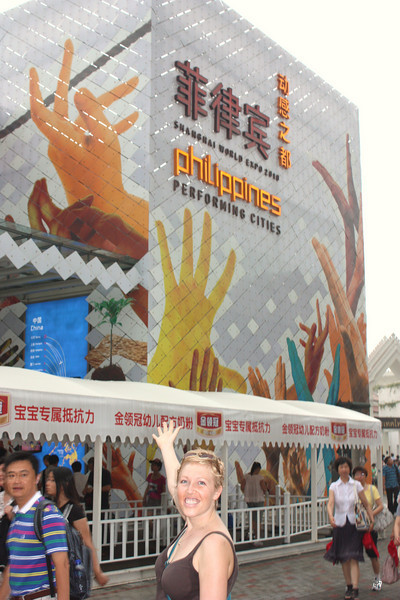 Then, in the distance, we saw it – the Philippines Pavilion!  We ran towards, needing something, anything really, to lift our spirits.  And just as expected, it came through for us!  It was by far our favorite pavilion, really capturing the essence of what the Philippines was all about – Food, Shopping, Massage and Performing.  The had a cute cafe offering all the Filipino favorites, a Hilot Massage room where you could try a sampling of this indigenous massage style, and an entire market area of fun Filipino wares for purchase.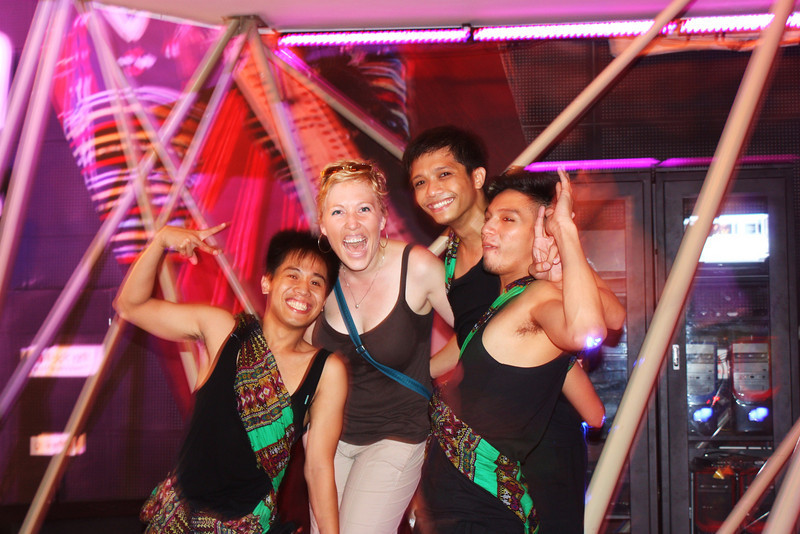 The highlight of the Expo for me was going up to get my picture taken with a group of Filipino Performers.  When it was my turn I walked up to them and said Good Afternoon in Tagalog and they immediately replied, "You speak Tagalog!" and started hugging me and shouting in typical Filipino fashion.  When they found out we lived in Manila it became a major love-fest.
After days of being pushed and stepped on, I can't tell you how good it felt to be embraced in the arms of a Filipino.  It didn't matter that I only knew 20 Tagalog words or had white skin; all that mattered was that we shared a love for the amazing country that is the Philippines!
It was on that high note that we decided to leave the Expo.  We were both feeling nostalgic for Manila and ready to get on the airplane.  Too bad we still had 7 hours to kill before our flight took off….
We decided to kill a couple of hours with dinner.  We found a curry restaurant near People's Square that appeared to have recognizable food.  No luck on communicating though, so we resorted to the old "Point and Pantomine" method.  Everything was going fine until I created an international incident, as my husband loving put it, by asking for a fork.  Granted, I know this isn't the culturally savvy thing to do, but I'd had a long day and damn it I wanted to enjoy my food with a fork, not chop sticks!
This request was not understood by my server, but the guy at the table next to us (who was apparently eavesdropping on our conversation) started laughing out loud.  Oh sure, I thought, we finally get someone who understands English and all they choose to do is laugh at me, not assist.  Being the nice midwestern gal that I am, I flashed him my brightest smile and EUREKA – he translated for the waitress!  YAY – SARAH GETS HER FORK!  The night was looking up.
All of a sudden a 3 piece band starts playing (singer, bongo drum, guitar).  It was very haphazard and they were basically standing in the entryway of the restaurant, so they had to move frequently for people to enter and waiters to go by.  That said, they were absolutely entrancing despite looking so out of place.  Not a Chinese person in that restaurant was looking at them but boy were they rocking out.  I felt so bad for them that I started bopping my head and smiling at them, letting them know that someone appreciated their efforts.
It was somewhere in the middle of Alicia Keyes' "No One" song that it dawned on me – this band had to be Filipino!  They were radiating too much JOY not to be.  :)  I ran up there and over-enthusiastically asked them where they were from.  My hunch was right: Filipinos!  Nick and I were beaming as we left the restaurant.  It was the second time that day that joyful Filipinos had pulled us out of our slump.  You would have laughed to see us – we kept hugging each other and whistling Alicia Keyes.  We even started talking about a timeline for adopting a Filipino child of our own!  :)
And that, my friends, is why travel (even when painful) can be a very good thing – because it reminds you of exactly what resonates with you and helps you fall in love with it even more.  In our case, that just happens to be what we already have, our beloved Philippines!
And just in case that wasn't enough gushing, you will be pleased to know that our Filipino stewardess on Cebu Pacific had handed in Nick's Kindle to the lost and found and it was waiting for us when we returned to the airport!  :)  A sweet ending to a bitter-sweet trip…