I am well aware that I have been a horrible blogger lately and I promise to make it up to you.  Soon.  It's just that there was the honeymoon and then the nasty cough decided to come back for round 2.  And those are my current excuses for today.  Please don't stop reading, okay?  I promise to write more!
Time to wrap up the honeymoon with one last post about Bali.  So here goes… As I eluded to above, somewhere between Siem Reap and Bali my immune system went on the fritz again.  It started with a little cough, then some sniffles and poof! there goes all my energy.  Here's the good news: Bali was a great place to be sick.  I even had a view from the bed.  I'd go take in some clean air, then hit the bed again for a nap.  Of the 5 days in Bali, the first 2 I functioned and the last 3 I was villa-bound.  Lucky for us we could get all our meals delivered straight to the villa!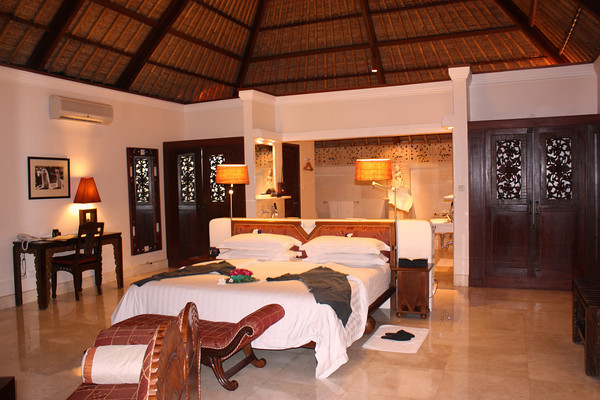 Since I mentioned the villa, we'll start there.  And what a villa it was!  This was definitely a honeymoon-worthy splurge and oh how we enjoyed it!  We stayed in a Terrace Villa Suite at the Viceroy Bali in Ubud.  With only 11 villas in the resort, the place felt like it was all ours.  We had worked with the hotel to craft a 5 night package for us.  It included a bottle of champagne, a flower bath, 2 hours of couple's spa treatment, a 6 course degustation menu and round-trip transfers.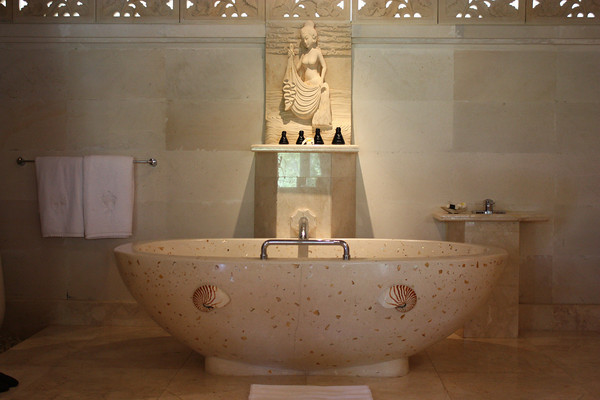 It far surpassed our expectations.  We loved the luxury boutique feel of the resort and the on-demand nature of the staff.  If we showed up in the lobby and asked to be driven to town, a car would be there in 5 minutes.  The answer was always yes, no matter what the request!  And every staff member knew our names and what activities we had scheduled for that day (not sure Nick liked that part as much as me).
Our favorite part of the villa was the terrace area.  We had our own private plunge pool (a first for us) and a fabulous Bale hut to relax in.  Nick pretty much just rotated between swimming and napping in the Bale.  I was more content to lounge on the edge of the pool, sipping my endless Diet Coke (the two-a-day rule goes out the door on vacation) and read books on the Kindle.  This was a definite stretch for me — laying around is not in my nature.  Luckily, it's one of Nick's best skills and he's helping me ease into it.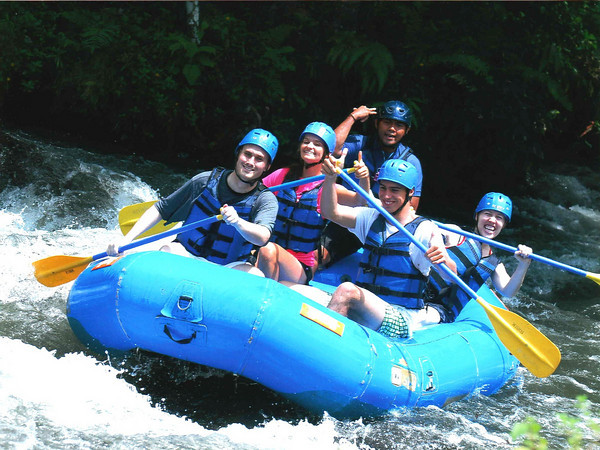 When I think back on it, we really only did 4 different things in Bali.  We hung out in the villa 70% of the time, ventured into Ubud on 3 different occasions, had a fancy Thanksgiving Dinner at the resort's restaurant and did a 2 hour white water rafting trip down the Ayung River.  Doesn't sound like much when I write it out like that, but it proved to be a good way to unwind after the long days in Siem Reap.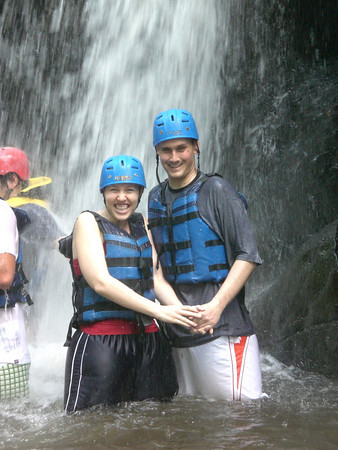 I was a bit nervous to try out rafting since it had been 16 years since my last attempt.  The river proved to be fairly mild though…only class 2 and 3 rapids.  Enough to get your heart racing but not enough to bring on panic attacks.  One of our favorite parts of the rafting experience was jumping out of the boat and floating down a calm part of the river.  The water felt so good!  The waterfall was stunning too.  Definitely a must-do experience if you're in Bali!  We used Sobek Adventures and they were absolute pros.
I'll leave you with a few pictures from our Thanksgiving dinner.  Our 6 courses were: Bread, an amuse bouche, scallops, soup, foie gras, tenderloin and chocolate lava cake (plus a 2nd honeymoon dessert).  Not quite what I'm used to but oh so good.  I had a ridiculous-size portion of foie gras (pictured below)!  Honestly, the steak paled in comparison.  And no one warned me to save room for 2 desserts!  Oh well, you're supposed to feel sick after a Thanksgiving meal, right?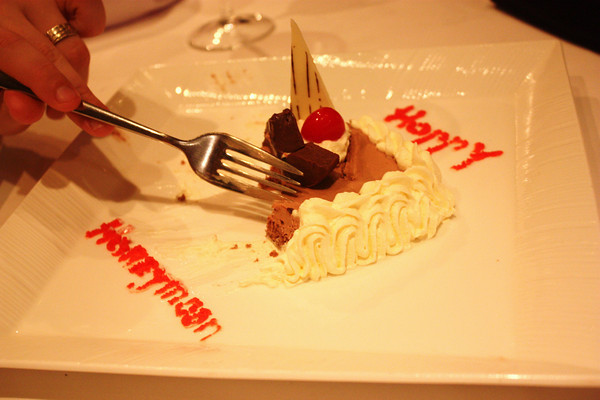 As always, if you want to see all the shots from Bali, head over to SMUGMUG.  In closing, I'll leave you with an adorable shot of my husband, doing two of his favorite things – relaxing and being in the water!  Hoping you all had as wonderful of a holiday weekend as we did.  Thanks again to everyone who made this trip possible for us!