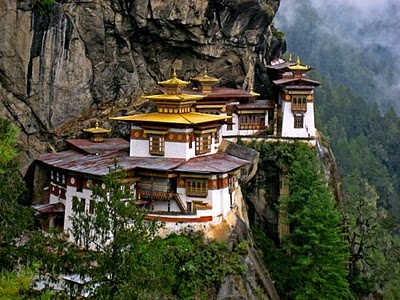 It is decided.  We're going ALL-OUT for our final trip in Southeast Asia.  I can't even begin to explain the ginormous amount of pressure we had placed on planning this trip…
You see, it was absolutely critical that we pick the **PERFECT** trip because:
It is the only major trip we're going to take this year (aside from taking home leave in MN and OR and relocating to DC)
It's our very last trip in Asia (I mean, what if we never come back to this region of the world???  Learning Spanish often means you get permanently stationed in Central and South American)
We intend to have a baby in the very near future, so this could very likely be our last kidless trip!
Knowing that, some of the factors we rated most important on this particular trip were:
Something we wouldn't do with kids
Something adventure-oriented that took advantage of our good physical health
Something we may not be able to afford later on
Something exotic and off the beaten path
Someplace peaceful and serene with no people and very little tourism (Nick's requirement, not mine – it seems that living in a city of 13 million is starting to get to him)
And honestly, after all that narrowing, there was really one clear choice: The Kingdom of Bhutan
Why We Knew Bhutan was "THE SPOT"
The Population of the entire country is just shy of the 1,000,000 mark (and the country is roughly the size of Switzerland)
The National Sport is Archery
The country is 75% Buddhist, 25% Hindu
The country has no Diplomatic relations with the US (the other 3 are Cuba, Iran and North Korea – interesting company, huh? )
The country had no paved roads until the 1960's, launched television in 1999 and got cell phones in the early 2000's.
The country didn't open to tourists until 1974.
The literacy rate is 42% and life expectancy is 66.
The country does not measure GDP, instead they measure something they call Gross National Happiness (NO LIE).
The country has an average elevation of 8,000 feet above sea level and is bordered to the west by the Himalayas.
There were only 30,000 tourists in 2010!
Truly, this is the land that time forgot; perhaps the last Shangri-la on the planet.  I can honestly say that I am STOKED beyond belief!!  I know this will be the highlight of our year.  Now that we've selected our Butanese tour operator (required for travel in the country), booked our flight on the country's only airline and wired our money (no credit cards accepted), all we have to do is count down the days until mid-April!
I'll share more about our plans in upcoming posts but for now I'll just leave you with a map of Southeast Asia so you can see exactly where Bhutan is located!  It gets a bit lost between China and India, so look closely…