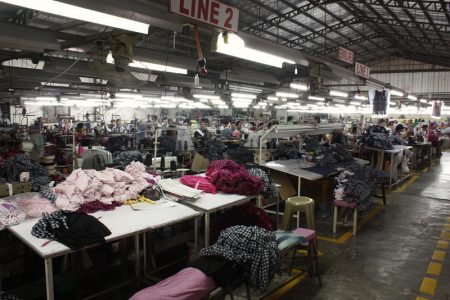 Over the weekend I had the privilege of touring a Garment Factory that one of my expat friends owns.  It's a large-scale production, producing roughly 25,000 pieces per day and employing over 1000 people.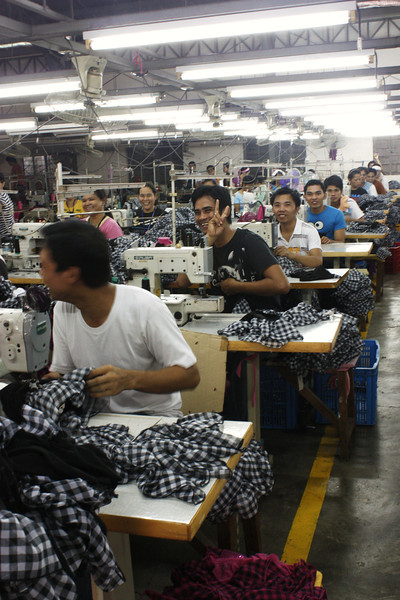 I've had a thing for factory tours since my Target days when I used to get to tour different food processing plants for my buying job in the Deli.  I couldn't say I had ever been to a Garment Factory though, so when my friend offered, I was quick to take him up on it!  One of the things I noticed right away was that there were an equal amount of male and female sewers.  When I asked about this, my friend said that some of his best sewers were actually the males.  Who'd have thought??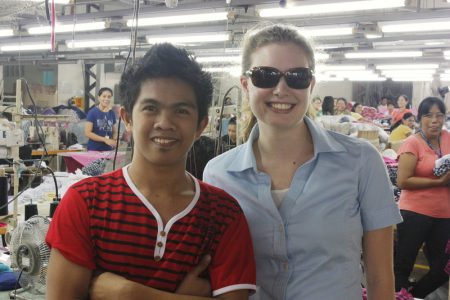 My friend Kristen accompanied me on the tour, so as you might imagine, the two of us stood out quite a bit in a factory full of Filipinos.  I hope my friend doesn't pull his numbers for that day and see a dramatic drop… we definitely created a commotion!  This picture above was one of my favorites.  While we were touring around, the floor manager asked if we wanted to meet the winner of the Holiday Singing Competition.  Of course we said yes, as this person would have celebrity status in the factory.  The best part was that he came up and immediately started posing for pictures to a chorus of hoots and cheering!  Only in the Philippines…  :)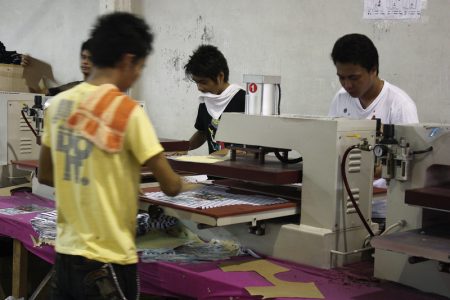 The factory produces for a large US retailer.  In the picture above they are heat-sealing logos on the product.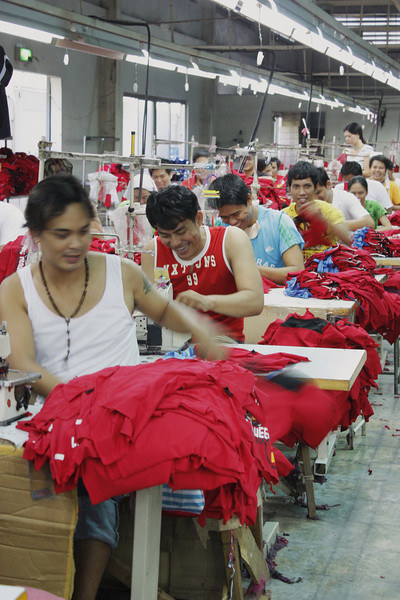 The factory was very well-organized.  Cut pieces sat at the back of the factory and worked their way up the line.  If I was the first sewer in line, I may be putting on the tag.  Then it gets passed up to the next person who does a sleeve seam, etc.  Really makes you appreciate how much goes into creating our clothes!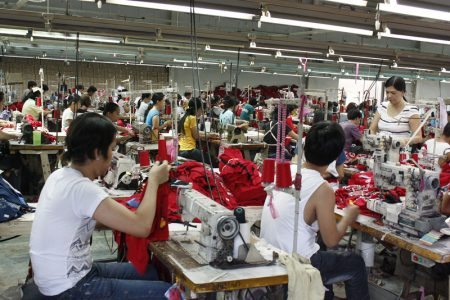 I must say, the working conditions seemed fantastic.  Everyone I talked to was so thankful to be working here, as jobs in the area are scarce.  They also get a 1 hour lunch break and have an on-site canteen where Filipino food is cooked up for them.  The other thing I appreciated about the operation was that they promote internally, so when there's an opening in the front office, they survey the sewers to see who has a College degree that may be interested in applying for the job (sadly, this is a common occurrence that an individual would be doing a job far below their skill level).
Yet another cool life experience that I can add to the list!  Thanks to my expat friend for making it possible!