A Joint Labor of Love
One of Nick's many roles in Manila is President of the US Embassy Club (USEC).  USEC is the charitable arm of US Embassy – Manila that supports 13 local charities.  USEC provides both monetary and volunteer resources to our charities (one of whom is my beloved Friendship Home).  The millions of pesos USEC gives away annually is raised through a series of events throughout the year.  One of the new events that Nick and his colleague Andrea came up with this year is a Restaurant Week for Charity.
There are currently 5 participating restaurants, with more coming on each week.  The establishments have agreed to donate a portion of their total revenues to USEC to support the charity's work.  If you live in Manila, please mark your calendar for June 6-12th and come out and support these wonderful restaurant partners. We're hoping to net a boatload of pesos for our charities during HUNGRY TO HELP week.
As for my role in this, I had the opportunity to design the website.  Do check it out, I'm quite proud of it!  (Click the picture above to see it)  And just in case you're wondering, it was made with my favorite Advanced WordPress Theme in the entire world – THESIS! (note: this link is an affiliate one)
The Family Biz
Another thing that I'm quite proud of is the family business, Lake Area Discovery Center (LADC).  LADC was created by my Mom, Janet Miller, a little over 10 years ago.  It is a Christian-based Early Childhood Program that serves children ages 2-5 who live in the Northeast Metro area of Minneapolis/St. Paul.  In its 10 years, it's expanded to 6 different sites that serve over 500 families.  I had the privilege of getting to be the marketing director at LADC for a period and all I can say is that I hope by some miracle one of my kids will be able to attend down the road…
If you live in the St. Paul area and are looking for a preschool (and/or extended day options) for your child this fall, be sure and watch this fantastic new promo video featuring both my Mom and my sister Emily (who will be teaching at the St. Jude of the Lake Site this fall).  It makes me want to be a kid again…
httpv://www.youtube.com/watch?v=buqEt2Q2YDw&feature=youtu.be
The Much-Anticipated First Baby Bump Photo (@ wk 15)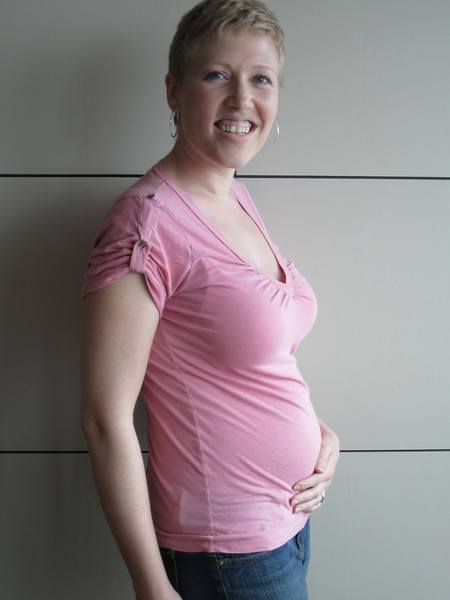 Lately, I've taken to holding my tummy a lot so that people correctly infer that I'm pregnant instead of just over-indulging in ice cream!  :)