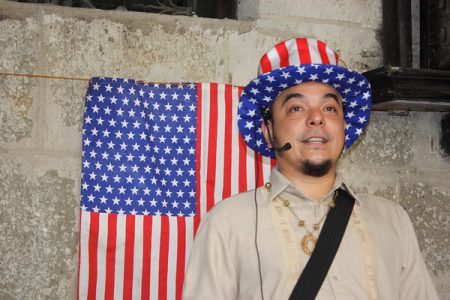 Those who visit me here in Manila know that I insist on them attending famed tour guide Carlos Celdran's Intramuros: If These Walls Could Talk Tour.  While a bit envelope-pushing at times in his delivery (see photo above where he's discussing the US' occupation of the Philippines in the early 1900's), he manages to deliver historical information in a fresh and creative way that I have come to enjoy.
I had to smile when I opened the paper this morning and saw, in true Carlos form, that he had staged a protest DURING MASS at the Manila Cathedral WHILE DRESSED as Jose Rizal, the National Hero of the Philippines.  Carlos was protesting the churches' opposition to the Reproductive Health Bill, a bill that promotes information on and access to both natural and modern family planning methods that are medically safe and legally permissible.
Celdran, who gives tours 3-4 times a week that include this very Cathedral he is protesting in, stood at the altar during mass holding a sign saying "Damaso" a reference to the villainous friar in Jose Rizal's epic work Noli Me Tangere.  He screamed "Stop getting involved in Politics" until he was arrested for "offending religious feelings."  Who knew one could get arrested for such?! :)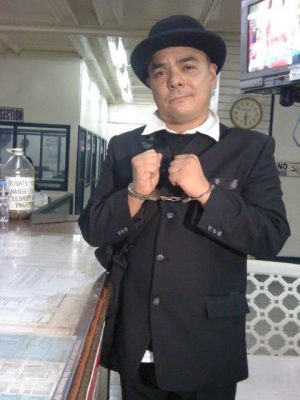 My favorite part of the article was when Carlos said that the police agreed with him (and therefore were kind to him in jail).  I also found it amusing to see that the Catholic Church was threatening to excommunicate President Aquino if he passes this bill. Sometimes I forget we're in the 21st century when I read stuff like that!
I admire Carlos' creative take on getting his message heard and do agree with the fact that people need to be educated on family planning, whether that's natural or modern.  There is room for both, but the bottom line is that ignorance regarding reproduction cannot continue to be encouraged and enabled here in the Philippines.
To read more about the bill: click HERE.
To read more about Carlos' arrest (and see a great video of him defending his position – fast forward to minute 1): Click HERE.
I don't know about you, but I'd like to see a Manila where destitute children are not running around on the streets half-clothed and begging for food…. maybe this bill will be one small step to move us in that direction.  Thoughts?