After our patience-trying flight experience, we needed things to take a turn for the better.  Thankfully, that's exactly what we got.  We arrived in Sydney and took a cab to Darlington, a suburb of Sydney where my high school friend Ann lives with her husband Will and daughter Freya.
She and her husbands have been long-time expats and the last time I saw her was in 2004 in London.  What I enjoy most about Ann is that we always seem to be able to reconnect, no matter how much time has passed.  And that's exactly what we did!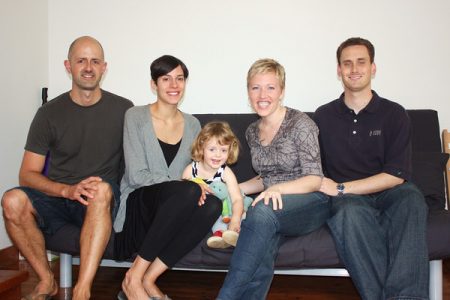 We arrived mid-morning on Saturday and spent the morning getting caught-up on life. In the afternoon Nick and I decided to venture into Sydney before we rejoined them that evening.  It was not the best day to see Sydney, as it was drizzly and overcast, but we set out nonetheless.  The harbor is just as magnificent as everyone said, although no one had prepared me for the INSANE prices that accompanied that view.  I know Manila has made me cheap but seriously, $40 for 2 fish and chips baskets and cokes is nuts!
Our night together was really idyllic.  Will grilled up some fantastic Australian fish and savored it with sips of Sauvignon Blanc from the Marlborough region of Australia.  It was one of those fabulous nights when conversation flows and time just disappears.
The next day we enjoyed a lazy morning sipping Will's custom-made lattes (this man is serious about his lattes, going so far as to time the length that the milk is steamed and pre-heat the cup and stirring spoon).  He spent a half hour educating Nick and I on the methodology of creating the perfect latte and insisted that we never settle for a sub-par latte.  I already noticed myself frowning in disdain when my latte arrived on the cruise ship today and lacked the appropriate texture to the foam top.  Great, thanks to Will I'm now becoming a latte snob!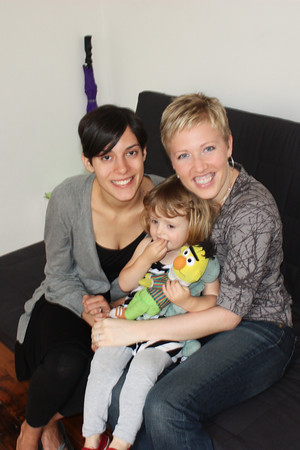 We ended our time with them by enjoying a drive around the city.  We saw the famous Bondi (Bond-eye) Beach before being dropped off at our cruise ship on the harbor.  A big thanks to Ann and Will for being such wonderful hosts.  This was the first time we've stayed with someone overseas and they really made us feel at home.
Nick has never been on a cruise ship before, so as part of this trip we decided to add in a short 3-day cruise to give it a test drive and see if he liked it.  We found one that went from Sydney to Melbourne with a stop in Tasmania.  It fit perfectly in our schedule and also had the advantage of moving us from point A to B.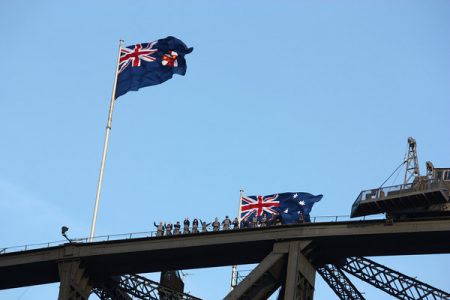 Nick has been preparing for this trip for close to 8 months and has literally read EVERY message forum out there that's related to Australia and New Zealand.  Usually I roll my eyes at his excessive researching, but once in a blue moon it really pays off.  This happened to be one of those times.  He had heard about a 'little-known' deck off the front of the boat that he wanted to watch the sail out of the harbor from.  So off we went on a wild goose chase looking for an unmarked door that would lead us to the hidden balcony.  Low and behold, it was just as he said and we had the most incredible photo spot ever.  Thank goodness one other couple knew about the secret door too or we wouldn't have had anyone to snap our picture together!
Sailing out of the harbor was one of those 'WOW' travel moments that is so splendid that it wipes away all memories of anything frustrating that happened to get to that point.  There we were sailing by the iconic Sydney Opera House with our arms around each other and the wind blowing across our faces.  Honestly, it doesn't get much better than that.  Those are the moments when I really can step back and marvel at the amazing opportunities this lifestyle affords.  How truly blessed we are!