WE DID IT!
Presents for Pinoys is fully funded with over $1000 being generously given by this blogging community!  All I can say is WOW – I am humbled and totally in awe of how you stepped up to support this endeavor.
Here's an update on where we are with the project:
The first round of shopping took place last Friday.  I was fortunate to be accompanied by a rock-star team of helpers.  Kuya Rudy was the 'runner'.  Each time we texted he met us at a designated drop-off point and we unloaded our overflowing arms (very necessary when you're purchasing the quantities that we are).
Tough-as-nails-Norma was head of price negotiation and the quality inspection team.  She went to town with the vendors, bartering in tagalog and shaking her head when they wouldn't go down the extra 5 pesos she wanted.  She also meticulously inspected every item we bought, ensuring that there were no defects in the merchandise.  She was priceless to have along.
Finally, I had Master-Jedi-Shopper-Sara to lead the design team.  She had the most uncanny knack for finding the hidden treasure that was literally buried under tons of other junk.  We turned to her to make all the choices on colors and designs for the products we were getting.  Honestly, I couldn't have done it without her.  As for me, I was the visionary, the one making sure that the overall assortment of goods we were putting together felt proportionate for each age group.  I also had the fun task of managing and guarding the money from pickpockets (a full-time job at Divisoria).
The bargains we got surprised even me.  Even Nick was impressed (which is very rare, indeed).  It will blow your mind to see how much we can buy for $10 US.  After the giveaway I'll post shots of what each age group got, so watch for that in the weeks to come.
Here's a shot of Norma and I that Sara captured: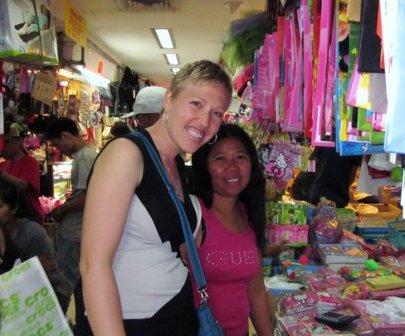 What's Happening Next:
We'll be doing another round of shopping on Friday, followed by a massive present wrapping session on Saturday.  If you're in Manila and would like to assist with either of these activities, please leave a comment and I'll get back to you with more details.
Send us lots of good energy and prayers so that we can get the final half of the shopping wrapped up this week.  It's a monumental task but I'm feeling really positive about it.
Thanks again for your support on so many levels – it all counts, whether you're saying prayers, donating money, or volunteering your time.  This project is going to dramatically impact the lives of those 100 children this Christmas.  ♥