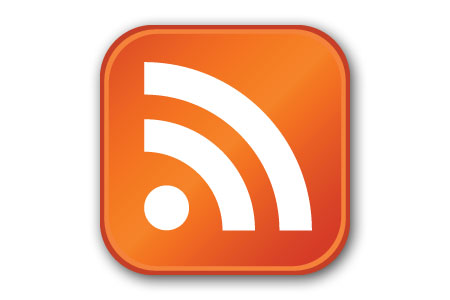 Hi Folks – In today's Tech Tuesday we're talking about RSS feed readers.  I know that sounds like jibberish to some of you, so I'll start with the basics before giving my App recommendation for the day.  Here's the low-down on RSS or Real Simple Syndication.
When you see a symbol on a blogsite that looks like the one to the left, you know that there is an RSS feed available for that site.  What that means is that you can have all the posts from that blog sent automatically to either a Feed Reader or directly to your email.  So let's say you follow several different blogs (in addition to Novakistan, of course).  With RSS you no longer need to go to each individual site each day to check for updates – they will simply show up in your Feed Reader or Email.
Let's take a look at where the RSS icons show up on Novakistan.  I've created a screenshot of the home page (using another Tech Tuesday recommendation JING).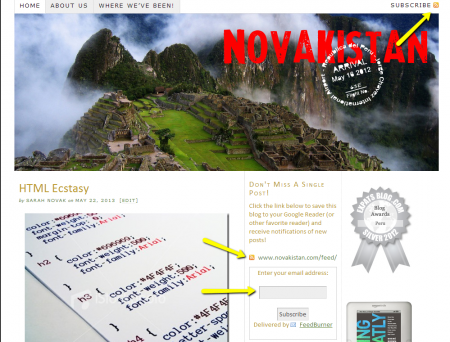 You'll see that there are a few different ways to subscribe.  If you click the first or second links, you'll be taken to a page that asks you which Feed Reader you use.  Simply pick the one you use and your new blog subscription will start showing up daily.  If you want to receive Novakistan by email, simply input your email address next to the bottom (3rd) arrow and hit subscribe.
Easy peasy, right?  Do me a favor and simplify your life by signing up for all your favorite blog subscriptions using one of these two options, okay?
Now let's move on to my recommendation for the day.  Google Reader has been the most popular Feed Reader for many years.  They recently caused a ruckus when they announced the cancellation of that product as of July 1st, 2013.  They are allowing a 3 month grace period for the transition, but any previous feeds you had in Google Reader need to be moved by the end of September.
I was a huge Google Reader fan and use it to track all my favorite blogs.  I was hugely distraught over the news and spent a morning researching and testing new options.  The one that is emerging as the new favorite is called FEEDLY.  It's popular for 3 major reasons:
It is designed to mimic Google Reader's interface

You can import all your feeds from Google Reader with one click
It's a very simple, clean interface
Honestly, I like it even better than Google Reader and wouldn't have even bothered finding it had Google not terminated Reader.  Here's a screenshot of what the main page looks like of my feed.  (Note: Just click on the photo to blow it up)
As you can see, the opening page (titled TODAY) has an easy menu bar on the left side, as well as a nice scrolling bar on the right with a photo and snippet from each blog post.  From there you just click on the desired post to read more.  If you want to tag something to return to later, simply press the "saved for later" button that looks like a ribbon.
If you click on the ALL button, you'll get a list format.  Just wanted to show you that there are lots of different display options.  And finally, one of my favorite features is the simple, clean organizational interface.
Simply click on the Organize link in the upper left corner under your name and you'll be brought to a screen that looks like this.  From here you can organize your subscriptions by category, easily unsubscribe or arrange the order of your feeds.  Sweet, huh?
I have a feeling you're going to fall in love with this app.  Super simple to install, super simple to use.  And once you get it all set up, just go to FEEDLY or add an icon to your desktop to open it instantly.  OK, now go forth and sign up for Novakistan's RSS!
Here's that link to the app one more time: FEEDLY