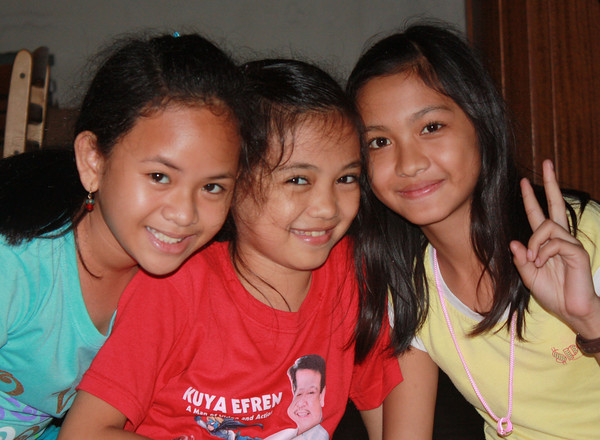 Wow, my spirits are still soaring after visiting the sensational children of Friendship Home today!  It was a big day – the Halloween Party!  There were 3 stations for the kids to rotate between and I brought bags of candy that they had to do "tricks" to receive!  It was a hoot… I continue to marvel at these kids and the amazing creativity.  Seriously, today's activities centered around toilet paper, newspaper and paper plates.  These simple activities fueled a solid two hours of dramatic play and interaction between the 20 kids.  A good reminder of the endless play possibilities that exist in the absence of TV and computers and Nintendo!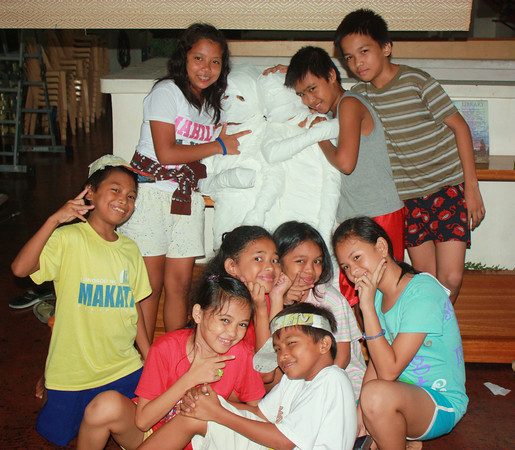 You can really sense how appreciative the kids are, no matter what we do with them.  There isn't a child that will complain or cause problems.  They're totally engaged, the entire time.  Pretty amazing to witness.  So what did we do today?
We made newspaper hats!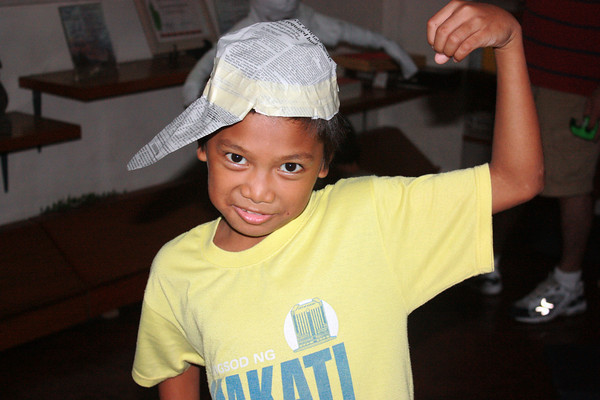 We mummified each other with toilet paper!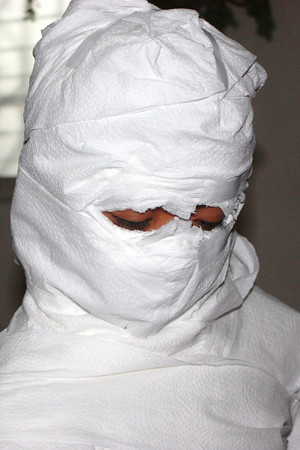 And we made cool masks (this is Raymark adding some string to his).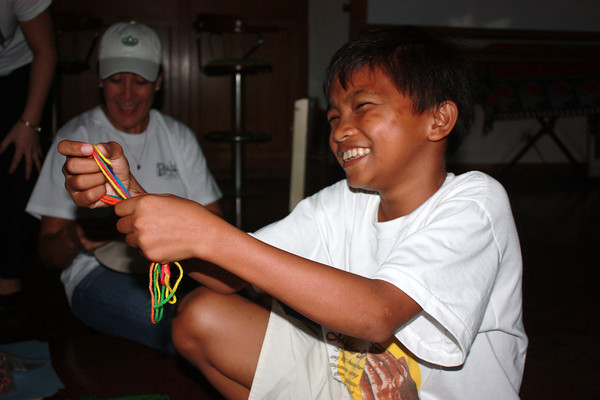 I had brought my digital SLR to take pictures of the kids.  It ended up being a very popular item.  One child named Rodrigo took a particular interest in it and spent the majority of the time taking shots with it.  He later told me (as he carried my bag out to the car – he insisted, I swear) that he dreamed some day of buying a camera.  Heartbreaking!  Sweetest kid ever.  I'm playing with the idea of picking him up some Saturday and taking him to Fort Santiago to teach him how to shoot manually.  Wouldn't that be a fun way to share my new-found skills?  Here's a picture of the two of us: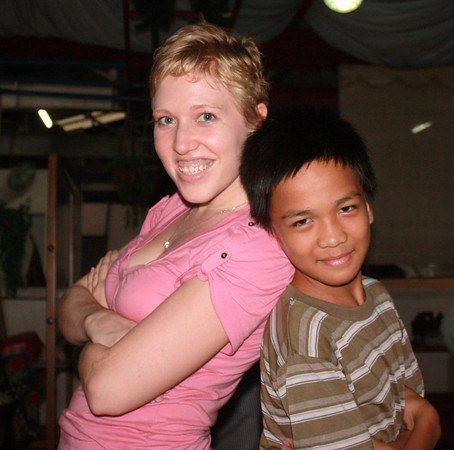 I've been racking my brain trying to think of how I can take my skills and teach them things.  Here's a list of some of my skills and my ideas for how to transfer knowledge:
Singing/Music: I'd really love to find a guitar player and then lead some group songs.  Otherwise I came up with the idea today of buying a bunch of recorders and teaching them how to play and read music.  Seems do-able.
Theater: We could do a little play perhaps…
Games: The possibilities are endless, I just need to determine which ones would work best in a group.  Maybe a tournament of some sort?
Social Media: I think this one may be out since they don't have access to computers.
Economics/Business:  ?
Photography: Maybe I could teach them the elements of photo composition.
Dancing: Already downloading the music to teach them the electric slide soon!
Pilates: Hmmm.  I wonder how that would go over?
Entertaining: Perhaps teach them napkin folding techniques or how to set a perfect table??  :)
As I said before, I'm taking ideas.  I Appreciate the help (and so will the kids)!