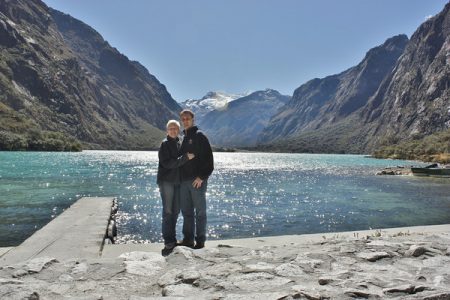 I meant to do a real write-up of our trip to Huaraz but this last week got away from me.  Sorry for the delay!  Here goes…
We left Lima on Wednesday night at 11 PM on an overnight bus (Movil Tours) and got in around 6:30 AM.  As I mentioned in the other post, it was surprisingly comfortable – something I'd definitely do again!  The city of Huaraz was at an altitude of 10,000 feet so we took the recommended day to lay low and acclimate our bodies.  In addition to tourist activities, eating and sleeping were high on our list as well.  The latter two were pretty much all we did on Thursday.  Man did uninterrupted sleep feel good.
We didn't think Nia would do well on this trip, so Lupe agreed to watch her for the 4 days.  Nia's really taken to Lupe, so it worked out perfectly.  Mom and Dad get some time to nurture our marriage and Nia gets non-stop playtime with Lupe.  Most definitely a win/win!  We are so thankful to have a household employee we can trust to take amazing care of our daughter.
So Thursday came and went and Friday we woke up early to start the tourist circuit.  We had decided on a visit to Lake Llaganuco, 13,000 feet up the mountain.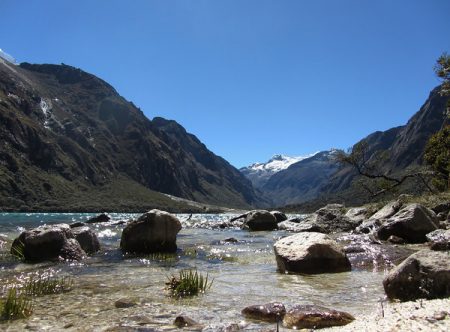 It was a rough ride getting there.  Nick wasn't keen on being smashed into a little bus with lots of other tourists so we hired a cab to take us up for the day.  It was 2 and a half bumpy hours up and 2 and a half bumpy hours down.  The scenery was absolutely spectacular (the sparkliest lake I've ever seen!) but I wouldn't want to do that ride again anytime soon.  Once we arrived up top we explored the area a bit.  We took a nice, slow walk (again, being careful about the altitude) and rested on a blanket next to the lake for an hour or so.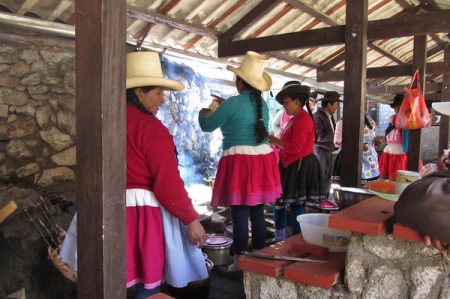 Our tummies were starting to rumble after a few hours of exploring, so we followed our noses to this amazing set up.  Local women who live on the mountain come up and cook for visitors every day.  This was the real deal – cooking in big pots over fires, guinea pig roasting on a stick and $2.50 for our entire meal (for 2 people!)  Loved every minute of chillin' by these cool women and watching them do their thing.  It was probably the highlight of our day!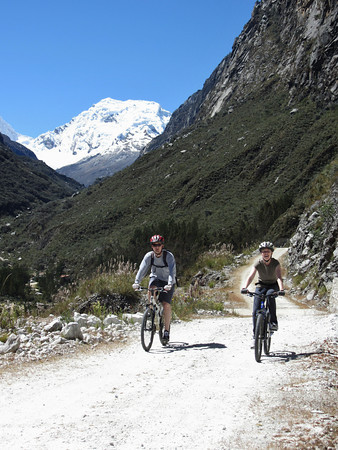 Saturday was our big biking adventure day.  We were going to be dropped at 12,500 feet so we could bike down the mountain back to town.  FYI, this is SUPER SPORTY for us and a huge stretch.  This was NOT biking in the 'burbs.  I started to panic on Friday night and totally wanted to wimp out but Nick wouldn't let me.  This was hugely important to him.  I mustered up all my courage and thank goodness I did because it was mind-blowingly AWESOME.  View after view after view.  Yes, I **almost** wiped out once, but I recovered before I ate dirt.  Yay me!
Surprisingly, it was one of the most tranquil experiences of my life – it left me feeling sooo strong and connected to the earth!  Definitely something we'll do again.  I also highly recommend our guide, who's been doing this for 20 years+ in these mountains.  His name was Julio and what I appreciated most about him was that he'd give basic tips throughout to make the ride better and he also customized it really well to fit our skill level.  It was very reasonably priced too at a little over $50 a person for just us + him.
Sometimes he had to remind me to keep an eye on the road too because I'd get so caught up in beautiful vistas like these!
We spent our 4 nights at the Churup Guest House in Huaraz city.  It was insanely cute – a combination hostel + 12 bedroom hotel.  We opted for a hotel room and loved how welcoming this place was.  $40 a night and it included a basic breakfast and wifi.  The top floor was decked out with these cute sitting areas (see below) along with couches, a fireplace and stunning views of the mountains.  It felt so homey.  Two thumbs up from us – great lodging and wonderful staff!
Sunday morning we checked out and took the Cruz Del Sur back to Lima (an 8 hour ride).  All in all, an amazing trip (and neither of us got altitude sickness!)  I hope we can get back there one more time.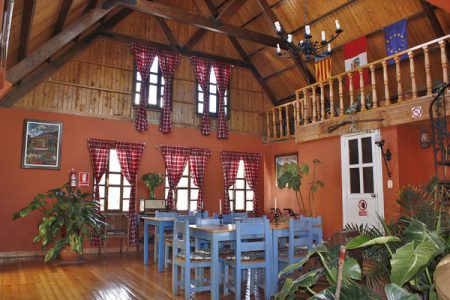 Obviously I can only share a limited number of photos in each post, but you're welcome to check out the entire gallery HERE.