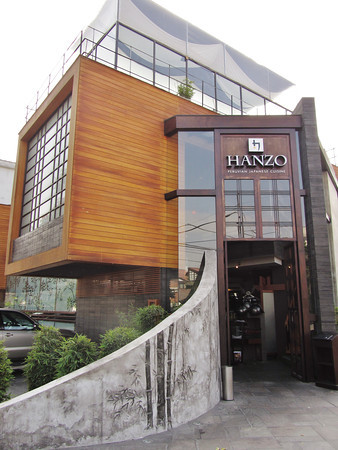 This week might as well have been called the "Week of Gluttony".  I swear, all we did was eat amazing food.  It started back on Monday with our lunch date at Pescados Capitales.  As you'll recall, it was our first day with Lupe (our new household helper, called an Empleada here).  Turns out we scored the jackpot again – her food was SENSATIONAL.  We had Lomo Saltado Monday, Sauteed fish and potatoes Tuesday, Ahi Gallina Chicken on Wednesday and Meat and Cheese filled Zucchini on Thursday night.  Wowzers.  And the crazy part is that's about an eighth of her responsibilities!
Well, the week just kept humming along.  Nick found out he got tenured on Friday, so Saturday's planned date got bumped up a notch in fanciness to accommodate the celebration factor.  We ventured out at noon on Saturday to a restaurant called Hanzo, which had come highly recommended from our sponsors.  It was a Japanese/Peruvian fusion restaurant and wow was it unique!  I'm getting really into photographing the food since it always comes beautifully plated, so I thought we'd start doing restaurant reviews as well. For those who are coming to visit, start taking note of the places that you want to be taken to!  Here we go…
**One thing to note, for price/value, I'll be rating the restaurant in relation to other places in Lima, not US prices because nearly everything would be a good value then.
Price/Value: 4.5 stars.  $20 a person for entree + non-alcoholic beverage.  Despite being on the more expensive end for Lima, the quality of the product was absolutely superior and the portions generous.
Food Quality/Taste: 4 stars.  I should start by saying that Nick and I differed in our ratings.  My dish was superb.  I had a balsamic glazed salmon over wasabi-pureed potatoes, served with pickled peppers.  It was a bizarre flavor combination but WOW did it work well together.  LOVED EVERY SINGLE BITE OF IT.  5 from me.
Nick chose the Tiradito Nikkei, which was a plate of thinly sliced raw fish in Yuzu sauce (a Japanese citrus fruit).  He chose it based on a review he'd seen online and was quite displeased with his choice.  The fish was of ample portion and high quality, but the sauce was lacking in flavor.  He felt that the fusion failed on this particular dish.  3 from Nick.

Sarah's Balsalmic-glazed Salmon
Plating/Presentation of Food: 5 stars.  No question that this category gets a 5.  It was some of the most intricate plating I've come across.  Both dishes looked so much like pieces of art, we were hesitant to dig in to them.
 
Ambiance: 4 stars.  Really enjoyed the glass-frosted patterned window (shown below) but thought they could have done more with the main dining room.  Didn't feel very intimate.
Service: 3.5 stars.  Average service, nothing that jumped out as bad, but nothing that impressed us either.
Overall Score: 4 stars.  Lots to like, but not quite a perfect dining experience.  Will definitely be coming back again to give it another shot (and to sit on this toilet again – most relaxing bathroom experience I've had in a long time!)