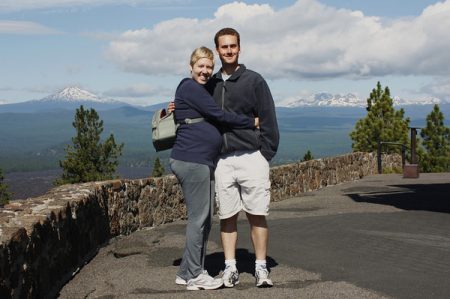 We just wrapped up our fourth week of home leave (2 more weeks to go).  A week ago we transferred from Minnesota to Bend, Oregon to visit Nick's parents.  This is my first time visiting the Northwest and WOW has it knocked my socks off.  Perfect weather every day, fit people as far as the eye can see and views to rival New Zealand… Bend definitely has it going on.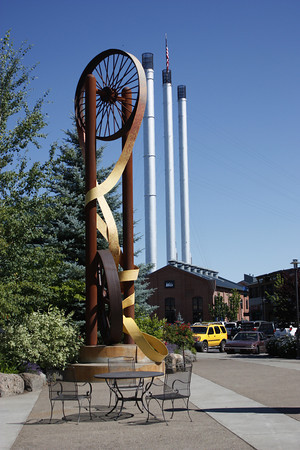 Bend is a relatively small city, with just 75,000 people living here.  What they lack in numbers, they make up for in charm.  This places just oozes culture.  Take the adorable Mill District, for example (pictured above).  It's set right on the river and was converted from an old mill into dozens of cute shops and eateries.  Bike and walking paths abound and the river is always packed with tubers, swimmers, kayakers and canoers.  In fact, during a majority of weekends in the summer you will find some kind of race going on in the water.  This weekend we got to watch a Stand Up Paddle Board race (which was going to be followed up by a combined Dog/Owner Swim heat).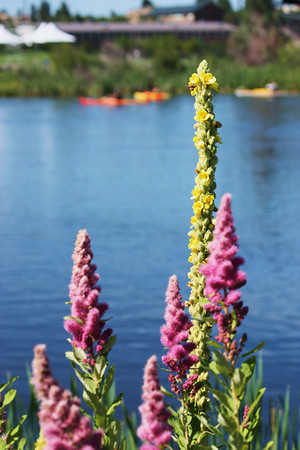 Here's a beautiful shot I captured along the Deschutes River.  You can see the kayaks blurred in the background, along with a tent from the weekend's festival.
Bend may not be big enough for the major leagues, but it has drawn over 50,000 fans to its minor league stadium this year, where the Bend Elks play.  We were lucky enough to join in the excitement of the last game of the season.
Not ones to waste time, Nick and his Dad scheduled a 2 and a half day Whitewater Kayaking Course for the first weekend here.  The first day and a half were spent training, followed by a full day tackling the rapids of the McKenzie River (class 2 and 3 rapids).  They came home exhausted but exhilarated.
Joyce and I made the most of our girl time by scheduling RELAXING things to do.  We got Manis and Pedis, went to see the movie The Help, took long walks and went out to dinner one night.  It was nice to have some quality time to ourselves!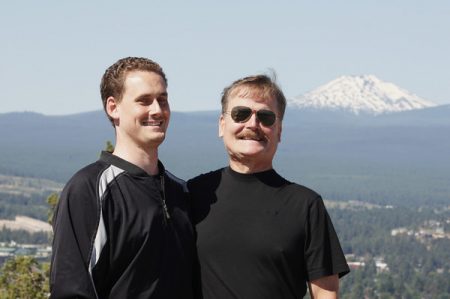 Since I put in a shot of Nick's Mom, I thought I should throw in a picture of Nick and his Dad too.  Here they are on top of the Pilot Butte lookout.  Aren't they a cute pair?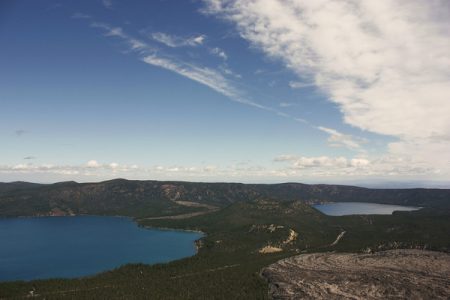 It's tough to explain how breathtaking this scenery is because the pictures just don't do it justice.  That's the best I've got though, so it'll have to do.  Above is a shot taken from the Lake Paulina Peak lookout which is part of the Newberry Caldera.  All of the formations in this area were shaped by the volcanic eruptions that happened long ago.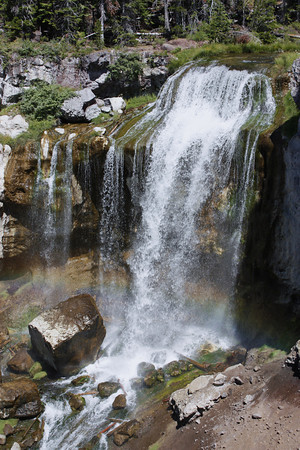 I'll leave you with a beautiful shot of Lake Paulina Falls.  If you look towards the bottom of the shot, you'll be able to catch a glimpse of a beautiful rainbow!