I have a whole bunch of unrelated things that I wanted to update you on, so just know in advance that this post is going to be all over the place. I CAN promise that it will be full of tantalizing updates though!
British Influence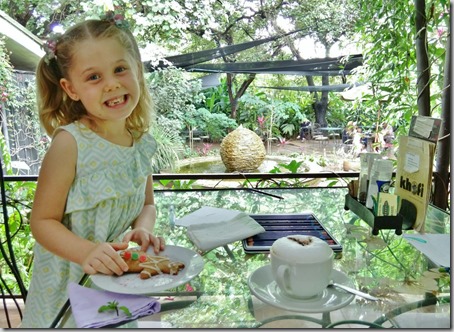 What post would be complete without a Nia story? Here's one I think you'll find quite amusing…
Malawi was controlled by the British from the 1880's through the 1950's when they granted Malawi its independence. The British influence is still very prevalent here and we've been surprised at how it's shown up in our home. Case in point, Nia's Malawian teacher went to College in the UK, so the curriculum and language she uses is very British-inspired. Here are a few of the funny things that we've heard come out of Nia's mouth:
"Mum, I want to read the Letterland book, all the way from A to Zed."
"Today at school we played the most amazing game called Pass the Parcel."
To a stranger, "What is your surname?"
I tell you, it cracks me up every time. Our little global gal…  :)
Event Mania
One of the aspects of my job that I love most is the event planning. It's such a great way to bring people together and create lasting memories, while often enjoying a cultural experience too! I'm a bit rusty on event planning though. It's been over a decade since my last major event, which was a 450 person reunion I planned for my job in Alum Relations at St. Ben's. I'm finding that I don't enjoy all the itty bitty details as much as I did in my 20's, but I enjoy looking at the big picture of an event so much more. For example, what am I trying to achieve, what kind of venue do I want, who is my target audience, and how can I do it in a new and creative way?
April and May happen to be two of the most event-intensive months of the year. At last count, I had 10 different events on the calendar between those two months. But while I'm feeling a bit stressed by the volume of events, I'm quite jazzed about the variety of things that will be happening.
I'm MOST excited about the yard sale (eek! my favorite!!) and a group weekend trip that we're planning to the lake. And of course we're doing a big Easter shindig, which is typically the biggest CLO event of the year. Thank goodness I have a committee for that one!
In February I did an "Adults Night Out" dinner at a lovely place called Kumbali Lodge. Since most of our events are kid-centric, this was a very nice change-up. It drew a big group too – 15 people for a 3 course dinner.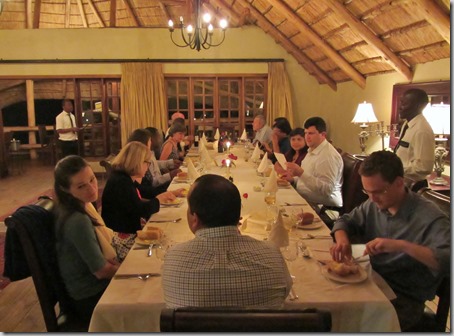 It all went so splendidly that I'm hoping to make this a quarterly affair.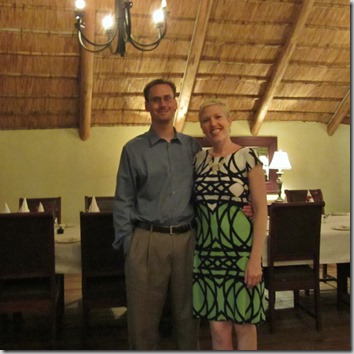 Here's a pic of Nick and I all dressed up at the event!
Travel Plans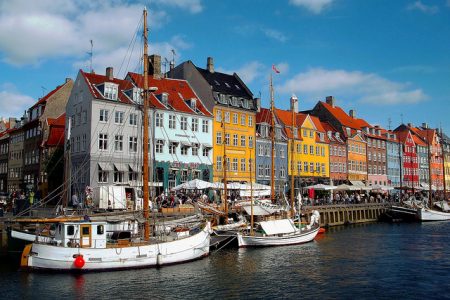 As you might remember with previous tours, when the post is considered a 'hardship post' we are required to leave the country once a year to reacquaint ourselves with a 1st world country. We considered using our R&R ticket to come back to the States, but the flight is SO BRUTAL (30 hours of transit) that we just couldn't stomach it. So instead we'll be roughing it in Europe. :) We'll have 3 weeks to explore and have planned visits to Denmark, Norway, Germany and the Canary Islands. We'll also be taking a cruise, which will be Nia's first! And for added fun, Grandma & Grandpa Novak will be joining us for the cruise! We're so excited we literally have a countdown calendar going that we check off every day. I think it's been a decade since I've been in Europe – can't wait to get back there! And 3 of the 4 places are new for me.
Speaking of long flights to the US…..I'll be flying home solo in September for the 4th Miller Girl Wedding (Jenna & Cody). I don't have much time off, so I'll only be there a little over a week. I'll try and see as many of you as I can though!
Finally, in October my parents are coming for a 2 week visit. We've prepared an action-packed itinerary for them including a week in Cape Town, 3 days of safari-ing in South Luangwa National Park in Zambia and a few days in Lilongwe to show them around. They'll be our first guests and we're so, so excited to show them our African home.
That's it for updates today. Hope you're all having a grand ole week!