As many of you remember, last year was a VERY tough Christmas for me.  After those challenging few days, Nick and I made a pact that we would change things up for Christmas 2010 to ensure we didn't end up in the same predicament…
To prevent further sadness, we are doing two specific things this year:
Having Nick's parents stay with us over the holidays
Putting together a volunteer project that we're calling Presents for Pinoys (Pinoy is what Filipinos call themselves)
I promise that we'll have many more updates (and pictures) from when Nick's parents are here, but for now I'd like to focus on telling you more about Presents for Pinoys.  Nick and I are both INSANELY excited about this project.  Let me begin by giving you some background on how the idea came about.
As you know, I've been volunteering at Friendship Home for over a year now.  Nick is at work during the times when I go there, but he always joins us for the weekend field trips that we do quarterly.  We've both really come to love these big-hearted kids….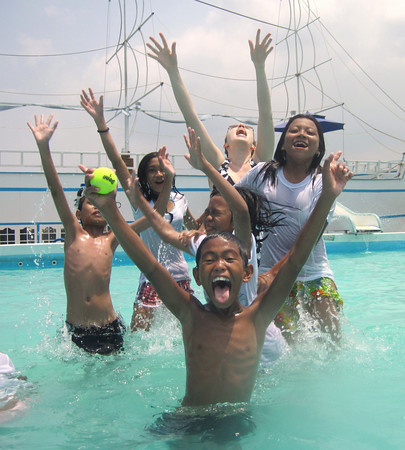 Last August the Program Manager took me on a tour of the neighborhood where the kids live (only 16 actually live at Friendship Home, the rest come there 3-5 days a week for after-school programs).  I never imagined that these adorable kids who speak such great English and look fairly put together could be going home to the shanties that I visited.  A typical house was a small room (the size of a bathroom) with a set of bunkbeds, a TV, a plastic chair and 5-6 people living in it.  It was truly eye-opening to see, as I just had no concept of the conditions that most Filipinos lived in.
For some reason I had Christmas on my mind that day and I asked the Program Manager what Christmas is like for these families.  She said that the kids won't get any presents because their parents can't afford them.  If they do get something, it will be clothes or school supplies that donors give to Friendship Home.
I was really disturbed that night when I went home to discuss what I had seen with Nick.  It was heartbreaking to see how little my beloved Friendship Home kids had (it felt more real because I have relationships with all of them now) and I was brewing an idea to do something about it.  Nick and I had already discussed the idea of starting an annual Holiday volunteering tradition, but we had yet to determine what that would be.  My suggestion was that we fundraise $1000 to purchase Christmas presents for the kids.  He immediately took to the idea and we were agreed… and so Presents for Pinoys was born!
Our aim is to raise $1000 so that we can spend $10 each on presents for all 100 kids that go to Friendship Home.  Given that I have the most generous blog readers in the world, I am inviting you to donate if you feel moved by the spirit of this project.  I can promise that even the smallest donation will make a dramatic impact!
As we continue to progress towards Christmas, you can track the progress of our project by checking the widget that will be posted on the front page of the blog.  And rest assured that you will see plenty of pictures along the way too – everything from the shopping to the actual handing out of the gifts.  It's sure to be a joy-filled couple of weeks!
To donate, just click on the "ChipIn!" Button on this box:
If you'd prefer to send your donation via check, just leave a note in the comments and I'll send you a private email with our address!
Finally, for those who are interested in helping prep the gifts, we are in the midst of arranging a team that will do all of the shopping, compiling and wrapping of gifts.  If you live in Manila and would like to assist with the gift preparation, please email me at sarah@envisionlifecoaching.net.  My deepest thanks for helping out in whatever way is possible for you!