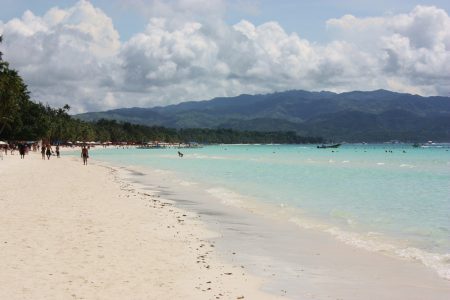 So when we last connected Nick and I were en route to beautiful Boracay for a weekend of kiteboarding.  While we did indeed make it to Boracay, we failed to get the kiteboarding experience that we expected to have.  When Nick showed up at the shop early Saturday morning he was told that there was 'no wind' and he should just come back the next day.  He didn't like that answer, so he made a pest of himself and they finally agreed to show him the various equipment (mind you, he did not get to try using it at this point – just look).
Sadly, the story goes downhill from here.  We woke up on Sunday to MASSIVE winds and light rain.  We could see people kiteboarding though, so down we went hoping for the best.  Upon arriving at the shop Nick was told that the winds were too strong for a beginner and that he should come back the following day.  We moped back to the hotel and played cards since even the beach was undesirable in this weather… I'm pretty sure I don't even need to tell you what happened on Monday.  You guessed it – MORE high winds which meant NO KITEBOARDING for Mr. Nick.  :(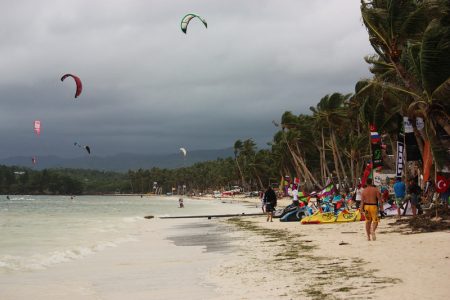 Although the kiteboarding was a bust and will be put on hold for the time being, we did manage to enjoy one good day at the beach as well as lots of good reading & card time in the hotel.  And even though Nick wasn't allowed on the water, I was able to capture some great shots of the more advanced kiteboarders on Bolobag Beach!  Here are a few of my favorites – this sport is not for the faint of heart!  PS – As you may have guessed, I took a crap-ton of photos.  If you want to see the full-size versions and many, many more head on over to SMUGMUG.