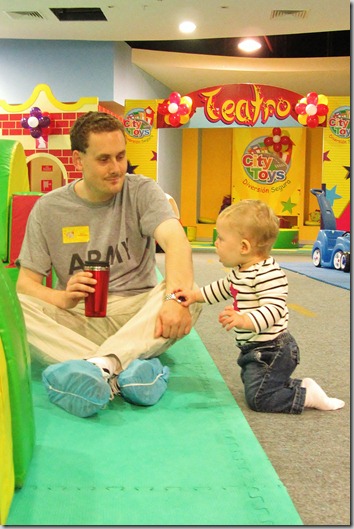 Sorry for the lack of blogging lately, I've been doing a ton of writing during the day for my upcoming business launch of CanceRevolution and I just don't have the energy to do more writing at night.  As a compromise, I'll indulge you with pictures of the babe instead!
Last Sunday was the Fiesta de los Niños in Peru and there were a variety of events going on around town.  We choose to celebrate at CityToys, the Peruvian equivalent of Gymboree.  All 3 of us went and played in the morning and then I returned that night with Nia for the kid's show (a crazy spectacle indeed!)  Here are some highlights from our day: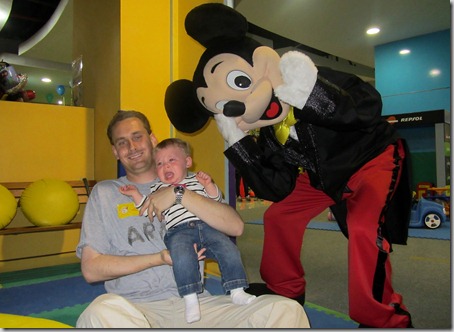 Ms. Nia was NOT, I repeat NOT a fan of Mickey Mouse!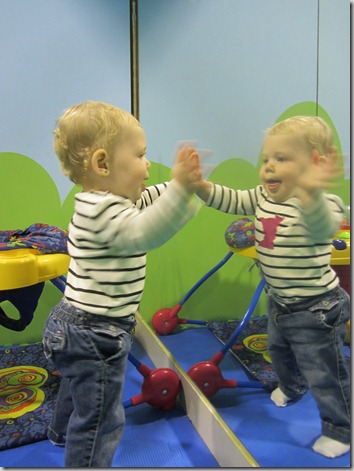 She did however, dig the giant mirror.  Who needs toys when mirrors are around, right?
Taking home our loot – I decided Nia was too young to enjoy the cupcake, so Mommy polished it off!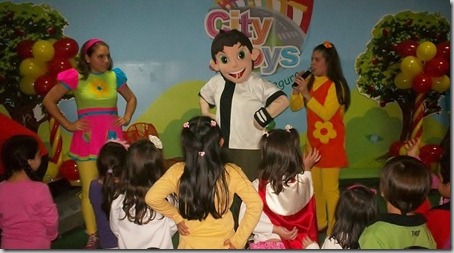 The performers, who usually frequent the birthday party circuit, were quite impressive.  Every song had a different prop that they passed out to all the kids (ie: ballerina song, every kid gets a tutu).  This went on for roughly 15 songs.  There were also costumed characters and my personal favorite, a bubble machine!  Not too shabby.  I could have done without the at-capacity crowd, but Nia was happy so we rolled with it!