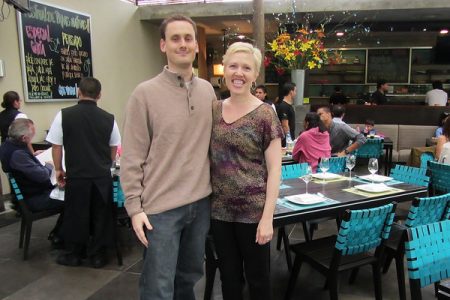 This week's Saturday date coincided with an Embassy-planned outing to La Mar Cevichería.  Instead of going solo, we met up with 10 other ceviche-lovers at what could arguably be called the most famous Cevichería in the world.  Why is this one so famous, you ask?  Well, first off, it is owned by Gaston Acurio, Peru's "Culinary Poster Child".  He's like the equivalent of Wolfgang Puck or Emeril in the US.  If you haven't heard of him, you probably will soon, as he's expanding his empire to the States (as well as other international locations).  La Mar recently opened in CA, NYC and DC (read about it in this LA Times article).  There's a little background, now on with the review!
Price/Value: 5 stars. $20 a person for our entrees.  Top-notch ingredients and large portions leave little to complain about here.  This level of food quality and presentation would easily be $30-50 a plate in the US.
Food Quality/Taste: 4.5 stars.  Since we were at a world-famous Cevichería, Nick opted to get the classic Ceviche.  He's had ceviche 5 or 6 times now and said that the taste and tenderness of this one was the best he's had.  He gave it a 5 all the way.
I don't dislike ceviche, but I'm not keen on having an entire bowl of it either.  Instead, I chose a ricotta-stuffed ravioli topped with sea bass, shrimp and scallops.  Despite sounding amazing, I was less enchanted with my dish, finding the flavor combination a bit bland.  In hindsight, I should have gotten something they were more well-known for since everyone else was raving about their dishes.  La Mar gets a 3.5 from me.  We'll definitely be back though, so I'll be opting for something non-pasta next time.
Sarah's Ricotta-stuffed Ravioli with sea bass, shrimp and scallops
Plating/Presentation of Food: 5 stars. Visually stunning.  The artistic displays of food were *almost* too gorgeous to eat!
A delicious mix of various potato and plantain chips
Sweet potato puree topped with chicken, shrimp and sweet potatoes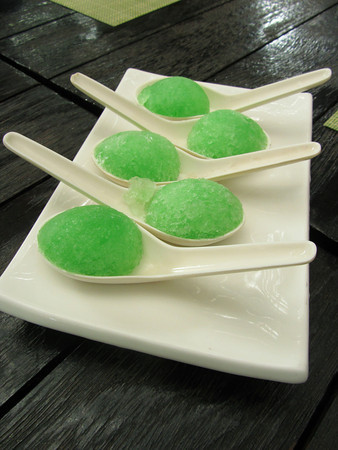 Complimentary after dinner treat – Creme de Menthe flavored shaved ice
Ambiance: 3 stars.  Loud, al fresco and informal.  Didn't do much for me.
Service: 5.  Superb.  This was clearly a tourist destination – it's one of the first places I've heard English spoken by the waitstaff.  Our waiter was so amped up about Peruvian food, he insisted on writing down the names of his other favorites in town.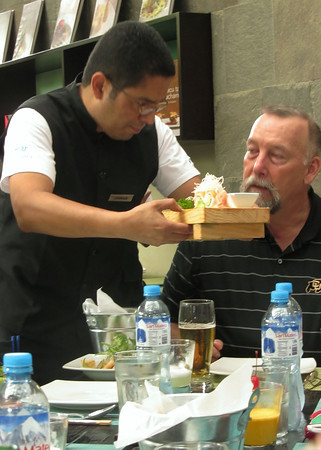 Overall Score: 4 stars. You won't remember the place for the ambiance – the food is clearly the star here.  Merits the hype but needs a few more visits to refine my impression of the place.