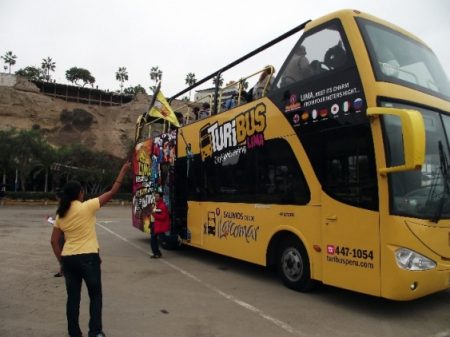 We've been in Lima for over a month now and decided it was high time we did some 'touristy' stuff and saw the rest of the city!  We picked the oh-so-popular Turibus Tour (complete with flag-waving tour guide and everything) and for $30 a person got a 4 hour tour of the city including the Central District, Miraflores, San Isidro and Barranco.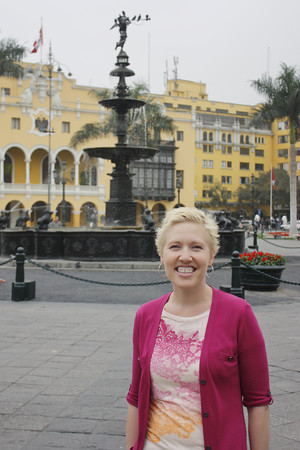 It was everything you'd expect of a city tour.  We mostly stayed on the bus (the top, of course!) and toodled around looking at things.  We did make 2 long-ish stops in Barranco to see the Bridge of Sighs and Central Lima to see Plaza de Armas (above and below).  Plaza de Armas is the historic center of the city and the architecture reflects its rich history.  This central plaza site was chosen in 1535 by Francisco Pizarro and has remained there ever since.  The fountain behind me remains from 1651 – very impressive, huh?!
After the Plaza de Armas, next stop was the Monastery of San Francisco, located just 1 block away.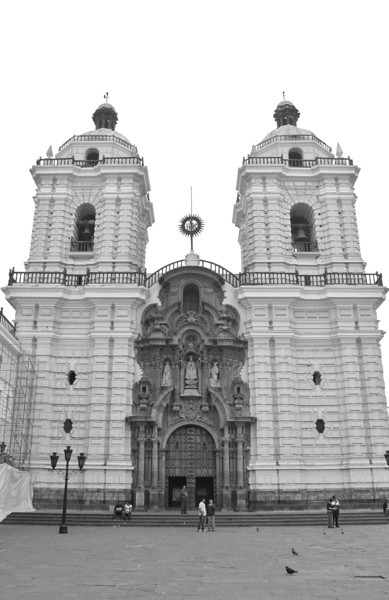 The Iglesia de San Francisco is the most visited church in Lima and has been designated a UNESCO World Heritage Site.  Building started in 1542 and took nearly 100 years to complete.  It is viewed as a classic example of the "Lima Baroque" architecture.
Of utmost coolness was this library that held books dating all the way back to the 1600's (it was known to be a very famous library of its time).  Nick and I decided that we want the library in our retirement home to look just like this!
Next up was the highlight of the tour, a visit to the underground Catacombs.  These Catacombs were the city's first cemeteries and housed somewhere between 25,000 and 75,000 bodies.  Here's how they did it:
There were various trenches dug in rows throughout the Catacombs.  The majority of them were the width of a coffin but could hold about 10 bodies placed on top of each other.  When someone died, they were placed on top of another dead individual with a cloth separating them.  When the entire bin was full, it was left to decompose.  Upon decomposing, the bin was emptied and the bones dumped into a 30 foot deep 'collecting area' (see picture at way bottom).  The 10 person bin was then reused for the next batch of people.
Where it got kind of creepy is that all the bones seemed to be organized.  No lie, someone pulled out all the femurs and stacked them together…
And then there were the heads, which also got their own bin.
But then they got fancy and even made some patterns with the femurs and the heads.  Note, I didn't see any of the other bones, just femurs and heads!  And yes, it was pretty disturbing to be that close to so many dead bodies.  Nick was appalled at the seemingly haphazard distribution of the bodies but the longer I pondered it, the more I thought it'd be cool to spend eternity having my bones entangled with everyone else's.  Has a nice communal feel to it – way better than a lonely coffin in my opinion!
So there you have it folks, our first 'touristy' outing.  Stay tuned for many, many more to come.  And yes, if you come to Lima, I'll take you to see the creepy bones…
**Photo Credit: All photos of bones and libraries from http://travelwithscott.com/2012/05/04/lima-peru-san-francisco/ because photos weren't allowed.  I have no idea how Scott got them, lucky guy!