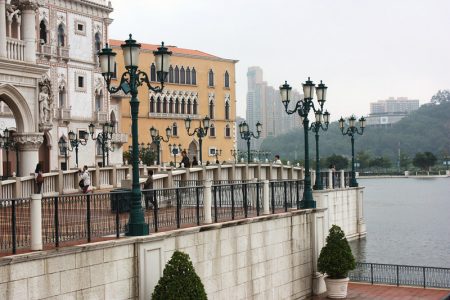 This will be my third and final post about Hong Kong.  Today's post will actually focus on Macau, an island that is a 1 hour ferry ride from Hong Kong.  Macau is best known as the Vegas of Southeast Asia, full of eye-popping shows, gold-plated everything and poker tables galore.  Nick and I aren't into gambling, but we did enjoy wandering around the city taking in each of the beautiful venues.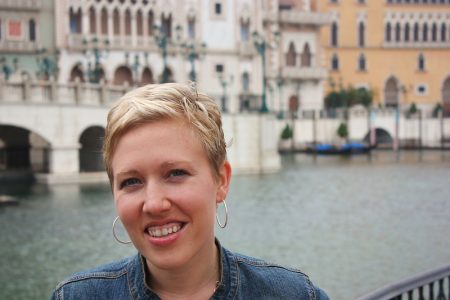 These 3 shots were taken in the Venetian.  It is nearly identical to the one in Vegas, although rumored to be 4 times the size.  Haven't been to the one in Vegas, so I can't set the record straight today.  It was lovely though — my camera was happily clicking away!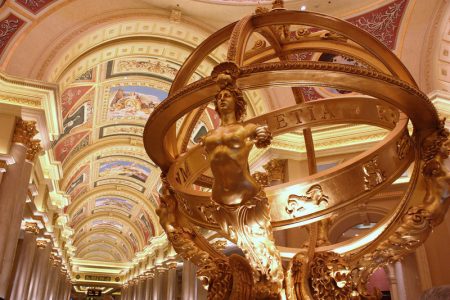 The highlight of our day was seeing a production at the City of Dreams Complex called The House of Dancing Water.  Here's a quick 1 minute overview of the show so that you can get a sense of what it was like.
We purchased our tickets late in the game, so only expensive ones were left (a little over $100 US).  Honestly though, in my opinion it was well worth the cost.  With a price tag of $250 million to create, the show was like nothing I have ever seen (and is touted as the most technically-advanced show in existence).
It had elements of the circus we saw in Shanghai (namely acrobatics, contortionists and motorcyclists) and aspects of Cirque de Soleil (aerialists, gymnastics), yet it also added in new aspects like diving, dance and a fountain show.  At times there was so much going on that I got overwhelmed trying to determine where to focus my attention for fear that I'd miss something.
What was most impressive was the stage.  One fun fact about the stage, it was designed by I.M. Pei's son!  Pretty cool that Dad did the Louvre architecture and now the Son has created a 1-of-a-kind performance venue…
Quite honestly, even if there were no people in the show, I would have paid to just see the stage do tricks.  It was mind-blowing watching what it could do.  And just in case the ground show wasn't enough, there was often an aerial element going on as well.
At various points throughout the show, the stage:
became a diving tank that divers leaped into from 100 feet up
had structures like the 'galleon' (3 photos up) that rose out of the water
became a stable, dry platform that motorcycles drove on
had fountains shoot out of it (above photo)
lit up (2 photos up)
had performers disappear into the water, never to come up again (I'm still trying to work that one out, maybe scuba gear and an escape hatch down below?)
httpv://www.youtube.com/watch?v=843t-2ScJ8o
Before I end this post, just wanted to give you another video that takes you 'behind the scenes'.  It's really fascinating to see how it all comes together.  I always enjoy knowing how the magic happens…
Truly, this show was like nothing I have ever seen before.  And since it requires a unique stage to support it, if you're going to Hong Kong/Macau, it makes sense to see it now, since it's never going to be a travelling production.  I'm so glad we splurged and I hope you will too if you have the chance!