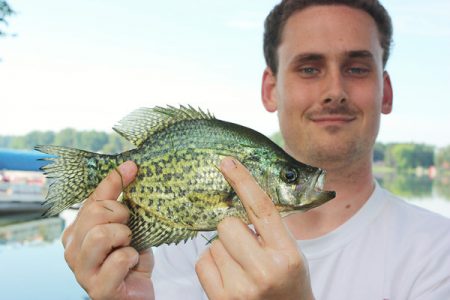 Nick and I spent the last week hanging with my family at our cabin in Turtle Lake, Wisconsin.  While our ultimate goal was just to relax and enjoy each others' company, Nick managed to try out a few key "Minnesotan" experiences.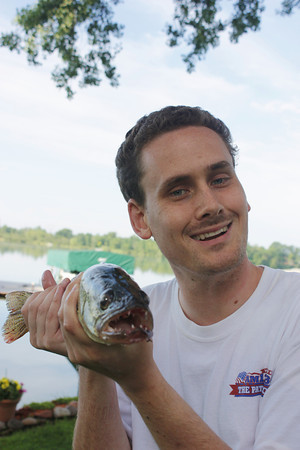 Nick's proudest moment of the week was pulling in his first-ever walleye on a 5:30 AM fishing outing with my Dad.  He went for the total experience by learning how to clean it (with Dad's help) and fry it up in home-made batter for dinner.  I can testify that it was one good fish!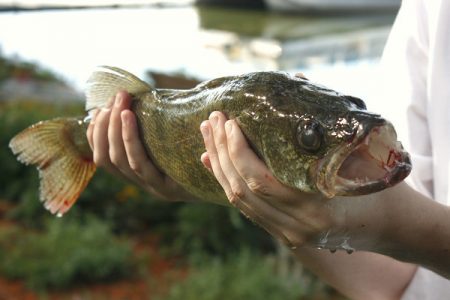 Nick's catch was 20 inches long and managed to feed 4 of us for dinner.  Very impressive honey… way to bring home the bacon fish!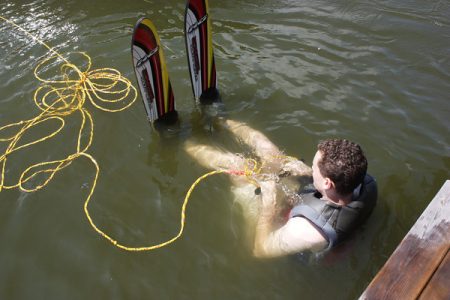 Nick was also courageous enough to try water-skiing for the first time.  He almost has it down, but didn't get enough time to practice because the lake level got so high that they were asking people not to use their speed boats for the majority of the week.  Guess that'll have to be on the to-do list for next time.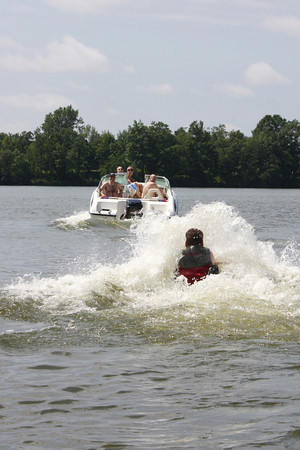 Nick also had the opportunity to cook and eat one of the Miller favorites, a Hobo or Camper Pie.  We've been having these for as long as I can remember and boy oh boy are they sensational.  Has anyone else had these before?
The basic concept is that you take an iron (see photo above) and butter two pieces of bread, placing the buttered sides against the iron.  You then fill with the topping of your choice to create a nicely sealed pie.  When we originally started making these, we used canned pie fillings exclusively (apple, cherry and blueberry are best).  As we became more advanced hobo pie makers, we began to experiment with pizza flavors and grilled ham/cheese.
I love this picture below.  He looks like a pretty happy camper, doesn't he!  (pun intended)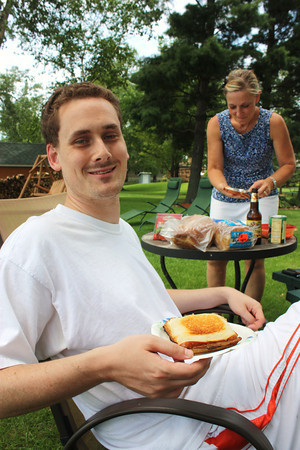 I'm sad to be leaving the cabin shortly, but am also eagerly anticipating my first visit to Bend, Oregon and Seattle, Washington to visit Nick's parents for 3 weeks!  Don't worry, I'll surely keep you posted on those adventures as well.  Hard to believe that in one month's time we'll be settling into our place in DC and frantically preparing for Nia's arrival.  My how time is flying…