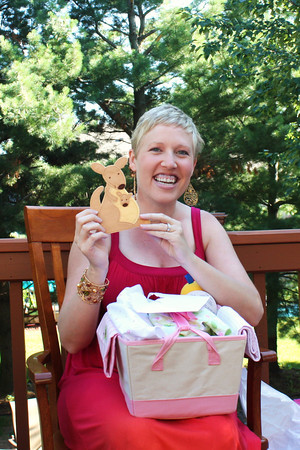 On Sunday afternoon my Mom and Sisters threw a Baby Shower so our friends and relatives could celebrate the upcoming arrival of Baby Nia.  Given that my Mom was in charge, guests knew that they could expect a memorable time (she has a reputation!)  Being a big fan of party themes, I of course, was delighted!
Mom and the girls decided to theme the games around water, so that when my water eventually breaks and it's 'go time', I can distract myself from the pain with amusing memories from this day.  Diapers also played a prominent role in the games, as you might imagine.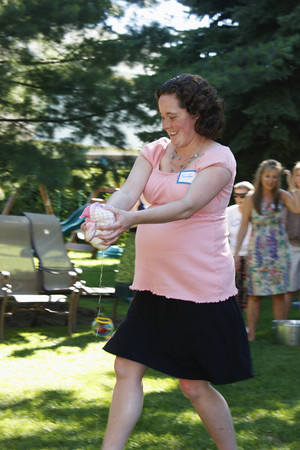 The first game involved collecting as much 'pee-colored' water in your diaper as possible and then running down to the opposite end to wring it into your collection pail.  Participants were very careful not to let much escape during the run!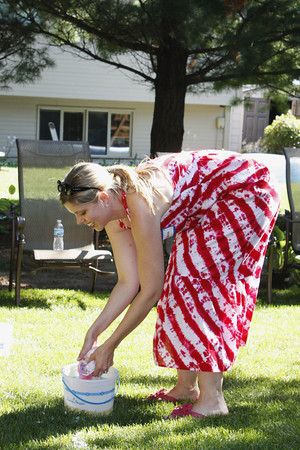 The winning team was the first to fill their collection bucket to the top!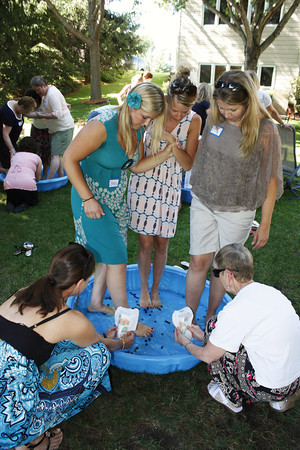 Game two involved picking up marbles with your toes in a pool of water and dropping them into a diaper.
The winning team was the one to get the most marbles out of their pool in the allotted time period.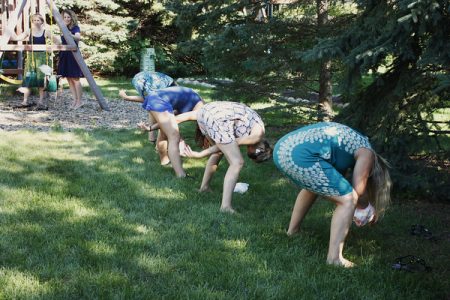 The third and final relay game was a water balloon toss.  This was no ordinary water balloon toss though (that would be too simple!)  This relay involved unique tosses like 'through the legs' (as pictured above) AND…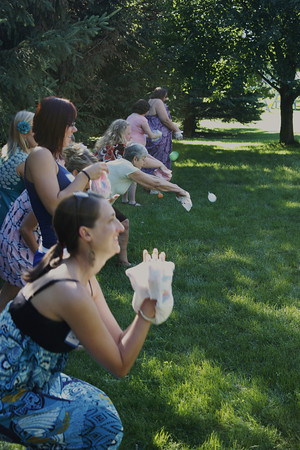 also required participants to catch their balloons inside of a pull-up diaper!  The winner was the one whose balloon was the last to break.  Wish you could have seen some of the amazing strategies/technique that appeared during this game!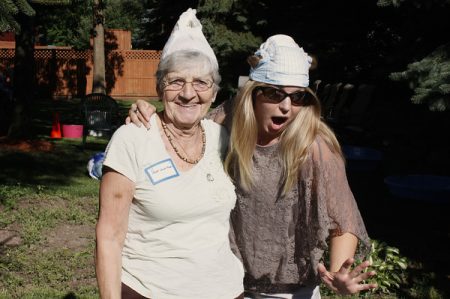 The diapers really grew on the attendees and some went so far as to turn them into new fashion statements!  :)
Games were followed by a present opening in which Nia was spoiled with amazingly cute things like this crochet hat (which she'll wear in her newborn photos).  The weather cooperated perfectly, so we were able to have the entire party outside in the late afternoon sun.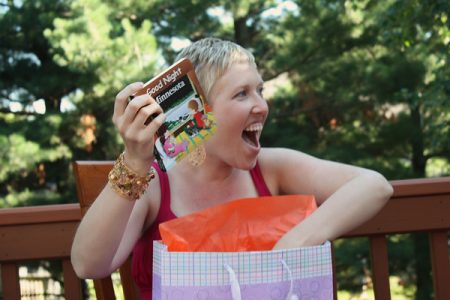 Our friends and relatives were so incredibly generous!  My poor husband is stressing excessively about how we're going to get everything to DC in the car (he's currently researching car rooftop carriers).  Good thing that's his department and not mine because it is looking to be a daunting task.  And yes, I have promised to finally stop garage saling (although I'm not happy about it).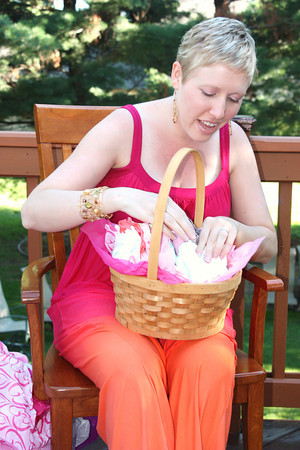 We ended the day with a yummy BBQ that the boys cooked up (yup, I managed to convince Nick to make an appearance at the shower!)  What a blessing it was having so many beloved friends and family celebrate our upcoming life change.  It meant the world to me, especially since many came from far distances.  I'm all showered out now after my 3 beautiful events and we're slowly getting all the things we need to welcome Nia in 3 months time.  Thank you all for sharing in our upcoming joy and making this process so much fun!
If you want to see the entire photo album, CLICK HERE.