Ahhhh, home sweet Manila!  Boy does it feel good to be back.  Don't get me wrong, I had a sensational trip, but there's just something SOOOO sweet about arriving back home (especially when your husband's there waiting for you!)  Since my jam-packed schedule didn't allow much time for blogging about the trip, I thought I'd share a few highlights and stories.  Here goes…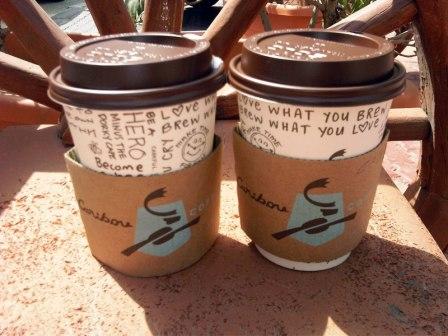 My top 5 Food Experiences:
1.  Papa Murphy's Paparoni Pizza (Shockingly, this pizza was even better than I remembered it and has been on my craving list for many, many months.  It was pure bliss eating that pie).
2.  Caribou Coffee's Milk Chocolate Chip Mocha (enjoyed 6 over the course of my 3 weeks at home — couldn't get over the insane yumminess of having a 1/2 cup of chocolate chips  melted into the drink — I decided to overlook the calorie implications)
3.  A Deep Fried State Fair Corn Dog (I know I don't need to give an explanation for why this one was so good)
4.  A Ham, Pear and Gruyere Panini from Hell's Kitchen (Quite possibly one of the best savory/sweet combinations I've ever tasted.  Sinfully good!)
5.  Izzy's Ice Cream (No one does ice cream quite like the midwest.  The cows make all the difference…)
Classic Filipino Moment:
On my last flight from Tokyo to Manila, I ended up sitting next to a Filipino guy in his mid-20's.  Everything about our exchange was exactly as I've come to expect from Filipinos.  First, his name.  Remember when I told you that Filipinos take great pride in choosing creative names (and most have a story behind them).  Well, I couldn't help laughing when this guy introduced himself.  "Hi.  I'm Michael.  Michael Angelo."  I said, "Like the painter?" and he replied, "Yup, I was born on his birthday and named after him."  Me: "Of course you were!"  :)
Next I should mention that we were in a 3 seat row (I was next to the window) and despite the fact that we had an open seat, he insisted on sitting in the middle seat so that we could talk the entire flight.  And talk we did (any attempts to read my book were quite unsuccessful).  I learned all about his life as a 2nd officer on a Japanese tanker ship.  I conveniently did NOT mention that my husband was one of the people that interviews seafarers like him, as I was not particularly feeling like answering questions about the American Visa process.  I did however get to assist him in selecting a lovely piece of jewelry from the In-flight Catalog for him to give to his girlfriend!  The entire exchange totally brightened my mood.  I 'heart' Filipinos!
PS – Just in case you forgot, this is a big week for us.  We're expecting to have our next post assignment by the end of the week.  Be sure and stay tuned to the blog frequently this week, as I'll post as soon as we know!