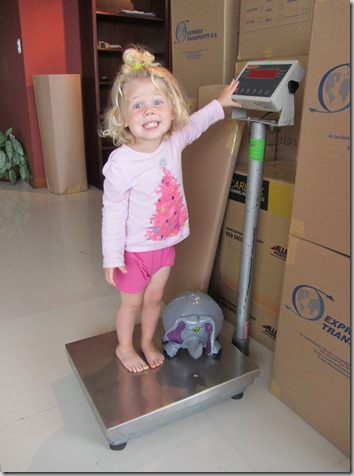 Hard to believe, but it's pack-out time again!  The Novaks welcomed a 7 person moving team yesterday for our 5th pack-out in 5 years.  These guys must have eaten their Wheaties because DANG were they fast.  They had our 4200 pounds of stuff boxed and sealed within 4 hours.  Impressive, no?  I'm also quite proud of us for downsizing because we could have shipped up to 7000 pounds.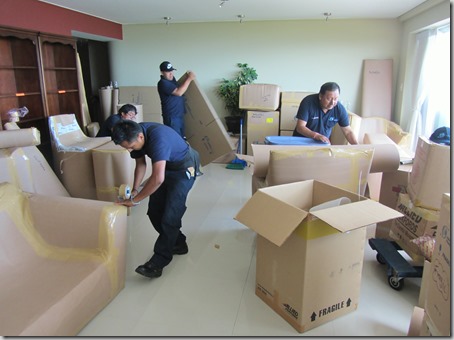 I always get a kick out of the custom covers they make for things.  You'll notice the couch above on the far left.  Since we have quite a bit of Embassy furniture, we also devised a marking system to ensure that no Embassy Lima furniture was on it's way to DC.  Let's just say that our ingenious system involved copious amounts of orange tape….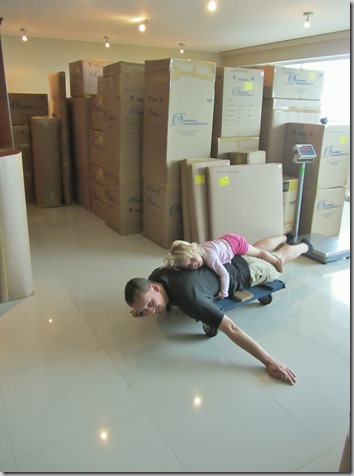 When the movers went away for the night, the children played.  Nia was quite intrigued by the scale, while Nicholas immediately devised several games that incorporated the moving cart.  Here's a little sample of what went on:
httpv://www.youtube.com/watch?v=8KLUoT_0wLg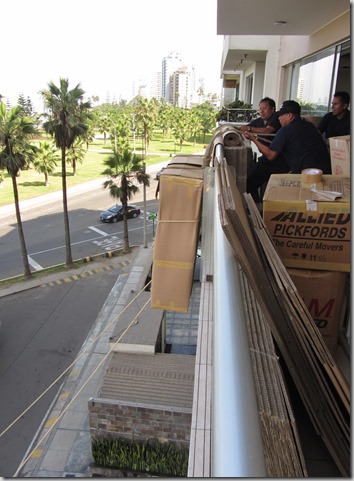 Day 2 was all about loading the truck.  Imagine our surprise when they began rigging this extensive pulley system to send the couches and bookshelves over the balcony railing!  It was nuts.  I was just waiting for our balcony wall to break off or something.  Thankfully, these pros know how to get it done and somehow everything made it downstairs in one piece.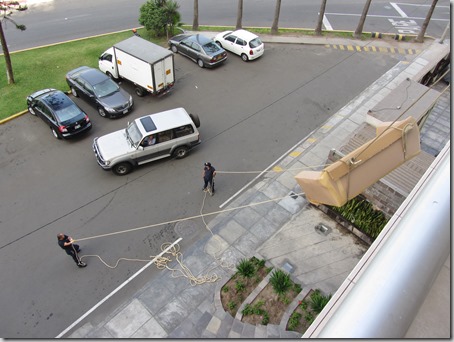 I thought you might enjoy a video of this crazy process…
httpv://www.youtube.com/watch?v=q-OT8qsNLI4
Now all that's left is good-bye gatherings and suitcase packing.  It's hard to leave Nick behind for 5 weeks but boy oh boy am I excited for some time in Minnesota.  In fact, I hope there's snow because my poor gal has never had the opportunity to frolic in it!  Here we come Minne-snow-ta!