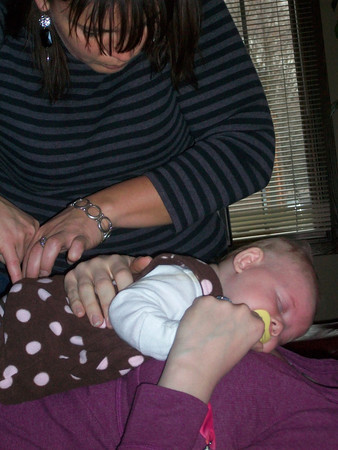 Friday was a big day for little Nia.  It was her first visit to see Dr. Tonnie at Wellness Wave.  As many of you know, I've been doing Network Spinal Analysis (NSA) with Tonnie for several years now.  My work with her has helped me eliminate my chronic back pain, deal with my anxiety better and have a better overall level of health.  I can't say enough good things about NSA and my two sisters (who now go there too) would agree.  I also had the opportunity to go during my pregnancy and I attribute the ease and short length of my labor to the neural conditioning I did beforehand.  I won't go into the specifics of what NSA is – you can read about it at her website above or on two of my previous posts that describe it in detail: POST 1, POST 2.
So back to Nia.  When Tonnie told me that Nia could really benefit from NSA and that she did sessions for babies as young as a few days old, I jumped at the chance to get Nia's neural network functioning at a highly efficient level from early on.  Since her neural pathways are so fresh and are forming connections so rapidly at this age, she's able to undergo a much more rapid, radical transformation than an adult can.
Dr. Tonnie's report was very positive.  Nia's nervous system looked great.  Her only issue was that her upper-most vertebrae (C1) was out of alignment from her passage through the birth canal.  This is very common in babies since birth is the single greatest stressor they will experience in their lives.  She told me that if left out of alignment, Nia would see a greater incidence of ear infections.  Tonnie was not surprised when I told her that Nia had already gotten her first ear infection at 6 weeks old!
I'm so thrilled that my daughter is getting to experience holistic medicine at this age.  It's made such a difference in my well-being and I sooo wish that I would have started earlier.