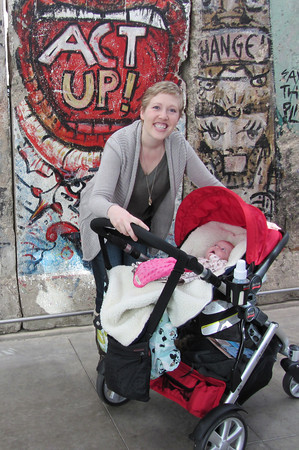 Much like Christmas, our New Year's Celebration had a bit of a different feel to it this year.  The biggest difference would be that it all took place on New Year's Eve DAY since we knew we'd be fast asleep by 9 o'clock that night and too sleepy to party the night away.  That being said, we managed to have a pretty grand old time.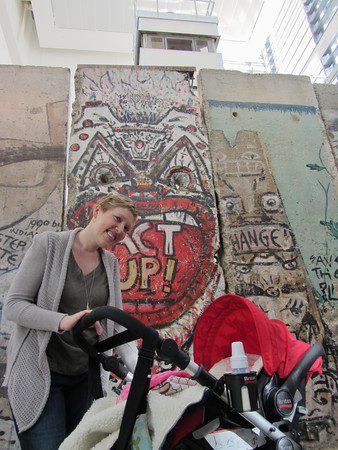 We started at the Newseum, which opened in 2008 and covers all things NEWS (duh).  This museum occasionally gets dissed because in a city full of FREE THINGS, it is a whopping $22 a person.  That being said, it is WELL WORTH IT.  The galleries are stunning and really, really fascinating.  It covers all forms of media including broadcast, print, internet and photography; using interactive displays and movies to portray the info in unique ways.  If we didn't have a 10 week old with us, I could have spent an entire day there!  The good news is that our expensive ticket gets us a second FREE day to the museum, so we're planning to go back tomorrow when they reopen after the holiday.
One of my favorite exhibits was the Berlin Wall.  The museum had acquired a significant chunk of the wall (see photo at top of blog post) as well as a guard tower (you can see the top of it in the second picture).  They also had a chunk of stone displayed that you could touch.  It was really fascinating to get up so close to such a famous piece of history.  Not having seen this in any museums before, I was totally captivated!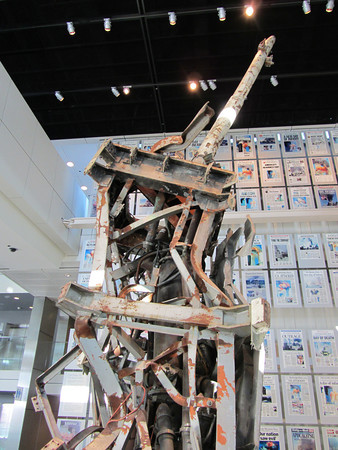 My other favorite exhibit was the 9/11 gallery.  The radio tower that stood atop the World Trade Center's North tower was displayed, set against hundreds of the front pages from around the world that came out that day.  They also had a hunk of fuselage from the plane that crashed in Pennsylvania and the camera equipment and last photos of the one journalist that died that day.  If you go, don't miss the movie where they interviewed the journalists who reported that day.  It was remarkable to hear their stories and marvel at the courage they displayed in covering the event.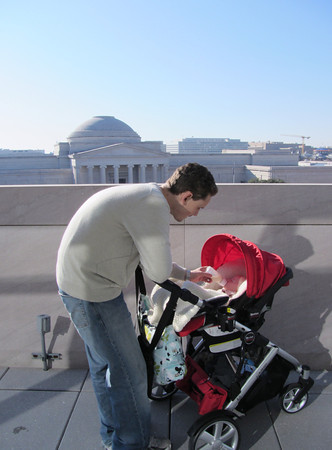 Nia held up pretty well and we managed to do feedings in picturesque spots like the 6th floor viewing gallery that overlooked the Mall.  Despite having 2 hours there, we only managed to get through a third of it.  Hopefully we'll be able to hit the remainder tomorrow, assuming she cooperates!
We capped off our morning with lunch at the National Museum of the American Indian's restaurant.  The restaurant is known for its native cuisine from various regions of North and South America.  Nick opted for the turkey and cornbread, while I selected an Indian Taco which was composed of Frybread on the bottom with Buffalo Chili on top.  Definitely a pricey treat ($30 without beverages for these two meals), but fun to be able to sample authentic cuisine.
We told Nia she could try whatever she wanted, but she just opted for boring old milk.  That's babies for you.  Hope you had as adventurous of a New Year's celebration as we did!  Make it a FANTASTIC 2012!