I know you all are dying for a little Nick update, so here goes. The first few days were rough. He only felt comfortable on his belly because that relieved the pressure on his spine. We were fortunate to borrow a massage table from a friend and rigged up this design for him to while away the hours.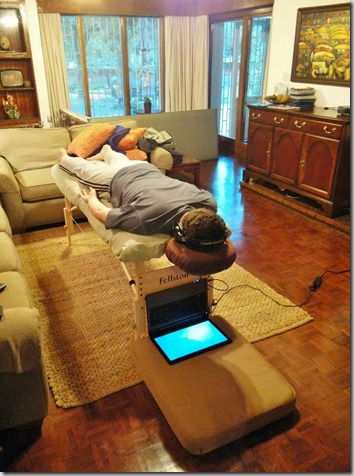 We've seen some great signs of improvement already. He doesn't need pain meds for the whole night and during the day he's even going down to a 1/2 tablet instead of a whole. He tried swimming on Wednesday and overdid it, so I think perhaps a bit more time before he tries that again.
We've been amazed by the overwhelming support we've gotten from our community. Multiple playdates for Nia (to keep her from accidentally hurting Daddy while trying to comfort him), several meals, beautiful flowers like this….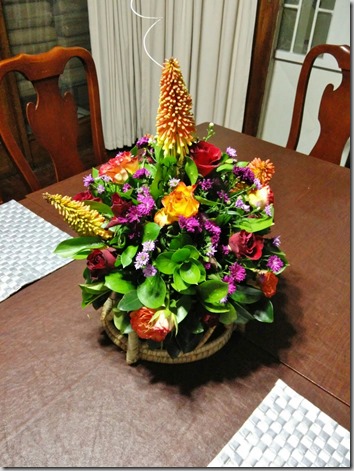 Even an Xbox delivery to help him deal with the boredom!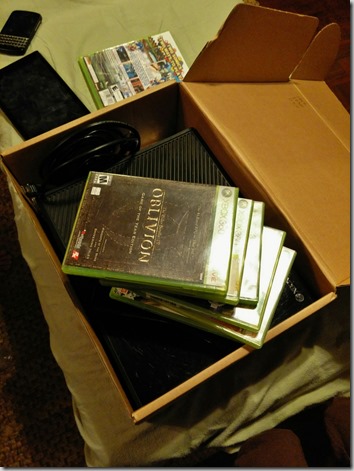 We are immensely grateful to all those who have helped us make it through this challenging week!
I also had 3 work events last week. The first, which happened just hours before Nick got hurt, was Take Your Child to Work Day. There were over 50 kids between 5 and 16 that came to find out what Mom & Dad did at work all day.
Kids had the opportunity to learn how to detect a car bomb, put out a fire, set up a mosquito net, use a microscope, take fingerprints and give a Diplomatic speech. :)  Here's Nia taking the stage: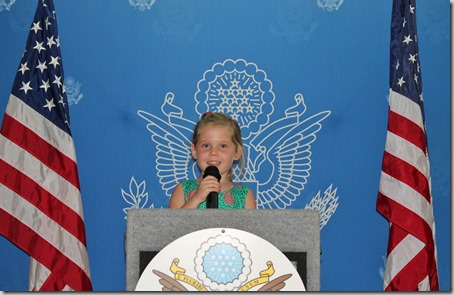 And here she is trying on a Marine's equipment. She was very enthralled by the Marines and has decided she wants to be in the Military. Perhaps someday, she too, can protect other children from scary lava monsters…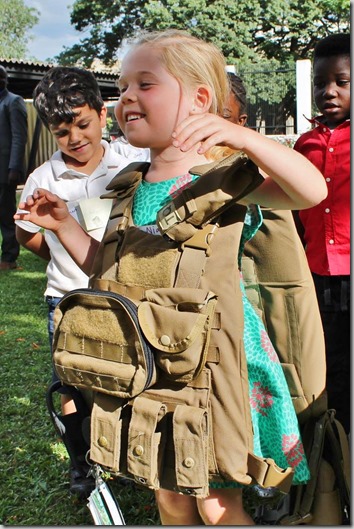 Huge shout out to the folks who jumped in to execute my two events on Friday & Saturday. It was so nice to be able to focus on Nick and trust that the Farewell Party and Yard Sale would still go off nicely.
In other household news, we've enrolled Schorasticah and Esther in driving school. I've never heard of anyone with a female employee that drove, so Nick and I decided that would be a valuable skill that would help them be more marketable in the future. Driver's Ed is a little different here. You still have the teacher with the 2nd brake, but you're allowed to get in the car without any classroom time. The school brings the car to your house to pick you up and you get to be behind the wheel for 30 minutes a day with an instructor for 30 days. Davie was trained by the school they're working with and he's a phenomenal driver, so I know they're in good hands.
Despite the injury, we're proceeding with our trip to Europe in just a few weeks' time. Nick will no longer be diving in Egypt, but we'll still be doing a cruise, hanging in Copenhagen and then relaxing on the beach in Rhodes for a week. I'm really looking forward to a little "first world" time. Our little joke is that we want to be as ON the beaten path as possible. Starbucks, movie theatres, malls, tourist traps – bring it! We need a break from village life.
In the meantime, we've been enjoying the glorious weather and taking advantage of our lovely backyard. Our little girl is growing up so fast! Her obsession of the moment is listening to tape stories on CD with a walkman left over from the '90s. It's pretty awesome.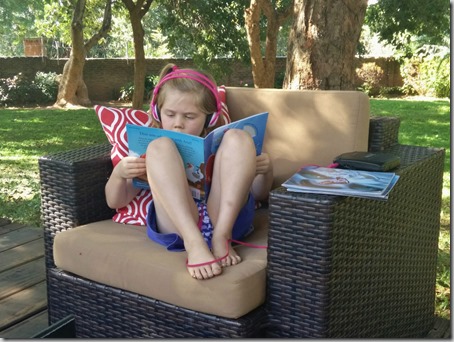 That's all for now folks. Hope your May isn't too intense. Why is so much always crammed into May?! Alas, summer is just around the corner (well, technically winter for us but we'll get a taste of summer in Greece hopefully).