Greetings blog readers- Sarah here.  Remember me??  Sorry for the gap in posts!  I've really missed blogging these last few days, but the time and/or internet connection just wasn't accessible.  Right now I'm currently in between flights, hanging out in Kuala Lumpur, Malaysia.
The first leg of our journey was absolutely spectacular!  Cambodia was worlds different than anything Nick and I have ever experienced.  I'm a bit too jet-lagged to go into a heavy recount of our adventures there, so I'll save that for the next few days once we get settled in Bali (where we hope internet will be more readily available and I can blog on a consistent basis).  We are almost halfway into our trip, having spent 5 days/4 nights in Siem Reap, Cambodia.  Hard to believe…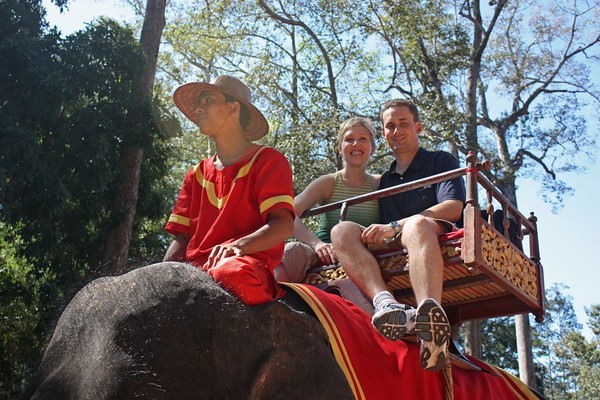 Today I'll just share one of our favorite moments of the trip, which comes complete with photo documentation.  Being from MN, the only place I've ever seen an elephant is behind the bars at the zoo.  Let me tell you, being up close and personal was an entirely different story.  At Bayon Temple in Ankgor Tom we had the opportunity to ride an elephant around the perimeter of the temple.  What a trip it was being up that high and slowly feeling the animal's weight shift from side to side as it stepped.  I was really struck with not only how majestic the elephant was up close, but also how gentle.  We were so taken with the animal that we joked about getting one as our first family pet.  Maybe if we ever live in Africa…. ha!
Here are a few of our favorite shots from the elephant ride (and for those of you who remember the great lengths I took to select the perfect hat, please note that it finally got some good use):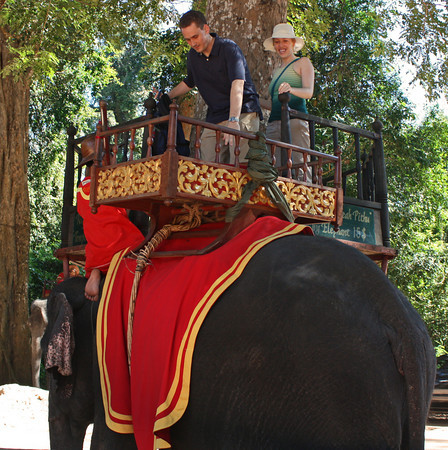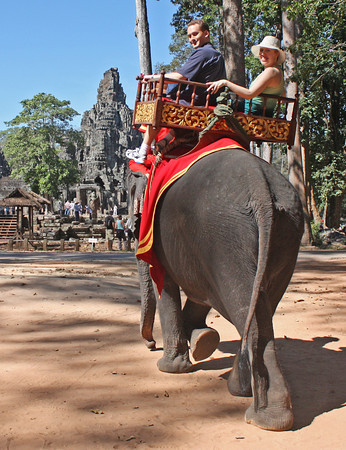 After we finished our temple lap, we were offered the chance to feed our elephant some bananas.  That part was actually cooler than riding the elephant because we got to be so close to the animal and play with him as we fed him banana after banana.  We were both shocked by how course his skin was and how much sucking power the trunk has.  What a multi-purpose tool it is.  Truly an incredible animal!  Here are some shots from the feeding:
Photographer's Note: I took close to 500 photos in Cambodia.  I have edited them all, but the uploading is going quite slow… I do have the first 135 available for you to look at and will continue to upload once I have a strong internet connection.  All of the elephant shots are available right now at SMUGMUG.