Good news!  We learned this weekend that all it takes to keep our toddler still for 2 hours is a Parade!  Now if only we could have a parade every day then we'd be in great shape…
Ok, kidding aside.  Late July is when Peru celebrates their Independence.  Last year at this time I was playing the cajon and singing Spanish songs with my class (can you believe that was a year ago already?!)  This year we decided to tackle the parade.  The awesome news was that it was 6 blocks from our house.  The not-so-awesome part was that 60,000 were expected.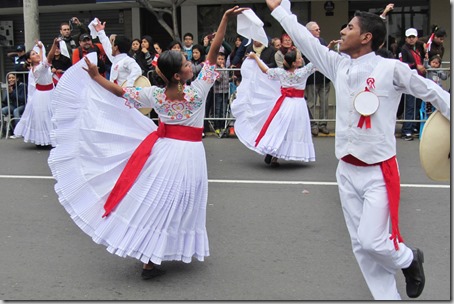 Thankfully, Peruvians are not known for their timeliness.  We got there right as the Parade was starting and managed to snag a prime location.  Thank goodness because an hour later and it was 4 rows deep behind us!
Given that this was our first parade outside the US I wasn't quite sure what to expect.  Would they throw candy? No.  Would they have princesses on floats? Yes, Miss Peru (the competitor for the Ms. Universe title).  Would they dance their butts off and run around with dragons and basically have a kick-ass time?  MOST DEFINITELY.  This was one vibrant parade people.  Here's a little taste of the fun…
httpv://www.youtube.com/watch?v=dzBgRbwZXBg&feature=c4-overview&list=UUfb24QByn4JJ5v8Lr0atP6Q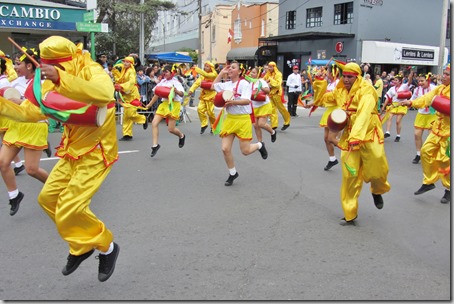 Boy oh boy did they dance.  It was such a treat to watch.  Nia seemed to think she was part of the parade.  She sat atop Nick's shoulders bouncing her legs, waving her Peruvian flag and yelling "Hello!" to anyone and everyone that passed.  This won her much attention from the performers and quite a few photos from the cameras too.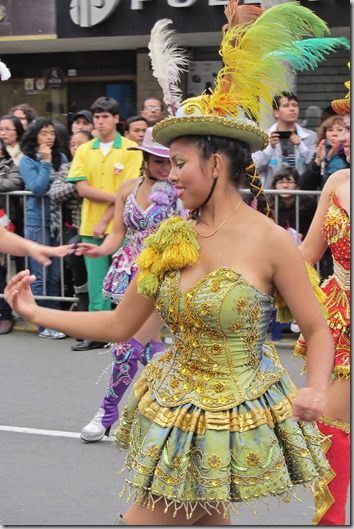 Check out these outfits – the colors and detailing were simply breath-taking!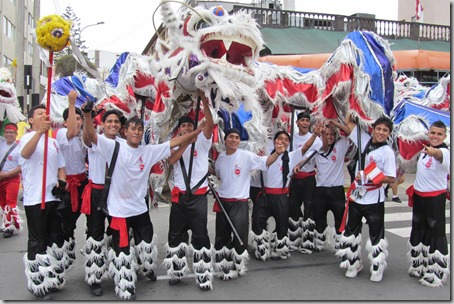 You could see the pride in the face of each Peruvian that passed – these were their treasured songs, dances and traditions.  What an honor it was to be a part of this day!  Too bad we won't be here for next year's parade.  I think it's safe to say that parades are going to become a frequent pastime for this family…