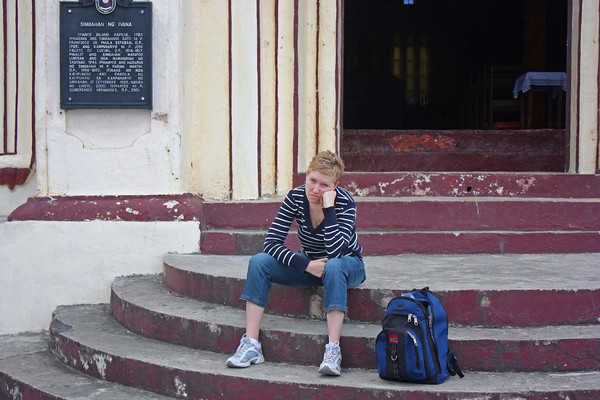 Zoom in on me, looking VERY CRABBY as I waited to board our boat to Sabtang Island.  Here's the back story…I woke up at 5:30 AM so that I could be ready to join the group at 6 AM to leave for our tour.  We drive 30 minutes to the boat dock and proceed to sit there for another 45 minutes, at which point we're told that no boat is coming there today and we need to go to a different dock.   ARGH.
So I'm wishing and hoping that we'll just waltz over to the other dock and hop right on the waiting boat.  WRONG – I should have known this would be a cluster-f***.  Our trip had gone too smoothly and whenever things go too smoothly, there's bound to be something that explodes.  Zoom in on the new port where 70+ individuals are all waiting to get on a 30 person capacity boat.  I start digging through my memory banks to recall all the tragic stories I've read about Filipino ferries sinking after being overcrowded.  I make a decision that I will NOT get on an over-loaded boat and die at sea today.
Turns out I wouldn't have the choice to get on that first boat trip.  I had the opportunity to wait two hours for the boat to go there and come back for us.  Warning: UGLY AMERICAN characteristics starting to come out.  I just couldn't help it.  I had gotten up at the crack of dawn, waited at the wrong dock and was now told that it would be another 2 hours!  Beam me back to bed, Scotty…
We were encouraged to go to the Honesty Cafe instead, so I thought we might as well make the most of it and check it out.  Let me just tell you a bit about the Honesty Cafe – it's owned by an elderly couple that stock the shop, but here's the crazy part – no one mans the shop.  It's an on-your-honor thing where each item has a price on it and you write it down in a ledger and deposit your money into a box.  And here's the craziest part…it works here!  Why?  Because the island has a ZERO crime rate, a stat they are very, very proud of (who wouldn't be)!  Can you imagine?  Oh, but you better have small bills for the honesty cafe, because no change is given.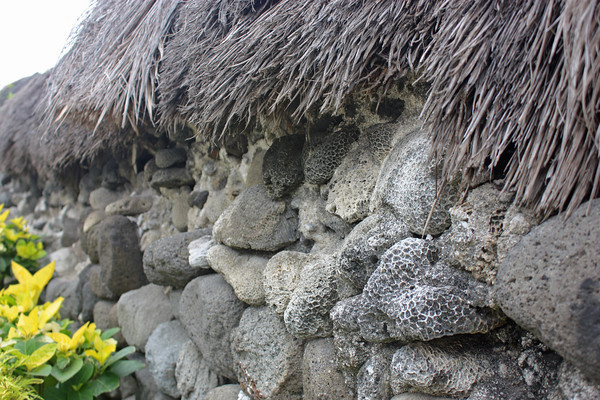 Little did I know that the fun hadn't even started yet…when we finally got on the boat at 10 AM with 30 other individuals, we were told that the ride would be a bit rough since we were out on the ocean.  A bit rough was a severe understatement.  The boat was more like Noah's arc than a ferry.  It had a wide berth and would roll from side to side with the waves, so there were times when you'd be laying at a 45 degree angle with your back plastered against the ship's side.  A good mental image to describe it: the pirate ship at Valleyfair.
The beginning was okay but when we reached the mid-way point it started to get rough.  The swells were astronomical.  There were several times when we'd be down in a trough between two major waves and I couldn't see anything but water.  It was insanity…. I should probably tell you at this point that I am a bit of a puker.  I didn't used to be, but since meeting Nick and starting our "high-adventure life" I've puked roughly 4 times at sea and 2 in the back of a van.  We now carry a puke bag for me every time we travel (sorry if this is too much information) so I reached out my hand and he knew to fish it out of the bag.  I had it  positioned right over my mouth, that's how sure I was that I wasn't going to survive this boat ride sans puking.  I am incredibly proud to say that somehow I managed.  It did come up the throat, but I held it down.  Yay me!  And now I think we'll move on to a new topic… is that okay with you?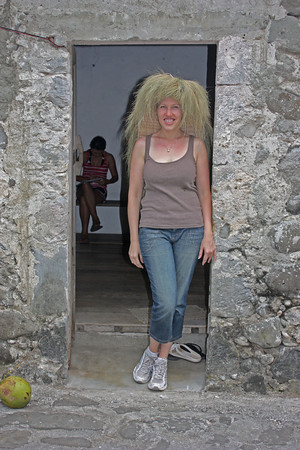 Now I mentioned yesterday that the main island was rustic, but this one was even more remote, with many more of the original Ivatan practices still being used.  In the above picture you'll see the construction of their houses, which last close to 100 years.  The thatched roofs are still impressive, lasting 25 years.  The picture above shows me sporting the traditional Ivatan head-dress.  Sexy!  I think I look like Shakira…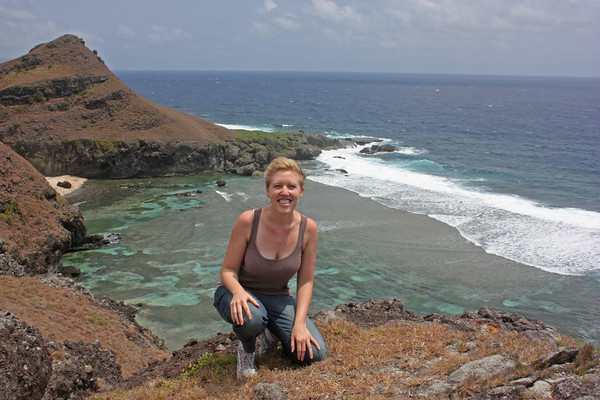 Thankfully, the scenery was well worth all of the hassles it took to get there.  We spent 4 glorious hours enjoying the beauty of this island.  A must-do if you're going to come all the way to Batanes…just don't forget your puke bag for the boat ride!  I leave you with some great shots of our beach "photo shoot"!  PS – Did you check out the SMUGMUG gallery yet?  There are oh-so-many sensational pics you still haven't seen…