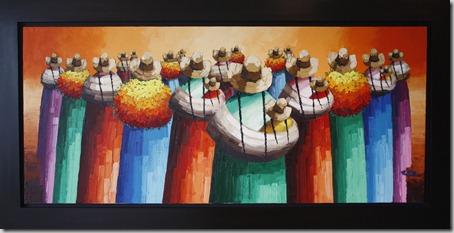 One of our traditions is to collect a piece of art from each country we are posted to.  We always purchase it at the beginning of our stay, prior to the Embassy coming over to hang up all our wall art (I know, what can I say, we're spoiled)!
Nick and I continue to gravitate toward abstract expressions of iconic images from our host country.  In Manila we scored a beautiful abstract painting of Jeepneys in the street.  In Peru, I found the perfect depiction of indigenous Peruana women toting their bundles (babies, flowers, etc).  This is still a very common sight when you get out of Lima and to me it really sums up the rich cultural history that is still alive here.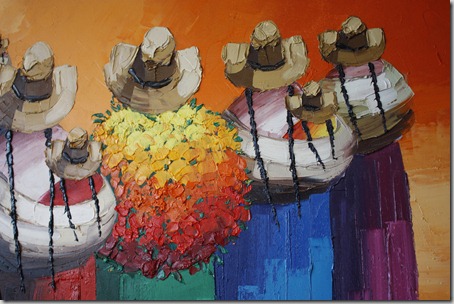 Since the distance in the first photo fails to capture the skills of this artist (Rivera Rondon), I thought I'd provide some close-ups so you could appreciate the texture along with me.