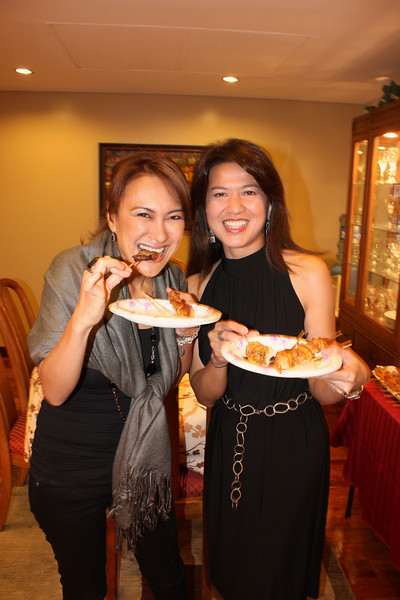 As most of you know, I am less than 30 days away from my visit to Minne-SOH-ta.  My energy has been ramping up for weeks and I've found myself talking non-stop about all the things I'm excited to do there.  In an attempt to share my joy with my Manila friends (and stop their eyes from glazing over each time I mentioned it), I decided to throw a Food-On-A-Stick Party to give them a sense of what all the State Fair fun is about!
This was the first time I'd done this theme and I have to tell you, I was pretty damn proud of it.  Nick even got really into it, which is rare.  We had some initial conflicts over how "involved" it should be.  I wanted a dress-up AND food theme.  Nick wanted a plain-old party (how boring!) and even went so far as to insinuate that the attendees would see it as college-like.  How OFFENSIVE!  We ended up compromising on an innovative food theme (did I mention we've become SUPERB compromisers over the course of our marriage).  Here's how it worked.  Each attendee was required to bring either:
An Appetizer-On-A-Stick
Something-Healthy-On-A-Stick
Something-Random-On-A-Stick
Meat-On-A-Stick
Dessert-On-A-Stick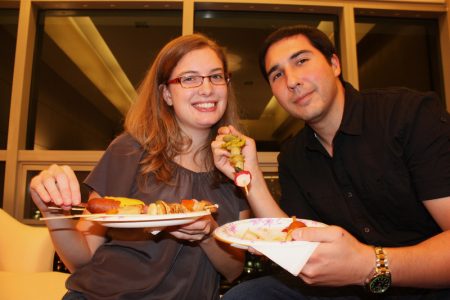 Check out this picture, for example.  Mark is sporting Relish-On-A-Stick, while Kristen chose more basic staples like Kebobs-On-A-Stick, Fish-Balls-On-A-Stick and my personal favorite (the deep friend corn dog).  YUM.  One can't help but admire such extreme displays of creativity.  Some other fun 'stick foods' that showed up were pickle roll-ups (with toothpicks in them), Rice-Krispie-Bars-On-A-Stick and Caprese-On-A-Stick.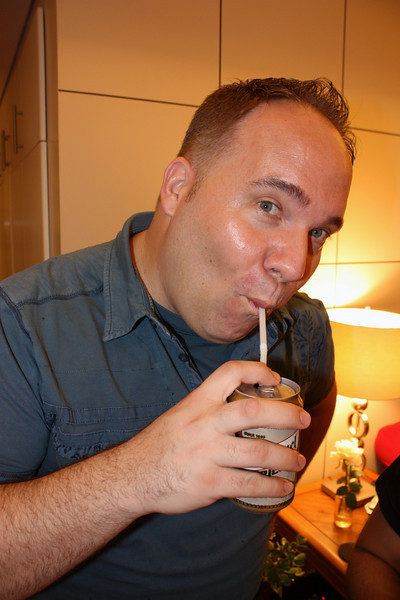 Of course we had to do something stick-related with drinks as well, so Nick and I required that all participants drink their wine and beer out of a straw.  I was later told that doing this causes you to become drunk faster…. oops!  I had no idea!  I would like to thank everyone for being good sports.  There wasn't a single complaint!  :)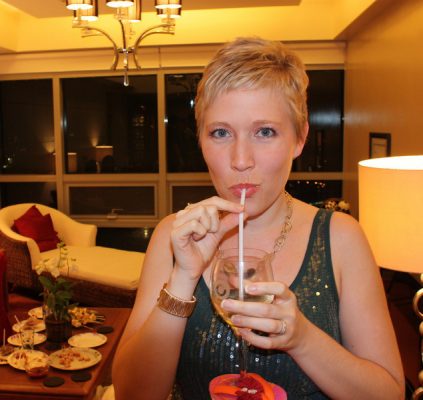 I must give special thanks to our good friends Sam and Lawrence who went the extra mile and lugged their Deep Fryer over!  I had forgotten how good corn dogs could be when you add in that extra fatty goodness.  Between that and the fish balls, the fryer was going all night long…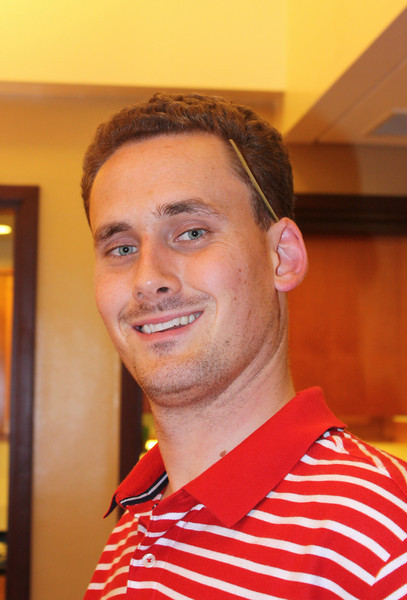 Nick was the designated 'Mixologist' for the evening.  Our guests insisted that his drinks were getting stronger as the night went on, but he didn't seem to take their concerns into account.  He also amused me by finding innovative ways to reuse his sticks.  That's my boy!
In short, it was the perfect way to test the waters for themed parties in Manila.  The attendees raved while I sparkled and flashed my biggest smile.  I may not have built up the reputation I had in MN yet, but I have no doubt that in a few months my parties will once again become the buzz-generating events that I am known for!  Check out SMUGMUG to see all the fun food being showcased…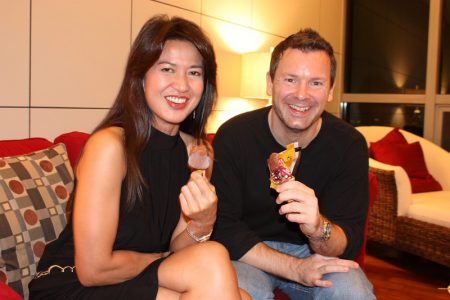 Popsicles, of course!