Hello friends! Greetings from Denmark! On Sunday we concluded our week on the Disney Magic sailing through the Norwegian Fjords. I am still working my way through editing photos, but I took the liberty of prioritizing the Princess photos, as I knew those would be of high interest. :)
One of the peak moments of Nia's week was her Princess Makeover at the Bibbidi Bobbidi Boutique courtesy of Grandma Joyce. This was no small affair. It required an appointment so that you could be assigned your very own "fairy-godmother-in-training". The boutique is located on the top floor of the ship and is cute as can be. Upon entering you see wardrobes displaying all the different Princess dresses along with matching tiaras and scepters (displayed above the dress). And in the center of the room are 4 different beauty stations for the girls to get hair, make-up and nails done.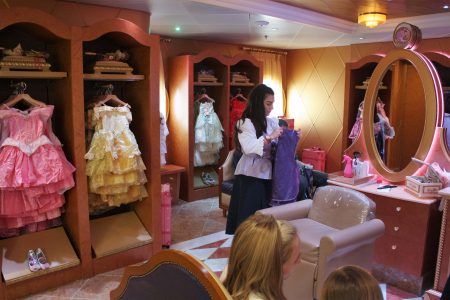 Nia's first choice was to decide which Princess she wanted to become. She ended up going with Elena of Avalor, Disney's first Latina Princess. Elena doesn't have a movie yet, but has a new show on Disney Junior that just finished its first season.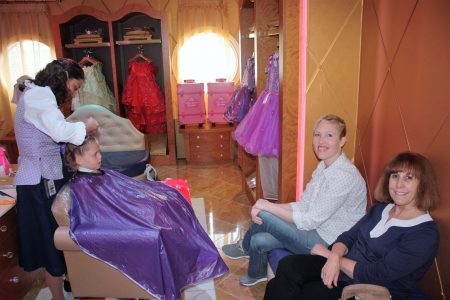 Elena's dress was newly released and a very hot commodity on the ship (I'd say 1 in every 3 girls who did this picked Elena). I thought it was a great pick (the dress itself is quite beautiful and could easily be worn to a formal occasion as well).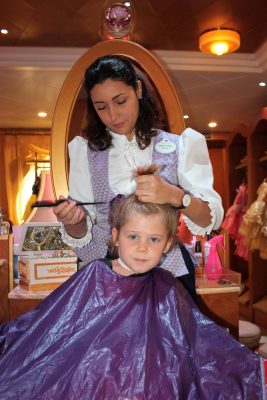 Once the dress was on, she took her seat at the beauty station to begin the Princess makeover. She had a selection of hairdo options, from which she chose a top bun with tiara. Despite her newly cut hair, her fairy-godmother-in-training was magically able to make it happen (something I'm quite sure I'll never be able to replicate).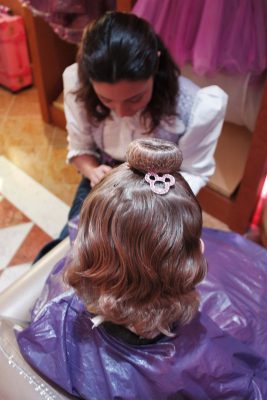 Once the hair was done, it was time for nails…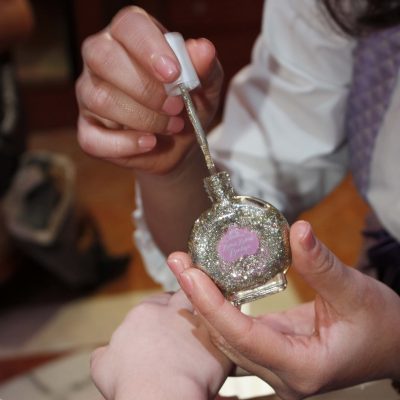 make-up,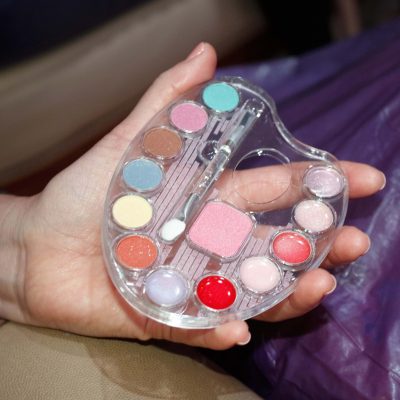 pixie dust and the placement of the mini tiara (not to be confused with the larger tiara). I was shocked at all the little doo-dads they kept presenting her with. A mickey hair pin, a Cinderella necklace, shiny stick-on gems for her face. It just kept coming. She even got to keep the make-up palette and nail polish! And of course it all got packed in a cute little Bibbidi Bobbidi Boutique satchel.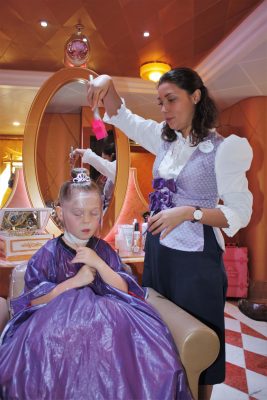 Here she is all dolled up in her full regalia. Oops, I failed to mention the sash. Part Princess, part beauty queen, I guess.  :)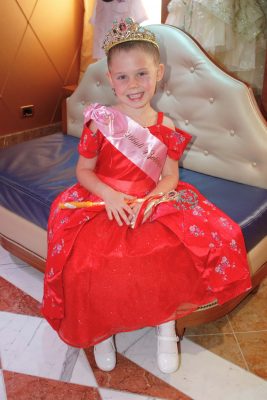 And after becoming a Princess for a day, what else is there to do but strut around the ship showing everyone how "princess-y" you are?? So we did that for awhile until she got a bit overzealous with her scepter and accidentally whacked a few people. Then the Princess lost her scepter, which she was not happy about… alas, it's tough being a Princess some days.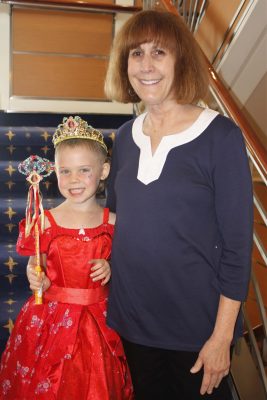 It was a grand old time and we're still working to get the pixie dust out of her hair. We are so grateful to Grandma for providing her with this unique experience. I know it's something she'll remember for a long, long time. More to come on our other adventures in Norway, Denmark and Rhodes. I have lots more to share!