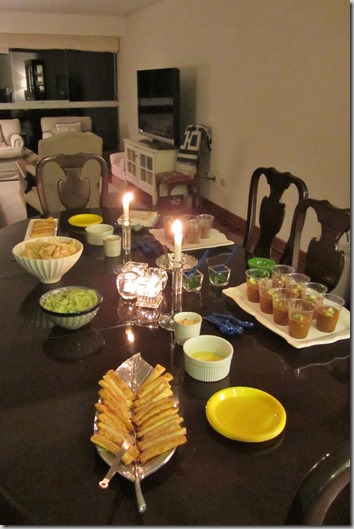 One of the things I remember most vividly from my childhood was all the amazing parties my parents threw.  Dinner parties, theme parties, card club – you name it, they did it.  My favorite party concept was something called a Progressive Dinner.  What's great about this concept is that each course is hosted at a different house, which helps divide the workload and allows more people to host.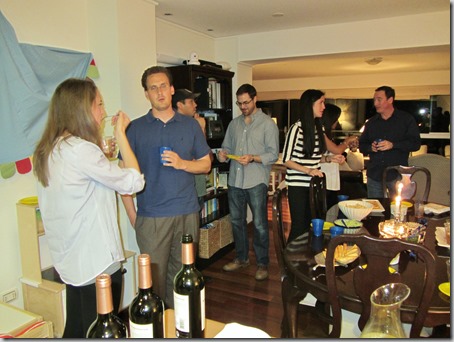 It's a simple concept but it really adds a nice element to the party because just when there's a lull it's time to move to the next house!  I'd recommend no more than 4 courses because you need to factor in 10-15 minutes for move time.  It also works best if the participants live in close proximity to each other (neighbors for example or college friends).  Here's a sample schedule with 4 courses:
7 PM: Drinks & Appetizers
8:15 PM: Soup & Salad
9:30 PM: Main Course
11:00 PM: Dessert & after-dinner drinks
If you want a more relaxed pace, I'd recommend only 3 courses with a schedule like this:
7:30 Drinks & Appetizers
9 PM: Main Course (including salad)
10:30 PM: Dessert & after-dinner drinks
We have a great group of neighbors, most with young kids and all of us in our 30's and 40's.  I thought a Progressive Dinner would be a perfect fit for our group and proposed we try it.  Everyone was game and we opted for a 3 course one for our first attempt.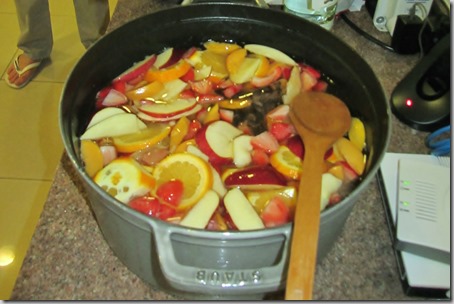 Our first course was Mexican-themed with taquitos, fresh guacamole and a vat of Sangria.  We were off to a killer start.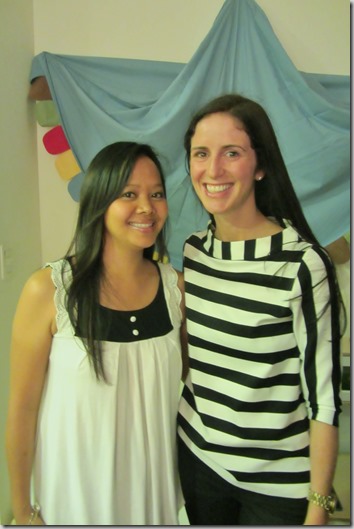 Our hostesses-with-the-mostesses from stop 1.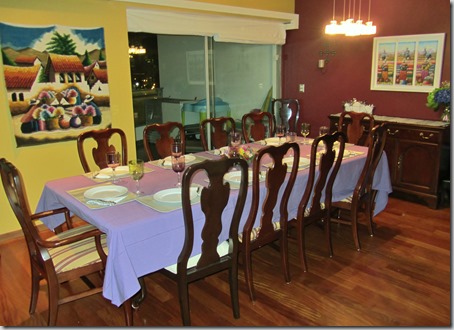 Next up was main course, which can be quite a feat with 14 people to seat.  I was assisting on this course and we went for an Italian theme.  We offered a quartet of caprese, caesar salad, garlic bread and lasagna.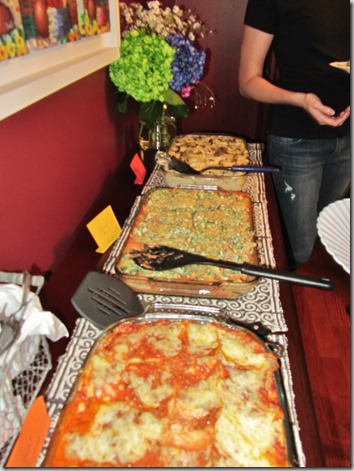 The Lasagna bar was to die for.  A mushroom and chicken lasagna, a pistacio and pesto veggie lasagna and your classic meat lasagna.  I'm going to let my Limeno friends in on a little secret.  There's a place called Il Pastificio in Miraflores that makes these AMAZING lasagnas.  All you do is drop off your dish and they make the lasagna right in it.  So nice of them to let non-cooks like me to pass these beauties off as our own.  :0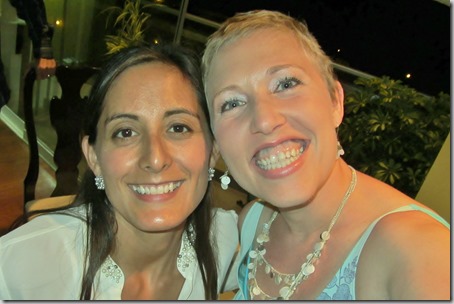 Our final course was homemade cheesecake with chocolate-dipped strawberries and a cheese plate.  Seriously!  As if I wasn't full enough already… it's not like you can pass up those kind of treats though no matter how full you are!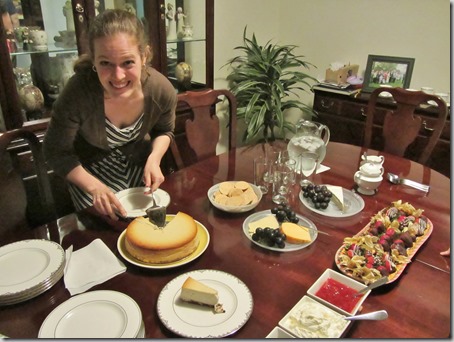 Suffice to say, it was a BLAST and we're hoping to reprise it one more time before we say Adios to Lima!  Thanks to all our great friends here who made the night so special.