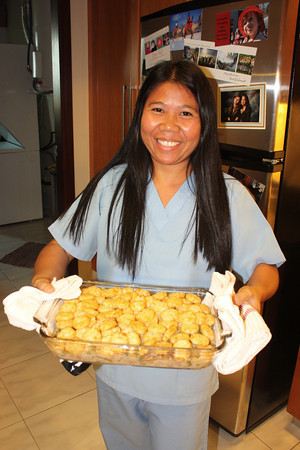 After 8 months of painful waiting, I was finally able to have my first taste of Tater Tot Hotdish overseas.  Despite the simple ingredients in the recipe, it was surprisingly hard to execute.  I battled with it for months, trying to decide if I was willing to eat a sub-par version of it or if I'd just rather wait until I got back to the States.  As you can see, I wasn't able to hold out.
Norma and I made this one together, since she had no concept of what hotdish was.  I tried to explain it better by saying that an Asian version would be made with rice instead of a potato.  That seemed to help her understand.  And while I hadn't cooked anything in quite awhile, I found myself wanting to teach her the art of executing this, instead of just explaining it.  Happily, when it came out of the oven and I asked if she wanted to try some, she said yes! (something that rarely if even happens when she cooks us a new American dish)  That totally warmed my heart – T Tot hotdish wins over another fan!
In order to make the scrumptious dish you see above we had to make some compromises and go to a few great lengths, including:
1.  Having Nick's mom send dry onion soup mix
2.  Substituting Tater coins for Tater Tots
3.  Settling for fresh green beans instead of canned (I'm sure some would consider that upgrading, but in my mind it changes the taste and I don't want it any other way than the one I'm used to!)  :)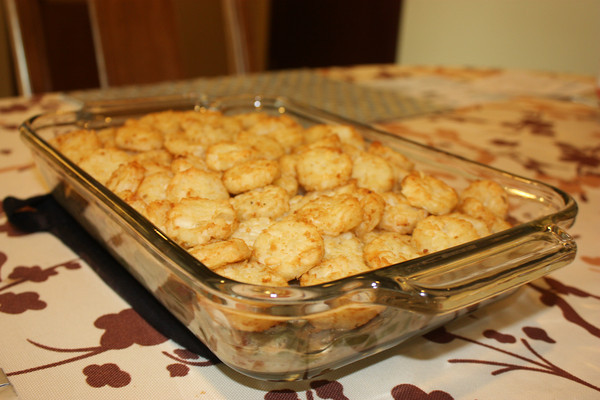 I can't believe I'm about to do this, but I'm giving out our family's secret recipe.  This is no joke people, if it was my last meal before dying, I'd choose this.  It's got your meat, potato and vegetable all in one – no sides needed.  Not to mention the perfect blending of flavors.  Tip: I prefer to mash mine all together to get a little bit of tater with every bite!  One last thing – this is the purist version of the recipe.  I am not a fan of over-complicating it by adding peas, corn or carrots.  Nope, just the core ingredients for me.  SO…..without further ado, here is the recipe:
The Miller Family's Tater Tot Hot Dish Recipe
Brown: 1 lb. of Hamburger or Ground Turkey with one medium onion
Add: 2 cans of Green Beans (or the equivalent amount of fresh cut beans), 1 envelope of dry onion soup mix, 1 can of cream of mushroom soup, 1/2 cup of milk.
Mix and Pour: into a 9 x 13 inch pan
Top: with 1 bag of frozen Tater Tots
Bake: At 350 degrees for 45 minutes