One of the things my parents insisted on during their visit to Peru was a visit to the Sacred Valley and most importantly, Machu Picchu (MP).  Having visited MP back in January with Rachel, I whole-heartedly concurred knowing that, no matter how high one's expectations, MP NEVER DISAPPOINTS.  Seriously, it's like something out of a dream and photos don't do justice to this Incan masterpiece.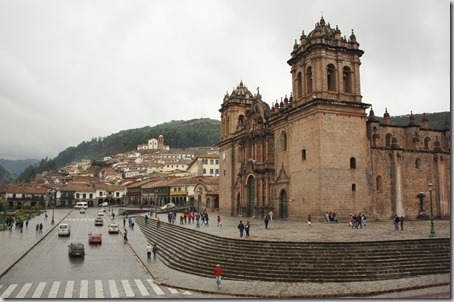 We started our trip with a day in Cusco where we took in the Plaza de Armas (above), the market and some amazing Italian-Peruvian food at Cicciolina.  We were off to a great start, but things were about to get a whole lot better.
Since the valley is quite large, I've created a handy dandy little map to help you see where we went.
As I mentioned before, we spent Day 1 in Cusco, which is where all the flights arrive.  You could fill a day or two with stuff in Cusco, but most people choose it as a base from which to see other things in the area.
Due to a positive experience I had back in January at Paz y Luz, we decided to base ourselves in Pisac, located on the far right of the map, roughly a 30 minute drive from Cusco.  I like staying in Pisac for a couple reasons – a) The town is smaller so you can better appreciate the natural beauty around you, b) the market is the best in the region and c) it's a better jumping-off point for day trips.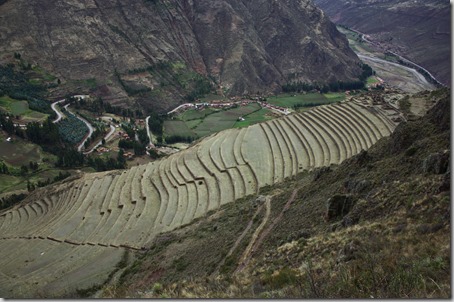 Despite having been to the Sacred Valley before, the majority of this trip was new for me (except MP and Cusco, of course).  Based on the recommendation of the hotel, we changed our plans and added in the Pisac ruins to our itinerary.  From the ground it simply looks like a bunch of terraces but upon reaching the top, we discovered a massive site that was comparable in size to Machu Picchu.  And the best part was that since we arrived early (just after 8 when it opened) the place was all ours.  That's something you'd never experience at MP.
Here's a peek at what we discovered up top: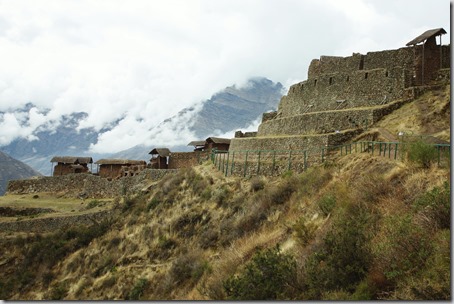 I think most people miss this site, but it turned out to be our little gem (Nick even liked it better than MP because of the privacy we had there).  For those coming to the Sacred Valley in the future, definitely add it to your list!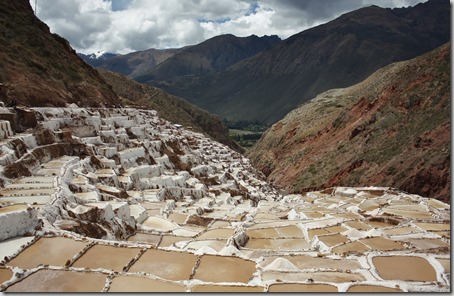 On Day 2 we road-tripped to Maras to visit two specific attractions: the Salt Flats (Salineras) and Moray, an Incan agricultural site.  The Salt Flats (pictured above and below) are pools filled with a naturally flowing salt water that, when dried over time in the sun, produce flavorful salt that can be scraped off the bottom of the pools.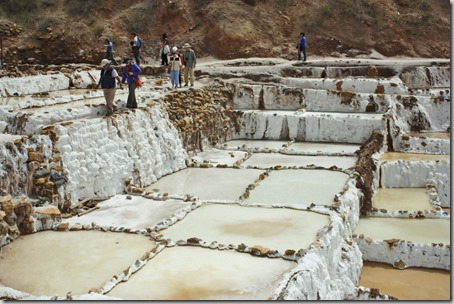 One of the most impressive things was that all the flats were connected by little underground channels and the water came out of only one source but flowed to every single pool.  Another cool fact that we learned from a 77 year old native working her flat (she'd been working on this flat for 75 years) was that each family had designated flats.  The family was expected to maintain their flat but could then do what they wanted with the final product (sell or keep).  It reminded me of a community garden, only with salt and a couple hundred years of usage…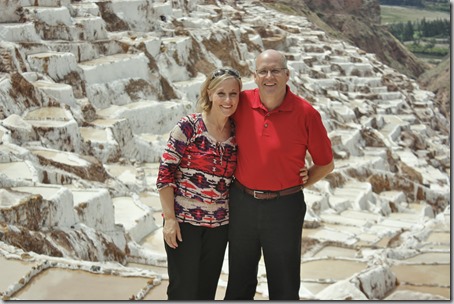 Next up was Moray, an Agricultural Experimentation site near the Salt Flats.  This site was particularly important to my Dad, who's worked in agriculture for 30+ years after growing up on a farm.
Here's what I marveled at:
-The was a 27 degree temp difference between the top terrace and the bottom.
-Also, due to the unique layout of the terraces, the Incans could control how much sun or wind crops got.
-They leveraged this opportunity by making this a test-site of sorts, trying out different crops at different locations within the site and then monitoring which crops grew best in the given conditions (controlling the variables of wind, sun and temperature).  Is that brilliant or what?!?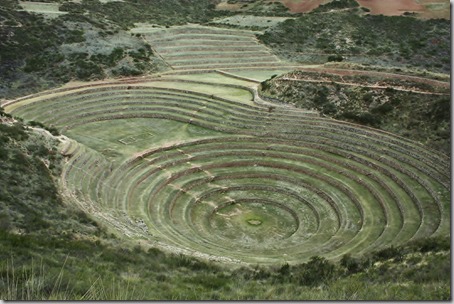 Day 3 was our big day at Machu Picchu.  When I went in January with Rachel, we stayed overnight in Aguas Calientes the night before and then went up to MP immediately the next morning.  This time around we decided to day trip it which helped us cram more into our trip.  Because we were staying in Pisac, we opted to drive to Ollantaytambo and board the train there (a 1 hour drive + 90 minute train ride) versus taking the train from Cusco (a 30 minute drive from Pisac + a 4 hour train ride).  Definitely a great alternative if you're going to be visiting the Sacred Valley.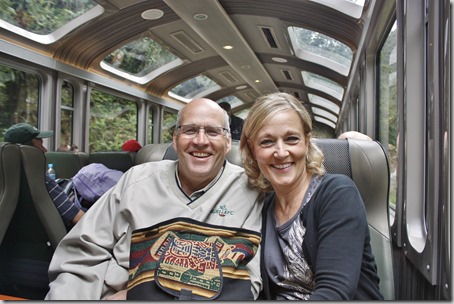 MP is a pain in the ass to get to (which adds to the appeal for many people).  For example, a typical international visitor would fly to Lima, take a domestic flight to Cusco, board a train from Cusco to Aguas Calientes and then take a 30 minute bus up to the site.  The transit operators have a total monopoly on it too, so the costs are much higher for tourists than they are for locals.
Just to give you some cost ranges:
-The flight to Cusco is around $300 for foreigners ($100 for Peruvians and residents like us – yes, that's a 3 time mark up for visitors!)
-The train is about $150 round trip (residents don't get discounts but Peruvians do)
-The round trip Bus ticket from Aguas Calientes to MP is $20 for foreigners ($10 for residents, even cheaper for Peruvian nationals)
-MP's entrance fee is $50 for foreigners ($25 for residents and Peruvians)
-Guides are $40-50 for a 2 hour tour
Add it up and you'll see that a typical tourist pays $500+ (without lodging or meals) just to make it in the gate at MP.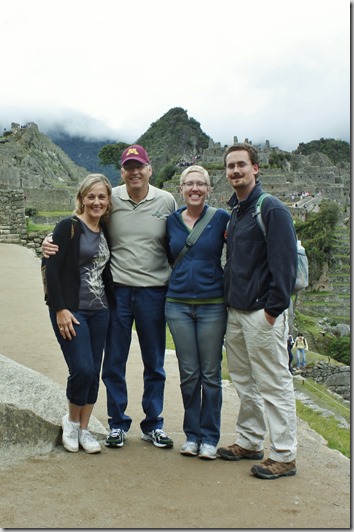 Here's the good news: It's worth it.  Despite the trials and tribulations of getting there, all will be forgotten when you gaze upon this wonder of a city that sits high in the clouds.  Even with 5000 other tourists milling around you, one can still feel the historical importance and sacredness of this site.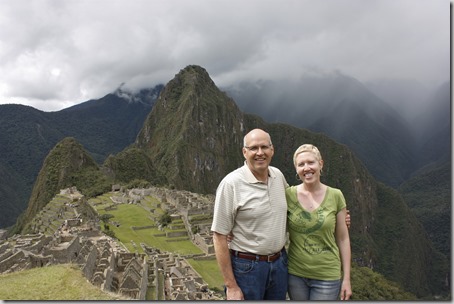 So yes, GO THERE.  Pay the money, just be prepared to work for the prize!
Want to see all the photos from our visit to the Sacred Valley and Machu Picchu?  Simply CLICK HERE.